Doctor Who Season 13 Teaser Reveals Halloween Premiere Date & Mysterious Title: 'Flux'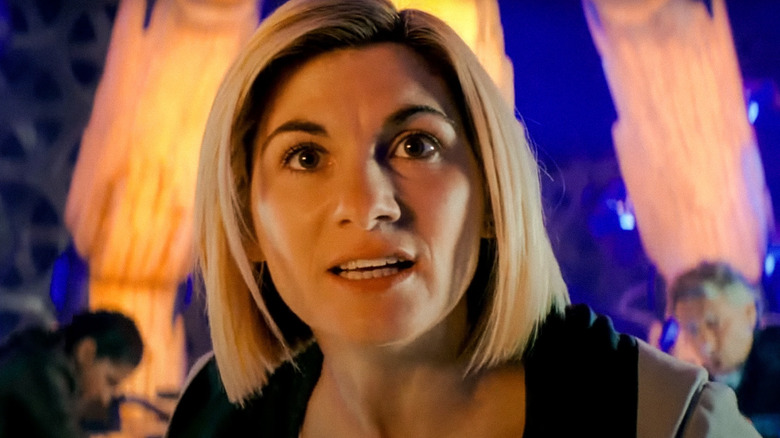 BBC
Keep the TARDIS engines running, because the Doctor will be back very soon. A new teaser for "Doctor Who" season 13 reveals a Halloween premiere date, warns about the return of the Weeping Angels, and introduces a mysterious new danger called "The Flux."
"Doctor Who" season 13 will be the final run of adventures for Jodie Whittaker, who has played the thirteenth iteration of the Doctor since taking over from Peter Capaldi at the end of the 2017 Christmas special. Both Whittaker and showrunner Chris Chibnall are leaving at the end of this season, with Russell T. Davies — who spearheaded the revival of "Doctor Who" in 2005 and was showrunner during the Christopher Eccleston/David Tennant eras — taking over in 2023.
The Thirteenth Doctor has a bit more trouble ahead before she can regenerate, though, if the ominous new teaser for "Doctor Who" season 13 is anything to go by. Check it out below.
'This is the fight of our lives'
"Doctor Who" season 13 will be a limited run of six episodes with a serialized mystery, and now the BBC has revealed a unique title for this season: "Doctor Who: Flux." In the teaser above, the Doctor broadcasts a warning that time is running out and "the Flux is coming."
It's not the first time that "Doctor Who" has teased a universe-ending danger with a dramatic name and very few details, but there's no better time to raise the stakes than when one of the Doctor's "deaths" is on the horizon. The BBC also shared key art for the upcoming season on Twitter, which features the title "Doctor Who: Flux" and a premiere date set for October 31, 2021.
The Doctor returns for her biggest adventure yet.#DoctorWho: Flux premieres 31st October ✨ pic.twitter.com/iStI1vEmFG

— Doctor Who: Flux (@bbcdoctorwho) October 9, 2021
This season, comedian John Bishop will be joining the Doctor on the TARDIS as her new traveling companion, Dan. Mandip Gill is also on the flight manifest, reprising her role as Yaz. Meanwhile, Jacob Anderson (known for playing Grey Worm in "Game of Thrones") is joining the "Doctor Who" cast as a character called Vinder, who has a dashing space mercenary look to him.
"Doctor Who" is more commonly associated with Christmas and New Year's specials, but if "the Flux" is as scary as it sounds, perhaps it's appropriate that these new episodes are kicking off on Halloween.
"Doctor Who" season 13 premieres Sunday, October 31 on BBC One/BBC iPlayer (in the U.K.) and BBC America/HBO Max (in the U.S.)