Midnight Mass Director Reveals The Personal Origin Of The Show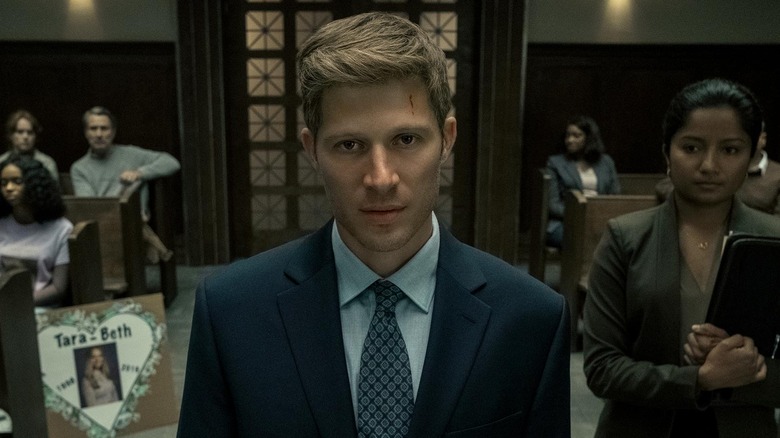 Netflix
Mike Flanagan terrifies us with the personal. His jump scares are memorable and his imagery searing, but the most affecting aspect of his work is their distinct, heart-wrenching quality. Everything from "The Haunting of Bly Manor" to "Oculus" takes time to dig into intimate fears and emotional truths, always hitting the stride of terror in quiet, personal moments. It's for this very reason that "Midnight Mass" is Flanagan's most haunting work yet — it's the most personal of them all. And because leaves so much to unpack, Mike Flanagan took some time to discuss the personal origins behind the show's creation, in a guest essay for Bloody Disgusting.
Released this past weekend, "Midnight Mass" is garnering plenty of buzz. If you've been too terrified to give it a whirl, we have plenty of reasons for why it's worth a binge, and a review encouraging you to give Flanagan your full attention. If you've already survived the trip to Crockett Island, our spoiler review unpacks the twists and turns of "Midnight Mass," but whether you've seen the season or not, Flanagan's essay is well worth a read.
Much like his approach to "Midnight Mass," Mike Flanagan is brutally open in "The Deeply Personal Horror of 'Midnight Mass.'" It's what the series demands, coming from a place so emotionally raw, so obsessed with life's unanswerable questions and humanity's darkest fears. The series unpacks more than can be listed, with monologues of life and death sure to linger on the brain for days to come. 
So while you're dissecting the many meanings of the series, it might help to trace it back to its beginnings, as Flanagan details the journey of "Midnight Mass" from inception to the screen. Read through to the end to understand its deep connections to Flanagan's own life.
The Journey Through Midnight Mass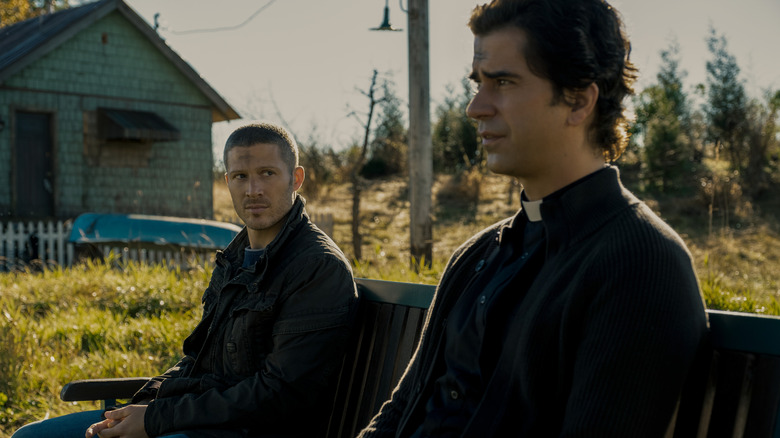 Netflix
"Midnight Mass" takes us to the small community of Crockett Island, where the arrival of a charismatic priest alters the lives of the entire township. His presence amplifies existing divisions and leads to a domino effect of strange events. More than anything, Father Paul (Hamish Linklater) brings about complex discussions, a driving force for Flanagan's writing. Of this, he wrote:
All of those versions of me are in conversation with each other on this show – the altar boy, the atheist, the scientist, the believer, the moderate, the student, the parent, the child, the alcoholic – and I am grateful for all of them. There was so much I wanted to say, every time I sat down to type about the people of Crockett Island; so much I thought I knew, so much I didn't know.
The haunting parable of "Midnight Mass" begins with Riley Flynn (Zach Gilford), eyes red-rimmed and wet with tears as he stares down the consequences of his biggest mistake. The drunk driving incident haunts him for years to come, eventually guiding him home to Crockett Island, where he'll continue confronting his pain in conversation with loved ones, in heated arguments with Father Paul, and in quiet moments of solitude. The past never leaves Riley and Flanagan gives us insight into why: because of his own connection to the characters. In his essay, he writes:
It's fascinating to me, looking back at early drafts of Midnight Mass, just how plainly my own issues with alcohol were driving the story. Riley Flynn, former altar boy turned atheist, stares through bloodshot eyes at the car accident he caused, watching an innocent teenager die on the pavement because he drove drunk. And this is how we meet the protagonist. Riley was always a thinly disguised surrogate, an avatar unlikely to fool anyone except myself, who wouldn't admit how much I had in common with my own character for many years.
My relationship with alcohol was not at all healthy. I'd be able to drink excessively without consequence 9 times out of 10 (at first anyway), but man, that tenth time... the apologetic phone calls were almost as bad as the hangovers. Once the booze took over, I learned – repeatedly – that I had some truly self-destructive impulses. Riley says he felt like he had another self, a saboteur who emerged from within when he drank too much, and that's exactly how I felt when I was in the grips of it.
His filmography proves that Flanagan never shies away from the personal, and "Midnight Mass" confirms it beyond any doubt.
 All seven episodes of "Midnight Mass" are streaming now on Netflix.