The Woods Casts J.K. Simmons As A Murderous Psychopath On A Rampage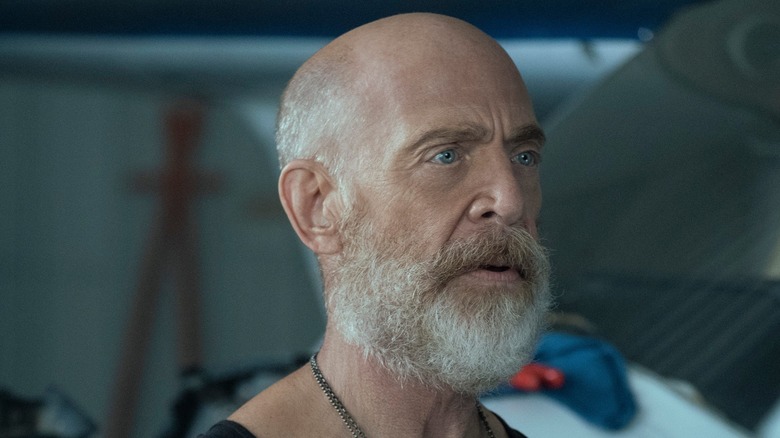 Paramount Pictures
JK Simmons has big plans to unleash his inner villain in the upcoming thriller, "The Woods." Starring alongside Allen Leech ("Downton Abbey"), Fernanda Urrejola ("Cry Macho"), and Isabelle Anaya ("Donny's Bar Mitzvah"), Simmons plays a murderous sociopath on a rampage. Earlier this year, he flexed his muscles in "The Tomorrow War" and has previously shown some sociopathic tendencies in "Whiplash," so this feels like a pretty solid fit for JK Simmons, a man with a certain air of intimidation surrounding him.
"The Woods" centers a teenage girl struggling with anxiety due to a tragic event from her past. The film sees her hunted through the woods by a
sociopath on a murderous rampage, that Simmons promises will be his scariest role yet. In a quote to Deadline, he hinted at the terror to come, saying:
"I didn't want to play any truly scary bad guys when our kids were young, partly because of how it might affect them if they saw the film and also because I didn't want to bring that energy home with me after an intense day on the set."
With his kids all grown up and off to college, Simmons won't be holding back. "The Woods" comes from director and co-writer Michelle Schumacher, who previously helmed the 2017 drama, "I'm Not Here." Schumacher is also Simmons' wife and will be directing her husband for a second time, following his starring role in her previous film. Schumacher co-wrote the film with "Recruited" writer Carolyn Carpenter.
JK Simmons Continues To Terrify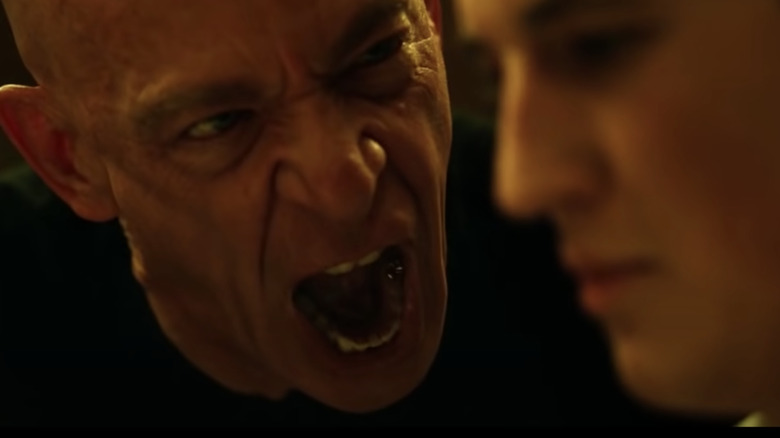 Sony Pictures Classic
JK Simmons seems like a wonderful man but he's also a liar. He claims to have avoided "truly scary" roles in the past, but we all know the truth — that man doesn't need a horror movie to terrify the masses. Most of us are still scarred from his performance as Terence Fletcher in Damien Chazelle's 2014 psychological drama "Whiplash." True fact: he was so scary that Oscar voters had no choice but to vote for him on the ballot. If other people were nominated, they were much too scared to remember: Simmons went home with his well-deserved award. As the ruthless jazz instructor, he made the energy in the room unbearably uncomfortable and probably gave everyone involved a lot of stress nightmares. And it definitely wasn't the only time.
This past year, he voiced Omni-Man, the super-powered protector of earth in the Amazon Prime Video series, "Invincible." Like a bizarro world Superman, Omni-Man secretly comes from a powerful alien race way more advanced than Earthlings can imagine. Though he initially seems to be the wonderful, amazing hero people believe in, he later shows his true colors. And they're soaked in blood. I guess it helps that Simmons' face wasn't involved in the characters' horrific actions, but it was definitely his voice delivering those brutal lines. It's hard to imagine Omni-Man being so intimidating if not for the familiar, terrifying voice of JK Simmons. Don't let the goofiness of J. Jonah Jameson fool you, JK Simmons is scarier than he seems.