The Percy Jackson Disney+ Series Is Being Written, Could Film Next Year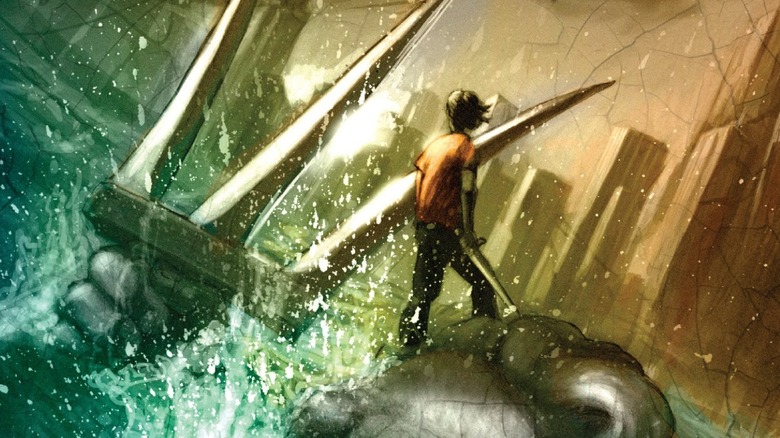 Disney Hyperion
"Percy Jackson" author Rick Riordan is famously open about his creative process. He's the primary reason fans know anything at all about the upcoming TV adaptation of the first novel in his famous "Olympians" series, "Percy Jackson and the Lighting Thief." Disney+ might be all about keeping the details hidden, but Riordan has always taken care of his fans. 
Via his blog, Riordan spoke about how things are progressing in the writers room. He revealed that their primary focus is producing outlines and scripts for the first half of the season, which are required to get them the official "green light" to charge ahead. He added:
"The hope is to have those done shortly after the New Year, but that is just my own estimation. It is not an official date. Assuming that happens (and I think it will) things should start to move into full production mode in the spring, including casting, and filming could begin as soon as next summer 2022. Again, this is simply my own best guess right now. You should not take that as the final word!"
Dare I say... this sounds like cause for a hopeful hurrah? 
All of this is great news for fans, many of whom are still bitter from the last attempt to adapt the series. 20th Century Fox launched its film adaptations in the hope of creating its own bombastic "Harry Potter"-like franchise but failed miserably. The low box office turnout wasn't a surprise to Riordan, who was vocal about how the film not only ignored the necessary foundations provided by the novels, but also barely told a coherent story. In fact, you can read all about his frustrating experience with the film on Riordan's blog. Thankfully, such disappointment is in the past.
The Disney+ series differs because it has Riordan's involvement, support and — most importantly — his excitement. Fingers crossed everything stays on track and under control, because it's about time "Percy Jackson" reigned supreme as the next greatest fantasy coming-of-age story.
Enter The World of Percy Jackson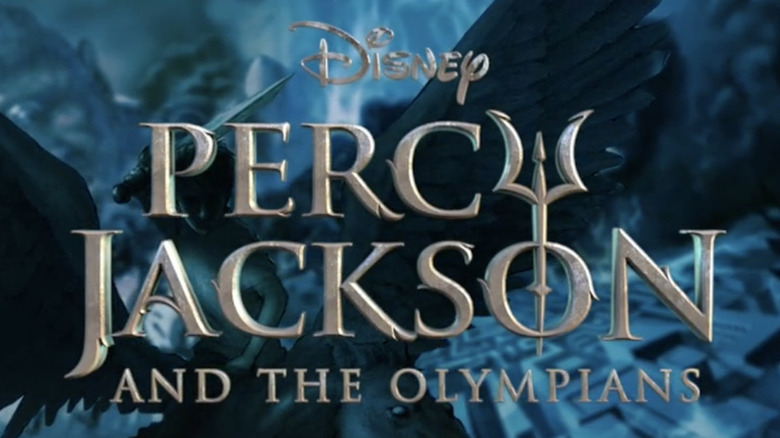 Disney+
If you aren't already a "Percy Jackson" convert the series will hopefully be more than enough to convince you — but there's still plenty of time to get onboard before it arrives. If it's info you need, here's a quick breakdown: The series takes inspiration from Greek mythology to tell the story of teenage demigods embarking on dangerous quests, facing off against monsters, and even tricking some gods while they're at it. Below is the synopsis for the first book
Twelve-year-old Percy Jackson is on the most dangerous quest of his life. With the help of a satyr and a daughter of Athena, Percy must journey across the United States to catch a thief who has stolen the original weapon of mass destruction — Zeus' master bolt.
The "Percy Jackson" series couldn't be in safer hands than with its own creator, but that isn't to say the process won't encounter a few obstacles. Riordan also shared the difficulties of turning his words into a TV series, writing, "it's like using the Star Trek transporter to break down the story on a molecular level, send it across space, then reassemble it on the surface of an alien planet and hope it looks the same!"
But rest assured, the team has things under control. Riordan shared that the first season, following the plot of "The Lightning Thief," is sketched out from start to finish. He also let fans in on the daily process: 
"We meet for two hours almost every day (via Zoom) I am involved in every conversation, every draft. Even though we are basing everything on the novel, there is still a ton of work to do turning this into a TV show.

"The team we have in place is so good though, I'm feeling optimistic. We are also moving ahead on numerous fronts for pre-production, like locking in concept artists, VFX producers, line directors, and all those important people who work behind the scenes to make the show a reality."
What Else Did We Learn?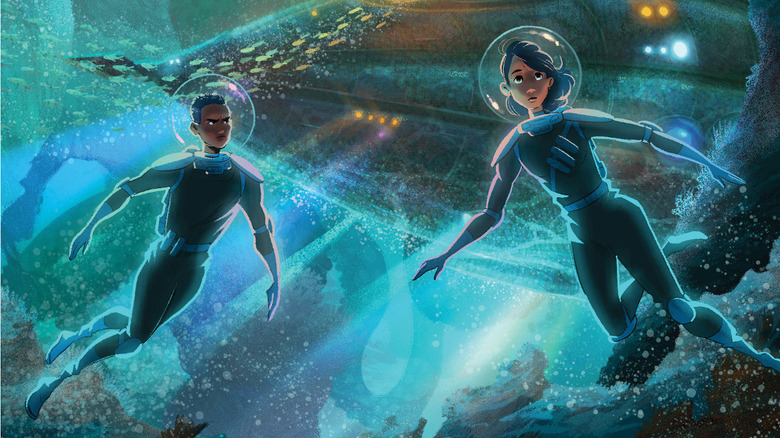 Disney Press
Fans of Riordan's novels will also be pleased to hear that there were even more updates in the latest blog post. Riordan shared that the Netflix adaptation of his other novel series, "The Kane Chronicles," has a completed script and is seeking a director:
"We are now working with our partners at Netflix to get it polished up and ready to send to directors. I anticipate that process will take at least a few more months. (See above for how long this process is, and why you can't really rush it!) Again, I'm excited and confident this will be great for a feature film when we get the official green light."
The trilogy series follows two siblings, Carter and Sadie Kane, who discover that they are powerful magicians descended from ancient pharaohs. Using their newfound abilities, they must contend with dangerous Egyptian gods and goddesses. Riordan was a lot more cryptic about what's in store for his upcoming novel, "Daughter of the Deep." Releasing on October 5, 2021, the book already has its own adaptation in the works, for which Riordan said:
I will fill you in with adaptation news during the tour, but I have news. It will be adapted, and I am thrilled with what we have in store.
"Daughter of the Deep" is story about a teenager studying to be a marine biologist who — you guessed it — goes on some exciting deep sea adventures.