Hide: David Tennant To Star In Jekyll & Hyde-Inspired Thriller For Peacock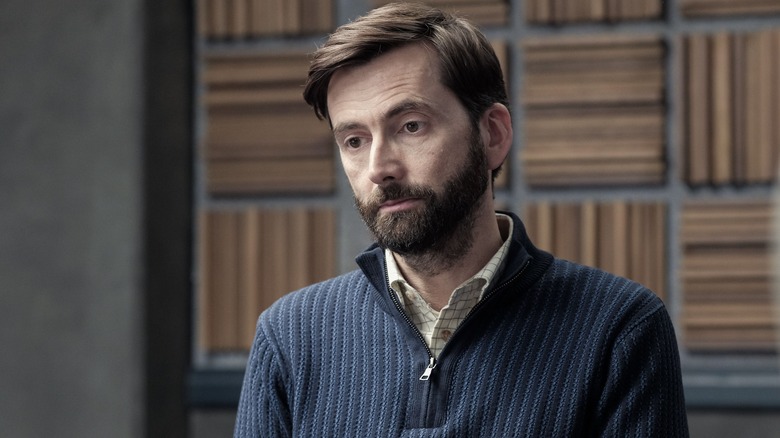 Netflix
Peacock is bringing together two Tennants in one show! Husband and wife David and Georgia Tennant are set to star in the streamer's upcoming conspiracy thriller, "Hide."
As Deadline reports, "Hide" sees Tennant playing a disgraced journalist who uncovers a story with the potential to revive his career. But as the revelations continue, he stumbles into a secret much bigger and more dangerous than anticipated. After learning too much, he becomes a target for unknown adversaries who will stop at nothing to silence him. While on the run, he ends up in a serious accident with extraordinary side effects. The hour-long series is an update on the dual-identity British classic, "The Strange Case of Dr Jekyll and Mr Hyde." Given the way the novel grapples with good and evil, it won't be long before the character's struggle to escape the monsters of the world becomes internal.
David and Georgia Tennant recently starred in the quarantine-based BBC comedy "Staged," where they played fictionalized versions of themselves. While most shows and movies about the pandemic sound immediately exhausting, "Staged" received a ton of awards and nominations, and plenty of praise for their onscreen chemistry. Whether or not they'll be an onscreen couple for "Hide" hasn't been revealed, but regardless, it'll be interesting to see them reunite as co-stars.
"Hide" is helmed by "Agent Carter" showrunners Michele Fazekas and Tara Butters, who also serve as writers and executive producers of the series. Award-winning director Julie Anne Robinson ("Bridgerton," "The Good Place") is on board to both direct and executive produce.
Resident Bad Boy David Tennant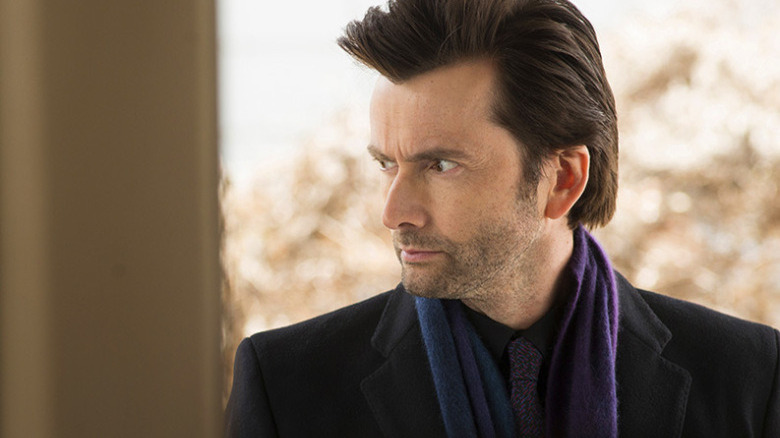 Netflix
In a world now lost to time, David Tennant used to be a good boy. Specifically, the hyperactive, 900-year-old Best Boy known as The Doctor, on "Doctor Who." His four-year stint on the British sci-fi series remains one of his best-known roles, but it's getting harder to remember him before the darkness of his recent characters. He seemed pretty sinister in the Netflix anthology "Criminal," and more so on Amazon's "Good Omens," where he plays a literal demon, Crowley. His "Jessica Jones" character Kilgrave is an abusive, mind-controlling psychopath, and even the broody Detective Inspector Alec Hardy of "Broadchurch" is a far cry from the whimsical "timey-wimey" guy he used to be. 
...But all things considered, this is the voice of Scrooge McDuck we're talking about. Plus, the gifs of Tennant's Doctor that continue to float about the internet are still very effective. So if his character ends up exploring both ends of the good-evil spectrum, Tennant definitely has the range to pull it off. Who better to strike the perfect balance between moral and ominous?
Tennant himself has expressed plenty of excitement about the role. He told Deadline the following:
"One of my earliest jobs was playing 'first policeman' in a BBC radio adaptation of Dr Jekyll and Mr Hyde. I read the book many years ago and I've been fascinated with this character for as long as I can remember. This story has followed me around for years, tapping on my shoulder slightly impatiently. I couldn't be more thrilled to be playing this character, telling this story and working with these people."
More David Tennant is always worth the excitement, but "Hide" is currently in development, so expect a long wait before its arrival on Peacock.