The Simu Liu Show To Watch After Shang-Chi And The Legend Of The Ten Rings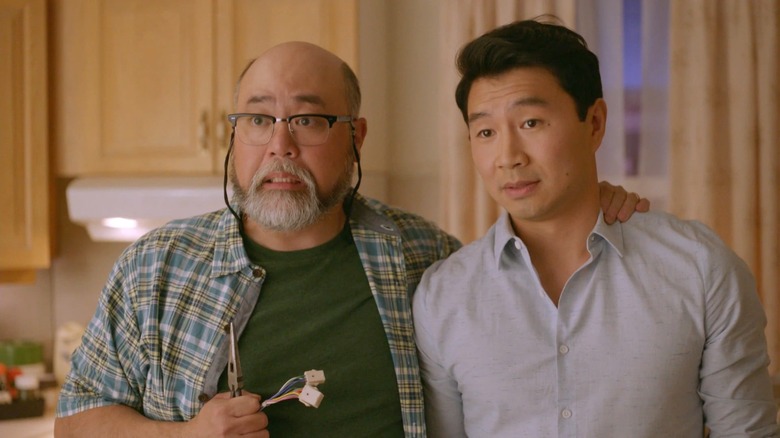 CBC Television
Simu Liu fights his way into a big-screen blockbuster this weekend with Marvel's "Shang-Chi and the Legend of the Ten Rings." And if you leave that film thinking, "Where can I see more of that handsome fellow?", I have the perfect answer: "Kim's Convenience." The Canadian sitcom has often been compared to another show from the Great White North, "Schitt's Creek," and perhaps that's all you need to know. But if you want a few more details on "Kim's Convenience," stick around.
What is Kim's Convenience?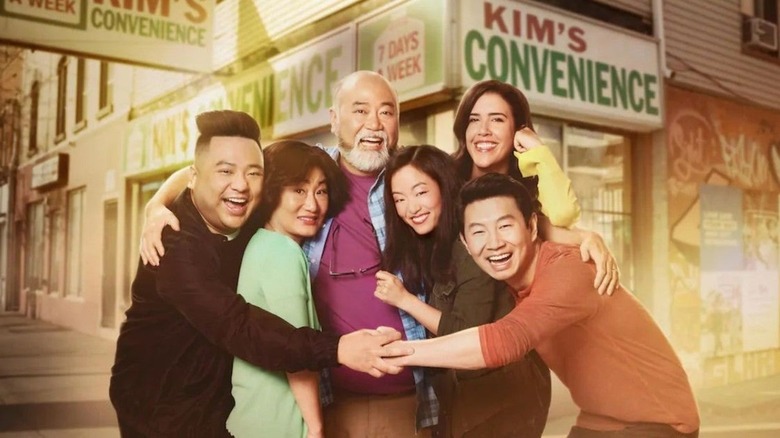 CBC Television
Based on the play "Kim's Convenience" by Ins Choi, "Kim's Convenience" the TV show was developed by Ins Choi and Kevin White, and premiered on Canada's CBC Television in 2016. The series stars Paul Sun-Hyung Lee, Jean Yoon, Andrea Bang, Simu Liu, Andrew Phung, and Nicole Power, and "explores the generational tension between immigrant parents and their Canadian-born children and was inspired by Choi's experience growing up in a Korean family in Toronto." The Kim family "are Korean Canadian convenience store owners who have worked hard to give their now-twenty-something children, Janet and Jung, a better life in Canada."
Simu Liu's character is Jung Kim, who "works at Handy Car Rental, where he is promoted to assistant manager at the beginning of the series but returns to his former job after an attempt at moving to another company is scuttled. He was a rebellious teenager who had engaged in petty street crimes, earning him a brief stint in juvenile detention, but has since cleaned up his act. He was kicked out of the family home by Mr. Kim after stealing from him and remains estranged from his father, though he is still in contact with the rest of the family, and gradually reconnects with his father over the course of the series."
The show ran for 5 seasons, with 65 episodes total.
Where Can I Watch Kim's Convenience?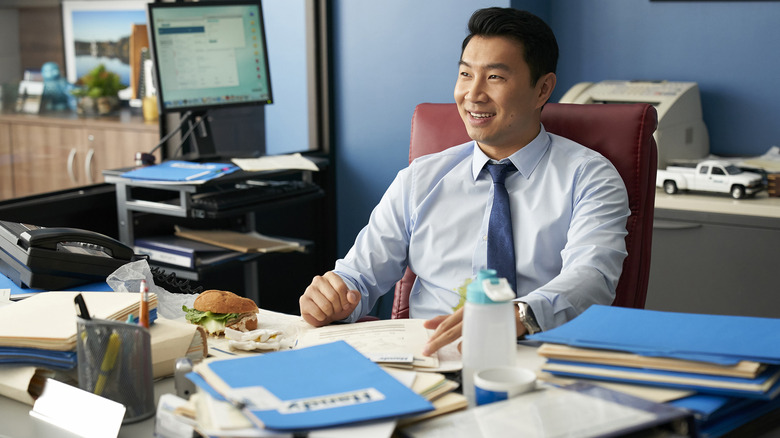 CBC Television
All 5 seasons are currently streaming on Netflix here in the U.S. The show came to a close with season 5, and it didn't end on the best terms, at least according to Simu Liu. In June of this year, the actor took to social media to say that "The show can't be 'saved.' It was not 'canceled' in a traditional manner, i.e. by a network after poor ratings. Our producers (who also own the 'Kim's Convenience' IP) are the ones who chose not to continue." 
Some fans of the show wondered if the series was ending because Liu was about to make the leap to Hollywood, but the actor dispelled those notions, saying: 
"I wanted to be a part of the sixth season. I've heard a lot of speculation surrounding myself – specifically, about how getting a Marvel role meant I was suddenly too 'Hollywood' for Canadian TV. This could not be further from the truth. I love this show and everything it stood for. I saw firsthand how profoundly it impacted families and brought people together."
That said, Liu did have some complaints, stating that he was "growing increasingly frustrated with the way my character was being portrayed and, somewhat related, was also increasingly frustrated with the way I was being treated," and that he thought the show's writing room "lacked both East Asian and female representation [and] a pipeline to introduce diverse talents." Liu also added that aside from co-creator Ins Choi, "there were no other Korean voices in the room. And personally, I do not think he did enough to be a champion for those voices (including ours). When he left (without so much as a goodbye note to the cast), he left no protege, no padawan learner, no Korean talent that could have replaced him."
I know that sounds like the show had a lot of problems behind the scenes, but the show itself is much loved by fans, and if you're looking for more Simu Liu, it's the best place to start.