Stop And Go Trailer: A Covid-Era Comedy Invites You On A Wild Road Trip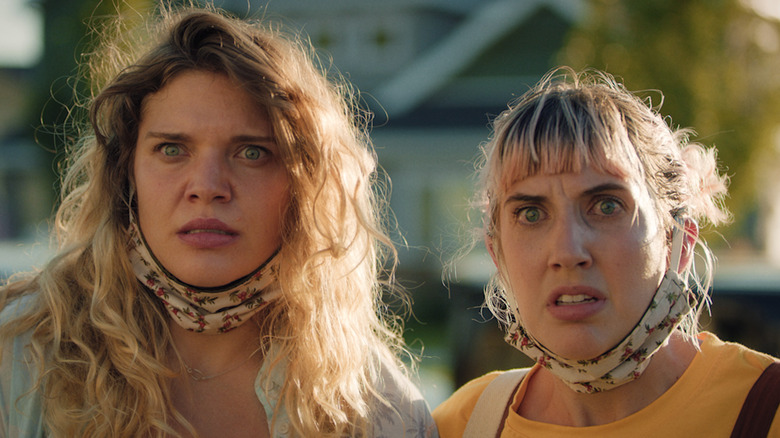 DECAL Releasing
Remember early 2020? Back when we all had plane tickets and plans that involved other people who weren't wearing masks? Yeah, me neither. So prepare for a flashback, because the upcoming release of "Stop and Go" is inviting us back to the early pandemic days of 2020. No worries, it's not nearly as depressing as it sounds — "Stop and Go" is a comedy about two sisters searching for direction in life and banding together to embark on an adventurous road trip.
Since it takes place during the early days of the pandemic, this also happens to be the most dangerous trip of their lives... But you'd never know that from watching the trailer. Based on this first look at the film, "Stop and Go" is all about finding joy even in the bleakest of times, which isn't too difficult when you have your loved ones in the passenger seat.
Check it out for yourself — the official trailer for "Stop and Go" is below.
Stop and Go Trailer
Previously titled "Recovery," the film premiered earlier this year at SXSW. The story comes from filmmakers Mallory Everton and Stephen Meek, starring Everton and Whitney Call as the two sisters, Blake and Jamie. Despite their initial plan to quietly quarantine at home, the two decide to take a cross country road-trip to their grandmother's nursing home after an outbreak of COVID-19.
The sisters make every attempt to handle these circumstances responsibly, immediately laying down some crucial ground rules: leaving the car as little as possible, only stopping for gas, not interacting with strangers and most importantly, staying focused on their goal. Reaching their grandmother ASAP is the top priority. 
But as anyone with siblings knows, it's really hard to stay on task when your family is involved. And as anyone whose ever been on a road trip knows, nothing ever goes exactly as planned. Jamie and Blake are sure to encounter their fair share of detours and disasters.
A Covid Film That Knows How To Have Fun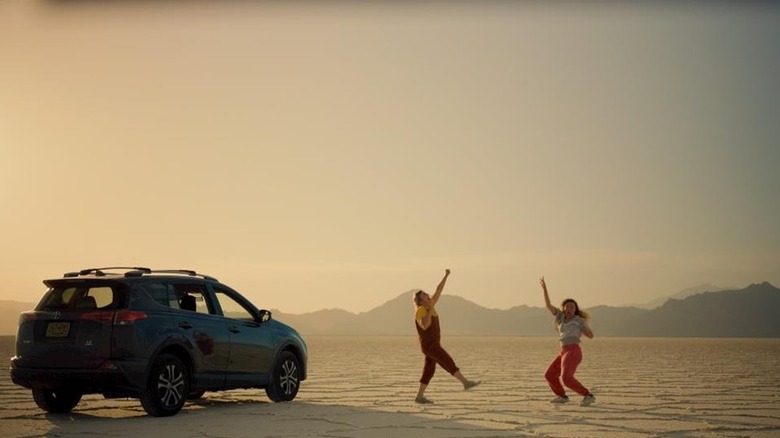 DECAL Releasing
This past year has been full of curve balls for everyone — Blake and Jamie are living through the biggest one of all. It helps that they understand the basics of the new world order: they wear their masks and avoid people at all costs. But the same can't be said of everyone around them. We only get a few glimpses at their interactions with other people — including a family member who refuses to quarantine and a very creepy mask wearer — but they're all cause for anxiety. If there's anything we can count on, it's that the writers behind Stop and Go really understand the pandemic era.
Of course, the biggest worry with Covid movies isn't a lack of understanding — it's that they'll be tedious, repetitive and worst of all, painful to watch. Why would we want to experience a reality that we're all so thoroughly exhausted with? It looks like "Stop and Go" is offering an answer.
Somehow, this movie promises to breeze past those problems. Even though Covid and the details of living pandemic life are at the forefront, the hilarity of their situation and the wonderful chemistry between the sisters is what matters the most. Blake and Jamie seem like a joy to watch and if not for the general horror of the pandemic, you'd almost want to join them on this road trip! Alas, we'll have to settle for tuning in when "Stop and Go" hits theaters and VOD on October 1, 2021.
Here's the official synopsis:
Sisters Blake and Jamie's big plans for the year come to a screeching halt when they are forced to rescue their grandmother and her beloved dog from her nursing home, before their reckless sister can get there first. They embark on a hilarious cross-country race against time while contending with a deranged dog breeder, a highly inappropriate 9-year-old, and a clueless Romeo, all in the name of family.