Fresh Prince Of Bel-Air Reboot Finds Its Lead — Watch Will Smith Give Him The Role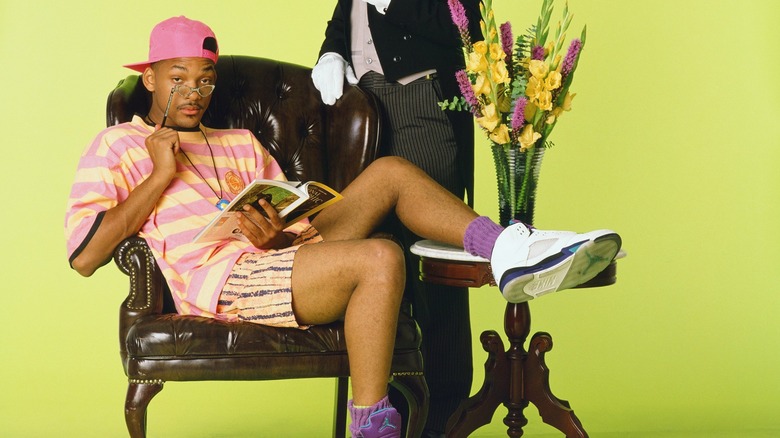 NBC
Cue the Carlton dance: "The Fresh Prince of Bel-Air" reimagining has found its star. Will Smith, who starred in the original 1990s sitcom and will be executive producing the contemporary version for the Peacock streaming service, shared a video today of himself awarding the lead role to up-and-coming actor Jabari Banks. Check it out below.
Will Smith Surprises Jabari Banks
The show's creative team has selected Jabari Banks, a West Philadelphia local and recent college graduate, to play "Will" in "Bel-Air," which has a two-season order at Peacock. And as you can see from Banks' reaction, he's clearly thrilled and ready for the challenge of stepping into one of the most recognizable characters in TV history. 
From the story he tells, it sounds like this casting was meant to be: the original series has clearly meant a lot to him over the course of his life, and he even convinced his friends to dress up as "Fresh Prince" characters with him when he was in high school. That sense of kismet may extend all the way to Jabari's last name, which he shares with the fictional family that Will Smith's character moved in with all those years ago in the original show. (I was only a casual watcher of the original series in my younger days, so I'm just now learning that the Banks family's dashing butler, Geoffrey, actually had the full name of "Geoffrey Butler." Great stuff right there.)
From Bel-Air Fan Film to Real Show
The new version of the show is set in the modern-day U.S. and will be a serialized one-hour drama based on the original series. It is inspired by a four-minute spec trailer that up-and-coming filmmaker Morgan Cooper wrote and directed in 2019, which went viral, caught Will Smith's eye, and eventually led to the two of them meeting and Cooper pitching the show for real. 
Smith, who has called the idea "brilliant," is helping to guide the creative direction of the series while Cooper is living the dream as a co-writer, executive producer, and director on the new show. With its longer runtimes and expanded scope, this version is set to explore "Will's complicated journey from the streets of West Philadelphia to the gated mansions of Bel-Air. With a reimagined vision, Bel-Air will dive deeper into the inherent conflicts, emotions, and biases that were impossible to fully explore in a 30-minute sitcom format, while still delivering swagger and nods to the original show."