Ed Asner's 10 Best Roles, Ranked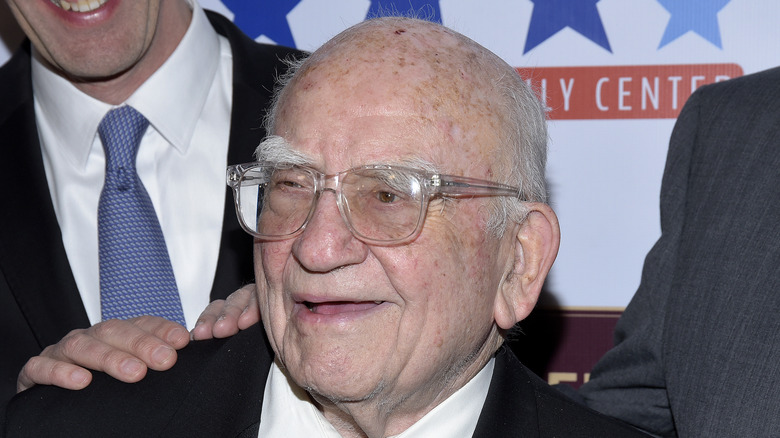 Michael Tullberg/Getty Images
We lost a giant of acting over the weekend, with the loss of Ed Asner at the age of 91. Asner had been an omnipresent persona in films, TV, live-action and animated storytelling, and even video games throughout his career. Spanning more than six decades, Asner's filmography is massive — even though most people may know him best for a few key roles. Today, in his honor, let's look back at ten of his greatest roles on the big and small screens.
1. Lou Grant: The Mary Tyler Moore Show and Lou Grant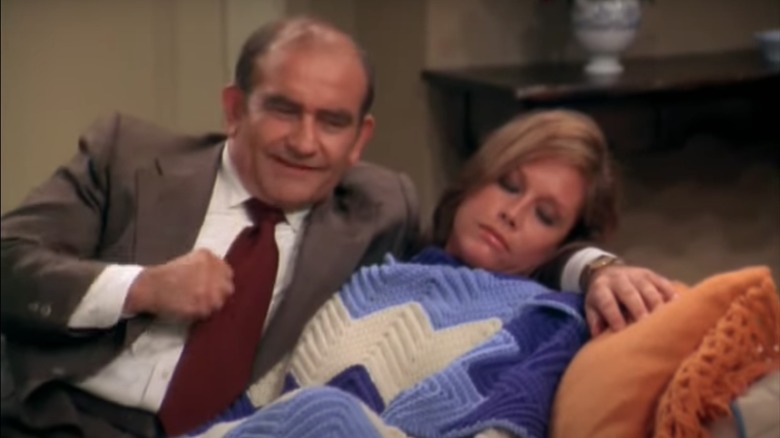 CBS
Though his career didn't begin when he played the crusty editor on the trailblazing CBS sitcom "The Mary Tyler Moore Show," Ed Asner's star took off thanks to playing the ever-grouchy Lou Grant. The pilot episode of the series establishes his grumpy cred when he notices that Mary Richards (Moore) has "spunk. I hate spunk." Asner would wind up playing the character over the course of 12 years on two different shows, the latter a spin-off bearing the character's name as he moved back into newspapers.
Playing Lou Grant allowed Asner to hold a particularly unique distinction among award winners: he's one of only two actors to have won Emmys for playing the same character, but in both the comedy and drama categories. (Uzo Aduba of "Orange is the New Black" is the other actor.) All told, Asner won five Emmys as Lou Grant, a rare case of a breakout character leading an actor to awards wins as well as public accolades.
2. Carl Fredricksen: Up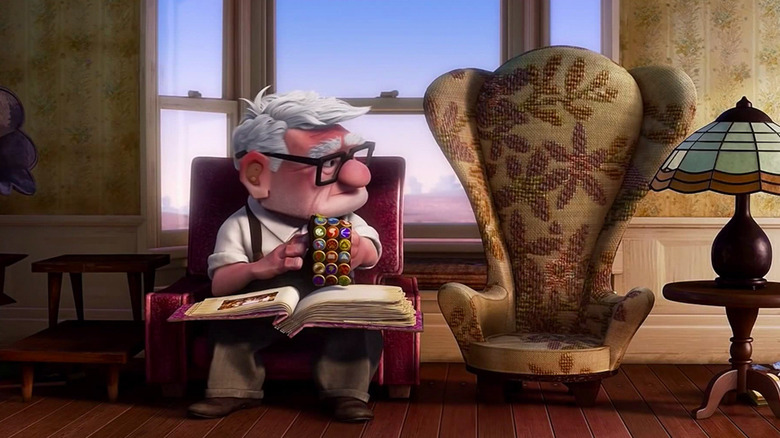 Disney/Pixar
For a younger generation, Ed Asner is known less for his craggy live-action presence than for playing a host of animated characters. None is more widely beloved than the boxy-faced Carl Fredricksen, the elderly lead of Pixar's "Up," a strange and utterly heartbreaking original story about how the recently widowed Carl endeavors to live out his late wife's dream of traveling to South America. Only Carl does so by lifting his old house up via balloons and flying there, with a neighborhood boy as an inadvertent stowaway. 
Carl is one of the most unforgettable Pixar characters ever, in no small part because of Asner's ability to bring life to someone so outwardly grouchy but inwardly aching. Though the animators played an equal role in bringing Carl to life, each of Asner's line readings hits home. "Up" is arguably Pixar's last truly brilliant film, and we have Ed Asner to thank for that.
3. Santa Claus: Elf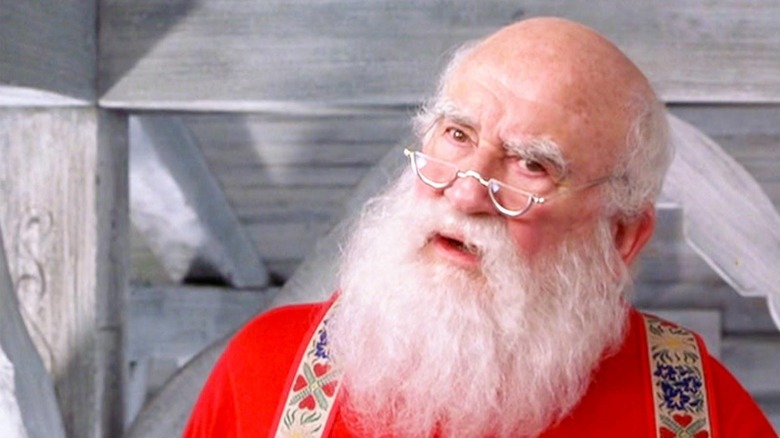 New Line Cinema
Santa Claus is one of the most iconic figures in the entire globe, and many actors have tried to bring him to life in films and on TV, but it's a difficult task. One of the few to succeed was Ed Asner, who played Kris Kringle in the 2003 comedy "Elf." The high-concept comedy features Will Ferrell as a human living on the North Pole under the mistaken assumption that he's one of Santa's elves.
Santa plays a supporting role in the fish-out-of-water adventure, but Asner gives him a playful and avuncular air, whether it's in trying to break it to Ferrell's Buddy that his human father is on the naughty list, or in proving his existence to Buddy's step-brother by revealing what he wishes to receive for Christmas. Santa's an impossible character to crack, but Asner figured it out.
4. Captain Davies: Roots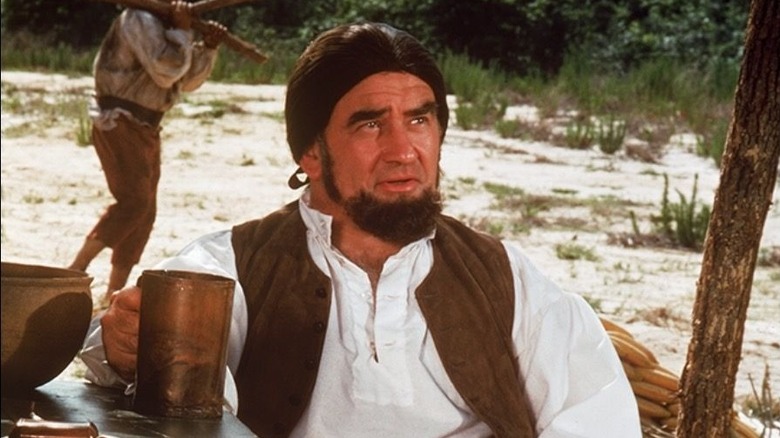 ABC
It might be impossible now to fully grasp just how massive an event "Roots" was when it premiered on ABC in January of 1977. The century-spanning miniseries was about nothing less than the festering wounds of slavery of Black men and women, inspired by the ancestry of author Alex Haley. The early section of the weeklong miniseries focuses on the slave Kunta Kinte (LeVar Burton in his first major role), and how he's forcibly shipped from West Africa to Maryland and sold into slavery. The man leading the ship on which Kunta is taken is Captain Thomas Davies, played by Asner in a darker, more complex role than people might have expected from the grouchy TV news editor who hated spunk. Asner, though, stood out for his deft and multi-layered performance so much so that he won an Emmy for the work. Through miniseries like these, Asner earned another notable distinction: to date, he's received more Emmys for acting than any other male performer.
5. Bart Jason: El Dorado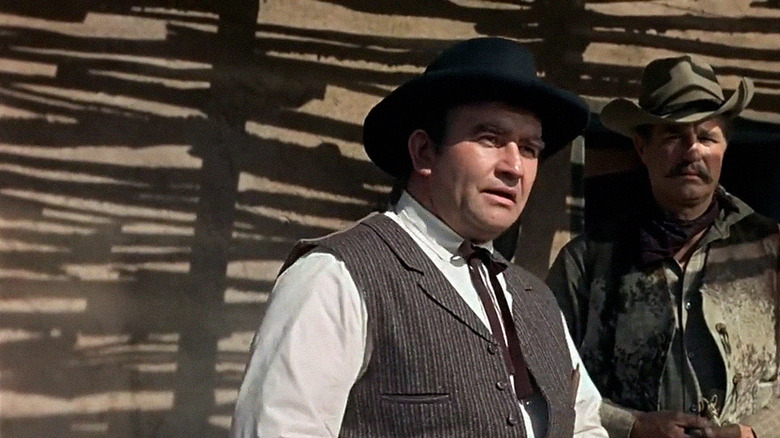 Paramount
Sometimes, if a model ain't broke, you don't fix it. That was partially what led to the 1966 Western "El Dorado," which serves as a remake in all but name only of the rightly beloved Western "Rio Bravo." (And "El Dorado" is just one almost-remake of "Rio Bravo," along with "Rio Lobo".) In "El Dorado," a pre-Lou Grant Ed Asner plays the sneering landowner Bart Jason, whose initial job offer that kickstarts the film is merely a pretense to kicking innocent folks off their land in the hope of grabbing it up for himself. Though Bart Jason wasn't Asner's first role, it was the kind of huge part in a huge movie, from the great American auteur Howard Hawks and screenwriter Leigh Brackett, that helped establish him as a force to be reckoned with. When you can go toe to toe with John Wayne, that's a feather in your cap.
6. Hudson: Gargoyles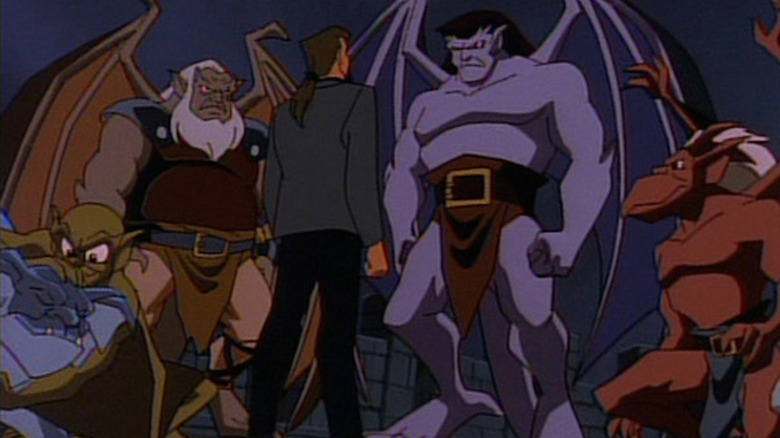 Disney
Some actors are truly working actors, and Ed Asner was the picture of this type of performer. Though his best-known roles were largely on the small screen, plenty of kids in the 1990s grew up knowing him perhaps without even realizing they knew him. If you watched the cult Disney animated show "Gargoyles," then you certainly knew Ed Asner as the gravel-voiced Hudson, among his other animated roles (about which more in a bit). 
In "Gargoyles," Asner's character Hudson was one of many dealing with modern-day problems after being roused from a thousand-year sleep when a billionaire in NYC tries to take their castle for himself. Asner fit into the show perfectly, proving much earlier on than "Up" that his distinctively deep voice was pitch-perfect for animation.
7. J. Jonah Jameson: Spider-Man (1994)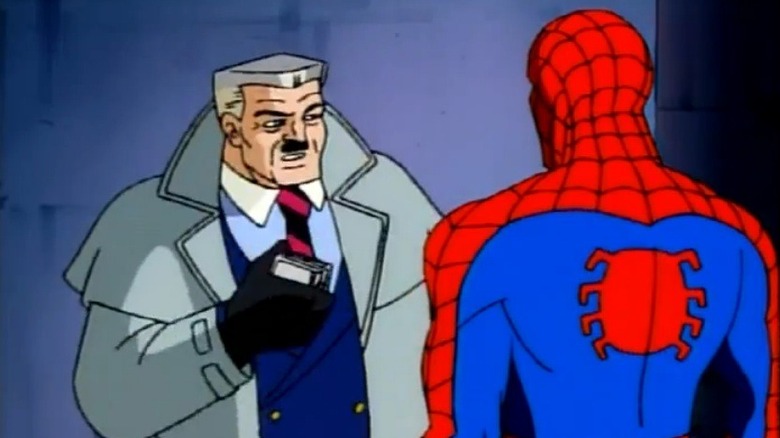 Fox
Nowadays, you may associate J. Jonah Jameson, the uber-grouchy editor of the Daily Bugle who's always after that pesky Spider-Man, with Academy Award winner J.K. Simmons. And that's fair enough, but before Simmons got to bark orders at Tobey Maguire as Peter Parker, there was an animated "Spider-Man" TV series and its iteration of Mr. Jameson was voiced by none other than Ed Asner. In some ways, it's almost too obvious a casting choice. Twenty years later, it was hard not to see the impact of "The Mary Tyler Moore Show" on Asner's career, to see him get cast as another grouchy editor. But some obvious choices are obvious for a reason. In live-action, yes, Simmons makes sense as J. Jonah Jameson. But in animation, it's hard to top Ed Asner.
8. Cosgrove: Freakazoid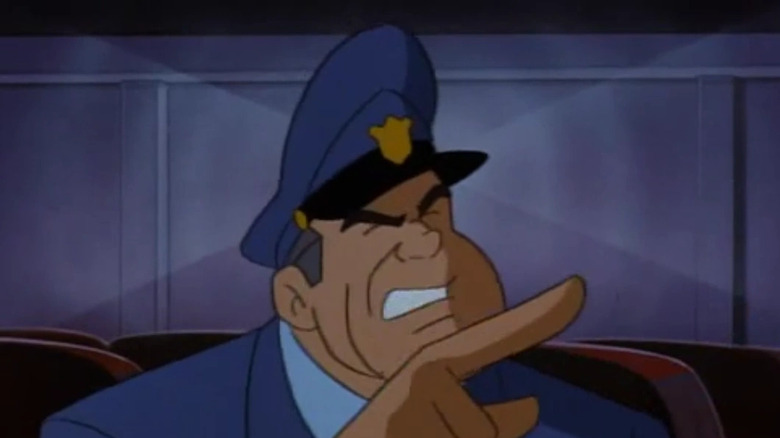 Warner Bros.
Sometimes, if an actor or actress is very lucky, they're so memorable that they get caricaturized. Such was the case for Ed Asner with one of his many animated roles, as the gruff Sergeant Mike Cosgrove on the manic 1990s animated comedy "Freakazoid!" On the show, Asner was tasked with going as gruff and monotone as possible, as Cosgrove would lay out the case of the episode to the eponymous superhero. But since this show was weird and off-the-wall, and operating in the same creative universe as that of the "Animaniacs," there were plenty of running gags with supporting characters like Cosgrove, such as his odd ability to use a finger like the one in the picture above, say "Cut it out," and have characters stop what they're doing, every time, no matter what. (Even the Animaniacs.) Such is the power of Ed Asner.
9. Guy Banister: JFK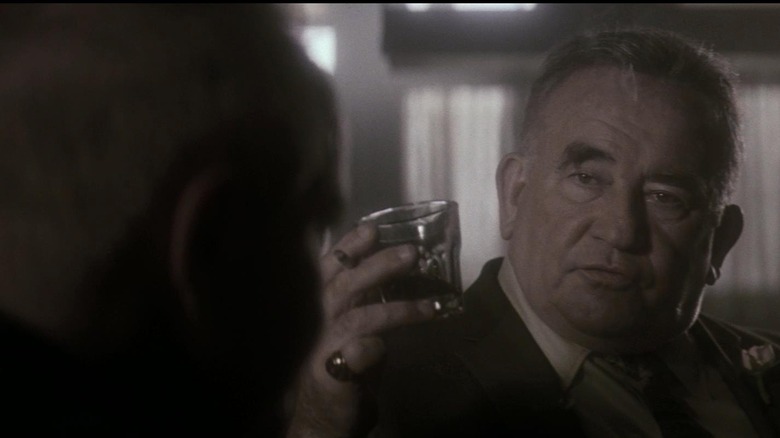 Warner Bros.
Among his many traits, Ed Asner was a fiercely liberal actor, often speaking out in favor of pro-union activities (and serving as the president of the Screen Actors Guild in the 1980s). It's perhaps no surprise, then, that he was one of many actors lining the ensemble cast of Oliver Stone's massive and sprawling saga "JFK," all about the investigation into the assassination of President John F. Kennedy. Asner plays shady private investigator Guy Banister, who may or may not have had some part to play in the whole debacle.
In one key flashback, we see Asner as Banister chewing out a compatriot of his, played by Jack Lemmon, and eventually pistol-whipping him while drunk. Even for an actor who made his bank by being constantly grumpy, the violence here is shocking; gone is the cuddly interior hidden by a grouchy exterior. It's a shocking and impressive turn.
10. Sid Weinberg: Cobra Kai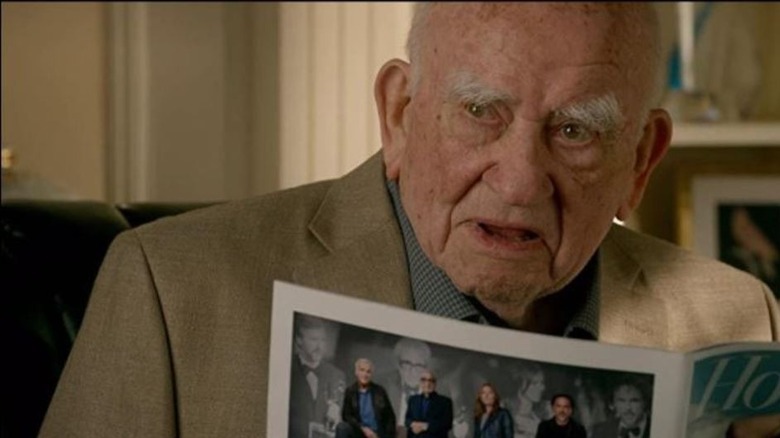 Netflix
Ed Asner didn't stop working after a certain age. He kept on trucking, with remarkable poise and determination, even if the roles were smaller. One such small and recent role was on the Netflix series "Cobra Kai." The sequel of sorts to "The Karate Kid" focuses on the juvenile antagonist, Johnny Lawrence (William Zabka), but all grown up and trying to do right and make amends after years of bad choices. A reminder of those bad choices comes in the form of his hardass stepfather Sid Weinberg, played of course, by Asner. Sid only shows up briefly in the series, often to mock Johnny at his attempts to go straight and wave a check in front of him in the hopes of making Johnny go away. It's to the testament of both Zabka and Asner that Johnny always comes off as sympathetic and Sid always an awful old man. It's a shame we'll never see Sid again.