Candyman Star Vanessa Estelle Williams On How The New Film Reclaims The Narrative [Interview]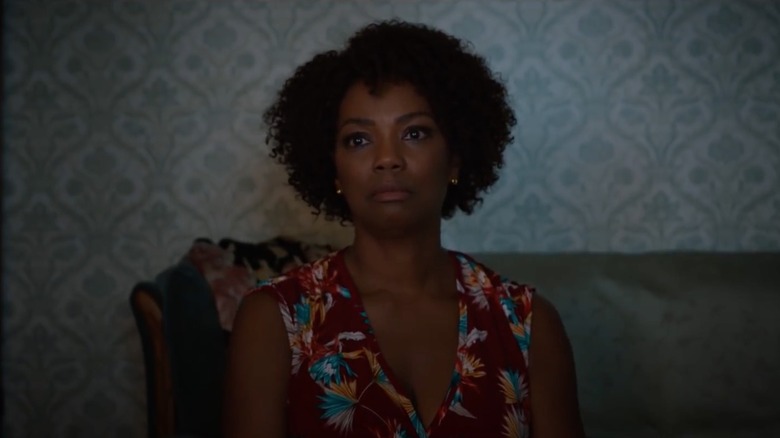 Universal Pictures
Vanessa Estelle Williams has returned to the world of "Candyman." In filmmaker Nia DaCosta's direct sequel to the classic horror movie, Williams once again plays Anne-Marie McMoy. Williams's vital scene features a line delivery that, for good reason, is all over the marketing. Anne-Marie, again, experiences the pain of possibly losing her son, Anthony McCoy (Yahya Abdul-Mateen II).
For Williams, playing Anne-Marie almost 30 years later is not only a moment of coming full-circle. It's also a moment of fulfillment because the sequel, as she told /Film during a new interview, "makes sense for the Black aesthetic and point of view, and makes sense for the times that we're in."
Williams broke out with the original "Candyman" and "New Jack City." She got her start in theater, went on to star in other impactful works such as "Soul Food," and as a writer, has published poetry and starred in her acclaimed one-woman show, "Feet on The Ceiling."
Recently, the wide-ranging artist talked to us about her career, which included the original and new version of "Candyman."
You went to LaGuardia. Everyone knows its reputation, but what's the actual experience like?
Well, it was performing arts at the time. They hadn't merged with music and arts. So they operated as two separate schools on 46th Street and I was in the performing arts. Have you seen the movie "Fame"? It was thrilling and exciting like that. The theme of the movie was a heightened version of that, but it did feel that exhilarating as a student. As a 14-year-old coming from Bed–Stuy every day on an hour ride from the train, from a whole other world to get to be a free, sensitive, creative being, and recreate what it was like being in kindergarten in your first year of acting training, it was the exploration of self.
It's when I learned in practice and in theory that acting is not pretending; it's actually being. It's using yourself and your life to create a character, you finding the parallels, and that you're living truth. So it's not pretend; it's truth, and that was just mind-boggling. To get to be able to do that at 14 years old, it shapes who I am as an artist. I'm still in touch with those friends.
It was just a marvelous time in my life, and we still maintain our friendship all these years later. We were in the middle of Broadway. We're on 46th Street. Do you know what I mean? So that was my campus. It was marvelous.
And a few years later, you were on Broadway.
The first one was [Mbongeni Ngema's] "Sarafina," which started at the Lincoln Center and then moved to Broadway. And then, my second was [Langston Hughes and Nora Zeale Hurston's] "Mule Bone." [Wole Soyinka's] "Death and the King's Horseman" was also a production that I did. It was up at the Vivian Beaumont, which is not necessarily in the theater district, but that was a Broadway piece as well.  
And you've written and performed your own one-woman show, "Feet on the Ceiling." What is that theater experience like, being the only storyteller on stage?
Well, when you're a hamburgler like me, you love it [Laughs]. It's what you're into. It was wonderful to tell this coming of age story and all the things that me, as a young girl, was going through. It was all these stories about my coming of age. It was thrilling and it goes by so quickly. The writing process, those pieces had come over a series of time.
I called Jennifer Lewis, who's done many one woman stories, and I said, "Oh, I get it now. There are so many stories. You could take one portion of your life and totally dramatize and tell that." It was gratifying. I felt like my comedian friends, that it was an opportunity to do my standup. It was fulfilling in a marvelous, marvelous way, and that was so well received. I got to tour with it. It impacted lots of young people that I saw because it was serious. It was comedy, too.
It was about a young woman's journey and certainly a story that I haven't seen enough. There are all these coming of age stories about men, young men, but women, and certainly young Black women, have the same stories and awakenings about their sexuality, about all these ways of being in the world. And so, this is just one little tale.
Before we start talking about movies and "Candyman," I gotta ask, Langston Hughes and Zora Neale Hurston, how does it feel delivering their words?
It was so, so marvelous. I got to meet and work with some of my lifelong friends, like Akosua Busia, who played Nettie in "The Color Purple." She was the lead in Mule Bone, Spike Lee's sister, Joie Lee, was in it, and Robert Earl Jones, James' father. We had cast members from literally eight to 80. There were all these theater actors in New York who were journeymen, and it was marvelous learning so much from all of these New York theater actors who were so well-trained. It was beyond, beyond, beyond.
The beautiful thing about that is that I was opening on Broadway in "Mule Bone" when "New Jack City" came out. It was such a head-spinning time in my life. I'm thinking about our opening night party and Ntozake Shange is there, and just all of the elite and just amazing actors of New York and the whole Broadway scene.
Congratulations, by the way, on the 30th anniversary of "New Jack City" and that experience.
Thank you. In fact, we did a "New Jack City" reunion on Clubhouse. All of us were there, Mario [Van Peebles] and Allen Payne, and it was also wonderful to remember Bill [Nunn] and just all of the people who had been a part of it. It seems like yesterday, honestly, but to think it was so many years ago.
It's still so vital. Even Mario's camerawork feels modern.
This is what I get to learn when we do these panels about just how intentional he was. He's really his father's son. Even creating the whole New Jack swing and how effectively he used music to convey the times and the story, the transitions, it's just dope. It's dope filmmaking. I feel really fortunate to have been a part of so many iconic films, like "Candyman," and to get to revisit it this way.
"New Jack City" was your first movie in New York, and "Candyman" was your first movie in LA. You landed the "Candyman" role very fast, right?
Absolutely. It was immediate. It was one of the things that made me say, "Okay, maybe I'll give this LA thing a try." Even after doing "Candyman," I was still like, "Well, I'll give them six months to see if they get it because then I'm going back to New York," which is my home and my creative place. I wasn't completely sold, but I was like, "Okay, I'll give it a try."
A lot of actors say they have no idea how a movie may turn out when they're shooting it, but when you were filming the original "Candyman," did you think it had a chance to become as special film? 
No. I had no idea. I knew that Bernard Rose was a masterful movie teller. I had watched in preparation for the interview and working with him the psychological thriller, "Paperhouse," about the little girl who draws things and crazy things happen to her family. And so, I knew that he was a wonderful storyteller. Clive Barker was involved and he was an iconic horror person. I knew that I was in great company, but I had no idea that it would hit so hard and have staying power. I was pleasantly surprised.
Was Barker ever around on set?
No, not on the daily. We got to meet him. We went to dinner with him, but he wasn't on the set at all.
"It's trying to create and paint your way out of your trauma."
Was reading his original story a part of the preparation?
I'm not the audience, right? I'm a scaredy cat. It took me ages to watch "The Exorcist." I was always scared of the devil and demons. I already have enough things to be scared about, so I don't want to re-traumatize myself. So, no, I didn't and I wasn't aware of the reference material.
What's really so clear about the difference between then and now, if you will, is the point of view. Monkeypaw, Jordan [Peele] and Win [Rosenfeld], and Nia are such students of film and storytelling and such craftsmen. They took all of those source materials and crafted something that makes sense for the Black aesthetic and point of view, and makes sense for the times that we're in, and makes sense for reclaiming the narrative and putting it in the people who are the victim, putting it in the voice and through the lens, and it makes such a huge difference.
It's much more authentic. If you're going to tell this story about this neighborhood, it needs to be told in this way because... What is it that Lin-Manuel [Miranda] says about who tells the story? Who gets to tell the story reflects the reality of that world. And it just certainly has a different sort of impact and a different sort of truth.
Right. With that point of view, they also show the horrors of being a Black artist.
The horrors of being a Black person.
Of course.
But certainly, the horror of being a Black artist. It's trying to create and paint your way out of your trauma. Painting your way, acting your way, writing your way, creating, these are tools that we have inherited from our people, our ancestors who were able to survive slavery: survive, thrive, recreate, rebuild, get destroyed, and rebuild again, and have this legacy of survival to hand to people like me who were standing on the shoulders. The shoulders all of us are standing on.
If we talk about the origins of society in the world, it starts in Africa. This [story] has the ability to reclaim that story and utilize yet another tool, storytelling, to sort of heal those fissures and that violence the way it's told. It's not to traumatize us again the way that the angles and much of the horror, the cutting and the slashing, it's a little bit to the side. You're looking at it through the mirror, or seeing the blood drip under the bathroom stall, all of those ways that are, in some ways, more horrifying because it's what's going on in your mind, but also takes you out of a full forward blow, even the way the flashback scenes with the puppetry. For me, Kara Walker is a marvelous artist who uses that cutout and puppetry sort of imagery. It brings another layer of creativity and gentleness in telling this story.
How much did you think about Anne-Marie's experiences between the original film and Nia DaCosta's "Candyman"?
I did, absolutely. In preparing for it, Nia DaCosta, our marvelous director, was amazing at pointing me in the direction that she had been thinking about what Anne-Marie's life was like between then and now, and that's the way to approach the work.
One of the things that I thought about, in terms of how one survives a personal trauma like having your child stolen, is what her mothering and parenting style was. She's all in, right? And she's also carrying this secret. Also, she was able to lift herself a little bit out of her circumstances. She's got a great job. She's working as a nurse's assistant. She was able to up level herself and give her child all these opportunities that she didn't have for herself. He's a visual artist.
To give her child this freedom to be who he is, is certainly in line with my parenting style, and how I think children should thrive, and how best to parent them, and get out the way and see what they're going to do with their lives and what their choices are. So all of those things went into understanding the weight of Anne-Marie's life.
It's tragic, because she loses him twice. The scene between Anne-Marie and her son, even before people have seen the movie, they were enamored by your delivery of, "Don't say that." Did you have that specific delivery in mind before shooting or did it happen in the moment?
That certainly happened in the moment. I had no idea it was going to take off and be memed like crazy. That delighted me and surprised me. I do know that it came from a Christian background that I have, where we don't speak it into being, right? I was pulling from the church ladies that I grew up in service with. I'd been hushed like that in my life from my elders. I just conjured that up from faith and practice, spiritual religious practice, that kept Anne-Marie and her baby safe all these years was what she was pulling from. It came organically, just like, "No, don't say it, baby, don't say it." It just came from being vested in this time, in the space, in the experience.
You have that one scene, but it's a lot of story told in one scene.
[Laughs] Yeah. No pressure, right?
How does Nia direct in a scene such as that one?
Nia was phenomenal in directing Yahya and I. We had an initial take where we were close to each other. It worked so wonderfully for me to have my motherly, all over you reaction, but then to take a breath, sit back down on the couch, and then make the confession [in another take], I think it worked so marvelously. I think, in the moment, she allowed us to have the difference of choices about how to move the scene. I think it works.
The final shot of you both together in the mirror, that's heartbreaking.
Yeah, because like you said, loses him again. She just melts down and is just destroyed by all these years of keeping him safe and holding on to this terror. It's there on her face again and in their lives again. She couldn't save him. In the end, it wasn't on her to save him, and that's the most helpless feeling that a parent can have like, "I can't save my baby?"
The scene in the original where Anne-Marie first loses her son, that raw pain makes for the most terrifying scene in the movie, too. Just that scream alone.
Wailing my hair out. Those were fascinating and amazing things to shoot, the whole thing. It's traumatizing. People love their dogs. Her dog is killed. This woman steals her child, then she gives him back. It's just like a whirlwind of emotions in her. There was the super humanity that African-American people often have to people who were victimized and the forgiveness to be there at her funeral. It just reminds me of Martin Luther King's Buddhist sort of tenet to be nonviolent and to turn the other cheek, and to always take the high road, go high when folks go low, and be forgiving.
The forgiveness, honestly, at the end of the day, is not about the other person. It's about, are you going to carry around hate, this animosity, and anger? It frees you when you forgive someone and forgive what's happened to you. It's one of our superpowers, as a culture, to be able to forgive.
"Candyman" is in theaters today.