The 10 Best Sci-Fi Shows Currently On Netflix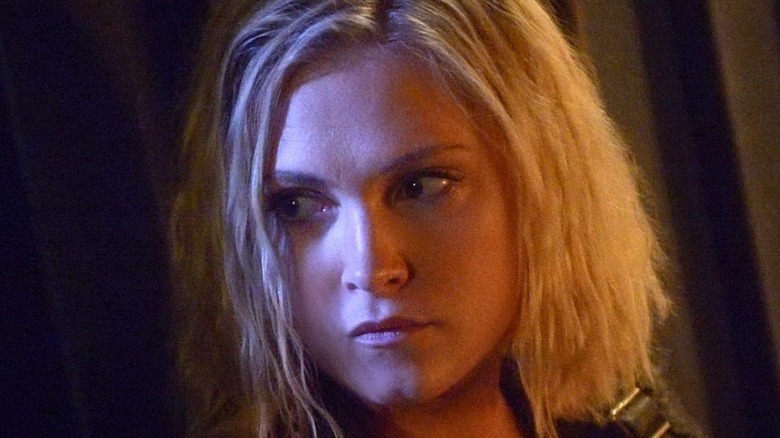 The CW
If you're looking for the best sci-fi series, there's no shortage of great content on Netflix. In its quest to retain existing viewers and entice new subscribers, the streaming service has quietly gobbled up an outstanding collection of the best sci-fi TV series the medium has to offer.
However, as anyone who occasionally suffers from decision paralysis knows, the vast array of options on Netflix can make it difficult to figure out what's worth the time and investment. That's where this guide comes in! Rather than simply cataloging a list of heavy-hitters, my goal is to help you narrow down options with a selection of titles — some familiar, some unexpected, and a few that have flown under the radar — to help you find whatever you like.
In the mood for a dystopian future? Perhaps a grounded exploration of an alien occupation is more your speed? How about a philosophical take on trauma, replete with dance numbers? Regardless of what you're in the mood for, this list of the best sci-fi series on Netflix has got you covered. Go forth and get your binge on!
The 100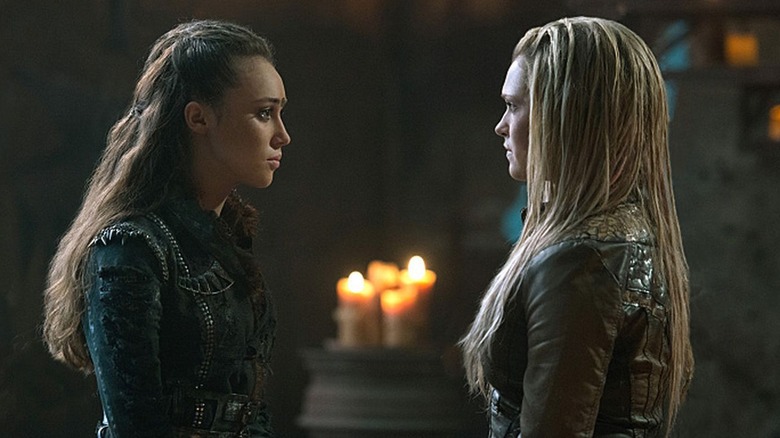 The CW
When "The 100" debuted on the CW back in 2014, it was written off as yet another YA series. The adaptation of Kass Morgan's dystopian book series quickly proved naysayers wrong, though, and captivated audiences with its mix of smart storylines and flawed characters.
"The 100" follows a group of teens who are branded criminals by the adult lawmakers on the space station where the last vestiges of humanity live. As punishment, they're sent to Earth, whose surface is believed to be inhospitable due to environmental catastrophes. What the sexy teens quickly discover, however, is that not only has a pocket of humanity survived on the planet, but a whole new world order has emerged.
What helps set "The 100" apart from other sci-fi series is the tension between traditional YA tropes and the show's willingness to engage in murky moral and political topics. Amidst the usual love triangles and the familiar sci-fi trappings, the characters on "The 100" frequently grapple with life and death situations that threaten the survival of the group. The outcome is often complex, unanticipated, and fatal (seriously, "The 100" killed off a lot of characters over its seven year run). And that makes for one hell of an entertaining series.
The 4400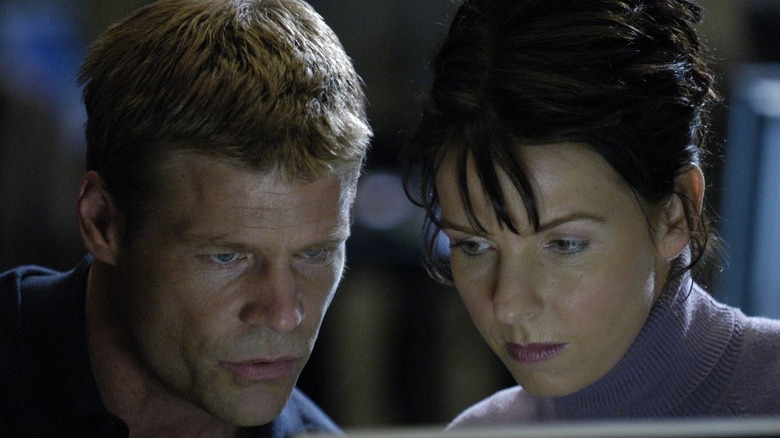 USA Network
With a reboot for the CW already in production, there's no better time to get caught up on the original run of "The 4400." The original series ran from 2004 to 2008 on the USA Network and had a killer hook: 4,400 missing people from throughout history all mysteriously reappear on a single day, now equipped with a variety of powers and, seemingly, with a mission.
What makes "The 4400" great is how accessible it is. Despite the time travel and the super powers, this is soft sci-fi that gives as much screen time to the returnee's mysterious agenda as it does to the relationships between characters. For audiences drawn to the former, there are the political mind games played between human investigators Tom Baldwin and Diana Skouris (played by Joel Gretsch and Jacqueline McKenzie) and returnees like Billy Campbell's messianic Jordan Collier. For fans of the latter, there is the burgeoning romance between Mahershala Ali (then unknown) and Laura Allen, who play star-crossed lovers.
While the show's mythology becomes convoluted and messy in its back half, "The 4400" is an eminently watchable sci-fi series that goes down easy. Plus, it gets bonus points for being recognizably filmed in Vancouver, the shooting location of nearly every North American sci-fi show!
Black Mirror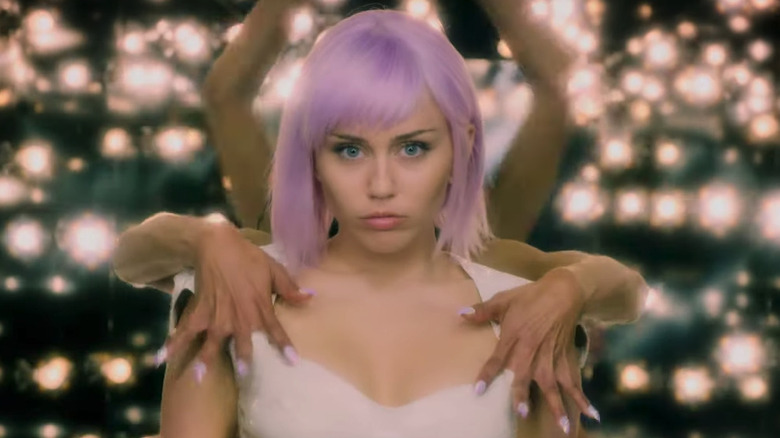 Netflix
With "Black Mirror," Charlie Brooker has delivered the closest thing contemporary audiences have to the biting, socio-political sci-fi commentary of "The Twilight Zone" and "The Outer Limits." The anthology series explores humanity's complicated and disturbing relationship with modern technology, usually with the aim of turning a critical lens back on viewers.
Because "Black Mirror" debuted in the UK before closing a deal with Netflix to cross the pond, there's a distinct difference between the first two seasons and the latter three (there's also a "choose your own adventure" entry called "Bandersnatch" that divided audiences into two camps: those who found it fun and experimental and those who find it bland and cloying). Still, one big selling point across all five seasons is the show's bevy of star power, from British faves like Toby Kebbell and Hayley Atwell to American superstars like Bryce Dallas Howard, Anthony Mackie, and Miley Cyrus. Seeing such recognizable faces in ultra-disturbing morality tales is half of the show's appeal.
The series' other asset is its anthology format, which privileges stand-alone storytelling; this has the effect of rendering each episode its own cinematic event. Don't like one story? Simply jump to the next. From vengeful robot dogs to predatory game shows and beyond, "Black Mirror" has a dark fable for everyone.
Colony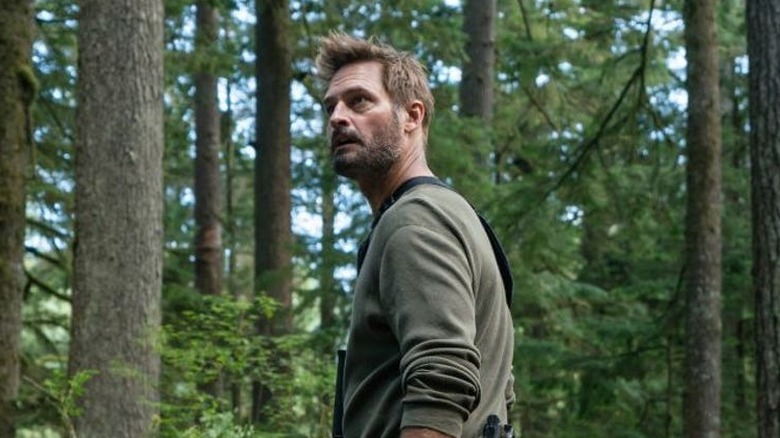 USA Network
One of the best sci-fi series of the last five years is also one that seemingly flew under most everyone's radar. "Colony" aired on USA Network from 2016 to 2018 and starred Josh Holloway ("Lost") and Sarah Wayne Callies ("The Walking Dead") as insurrectionist parents raising three boys in Los Angeles during an alien occupation. One of the series' most fascinating conceits is that the aliens are barely glimpsed; while they preside over each colony like shadowy overlords, they rely on human proxies to do their dirty work.
If this concept sounds familiar, think of "Colony" as a four-season expansion of the New Caprica episodes from Season 3 of "Battlestar Galactica." Featuring stand-out action and insightful commentary about complicity, responsibility, and the wants of the few vs the needs of the many, "Colony" is a taut, tense series that remains (sadly) extremely topical in our current political moment.
Dark Matter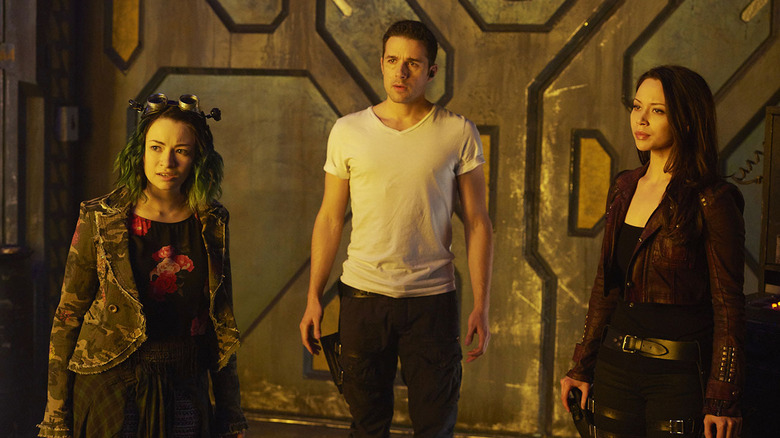 Syfy
Considerably lighter in tone than the majority of titles on the list is "Dark Matter," a space heist series that aired on Syfy for three seasons from 2015 through 2017. The show is about a ship full of amnesiacs who discover they weren't exactly the kindest, gentlest people in their past lives (in fact they were scoundrels, cheats, and murderers). Now, these rogues travel the galaxy, making amends for their sins while dodging old acquaintances and past employers who want to make them pay for forgotten wrongdoings.
One of the joys of "Dark Matter" is not just watching these lovable grifters uncover their pasts, but how effortless and fun their various space adventures are. The series never takes itself too seriously, which makes for a light, breezy escapism that is sometimes missing from other, darker sci-fi series.
Come for the fun, engaging cast of Canadian genre veterans, including Melissa O'Neil ("iZombie"), Anthony Lemke ("Good Witch"), Zoie Palmer ("Lost Girl"), Jodelle Ferland ("Silent Hill"), and Roger Cross ("Continuum"); stay for the robots, the samurai, and the overly complicated time-travel shenanigans.
The OA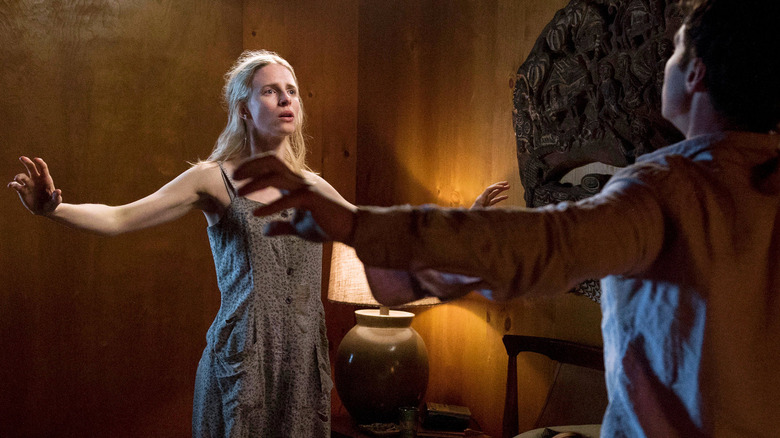 Netflix
The best sci-fi series are unafraid to ask a lot of the audience. Enter Brit Marling's passion project, "The OA", which fits that description to a T. This two-season wonder accrued a cult fan base thanks to its unorthodox story about a small group of strangers who are abducted and held prisoner in a stranger's basement (Jason Isaacs, the Harry Potter films).
The series was created by Marling ("Another Earth") and her frequent collaborator, Zal Batmanglij, and debuted to little fanfare back in 2016. It's almost as if Netflix — and, by proxy, audiences — didn't entirely know what to do with a series about Prairie (Marling), who is revealed to be of Russian descent and was once blind. It wasn't until audiences became accustomed to the unconventional plot and unique narrative structure that "The OA" developed its reputation as something new and exciting. It doesn't hurt that over its two seasons, the show became renowned for pulling the rug out from under its audience, surprising viewers again and again.
And then there's the fascinating — or laughable — dancing (or "movements", as the show calls them). "The OA" centers around a series of performative dance moves that Prairie teaches her friends that seemingly have otherworldly powers. It's ... a lot, which is why the series is easily the most divisive series on this list ("The OA" was cancelled by Netflix in 2019). If you click with Marling and Batmanglij's particular brand of kooky, however, "The OA" is one wild ride.
Ragnorak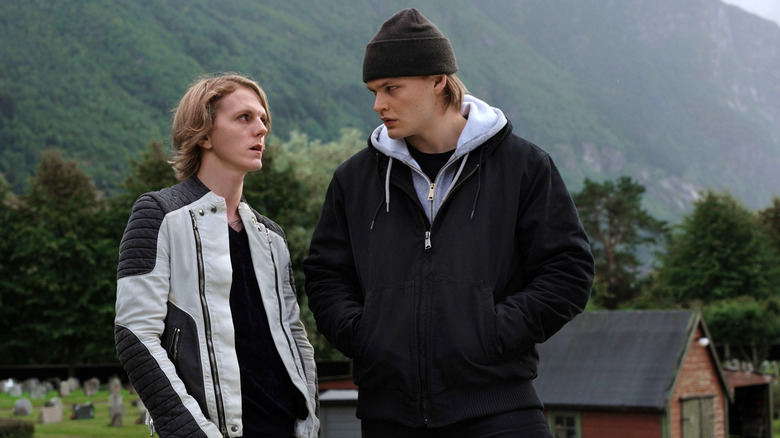 Netflix
One of Netflix's strengths as a worldwide brand is its access to international productions that may have otherwise never made it to North America. The result has been a deluge of high quality foreign shows, including many sci-fi and horror series.
Norway's "Ragnarok" is a great recent example. The show debuted in 2020 and has run for two short (by North American standards) seasons of six episodes each. "Ragnarok" is a moody, mostly grounded take on the battle between gods and giants in Norse mythology (the same stories made exceedingly popular by Marvel as a result of the "Thor" movies). The series focuses on Magne (David Stakston) and his brother Lauritis (Jonas Strand Gravli), a pair of average teen boys who move to the town of Edda and immediately get swept into a historical battle. In many ways, the series plays on the conventions of the superhero genre, particularly how Magne emerges from his isolationist shell when he discovers his strength and confidence. "Ragnarok" is also noteworthy for its enigmatic, gorgeous villains: the Jutuls, a family (of sorts) of immortal giants who are polluting the environment for their own profit.
"Ragnarok" is a delightful mix of the fresh and the familiar, adhering to storytelling conventions that North Americans will have no difficulty following while adding a fascinating international flavor. Throw in some gorgeous Norwegian scenery, and the series is perfect pandemic screening. It may even entice audiences to travel to Norway once the world reopens!
Sense8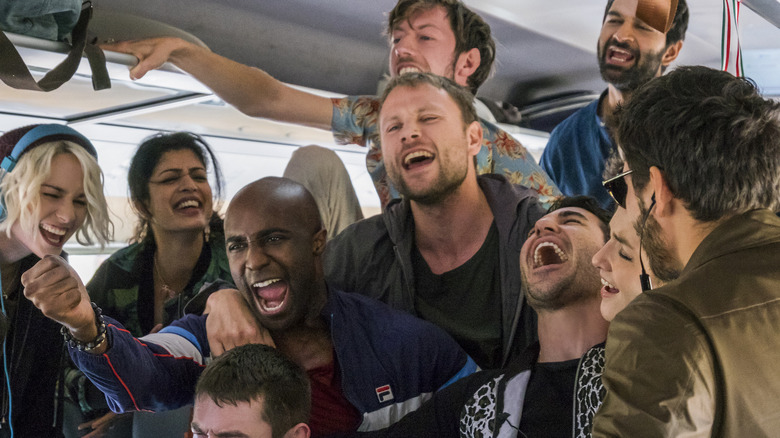 Netflix
Given the Wachowskis' penchant for big, bold storytelling, it's no surprise that "Sense8" has a sprawling narrative. The international series was epic in scope from its inception: the ambitious sister directing duo, along with their creative partner J. Michael Straczynski (creator of "Babylon 5"), worked with crews across multiple countries (eight in season one, 11 for season two) to tell the story of eight strangers scattered around the globe who share a virtual and emotional connection.
While "Sense8" narratively centers around a shadowy organization called BPO and its nefarious henchman Whispers, the empathy and connectedness of its characters is its true core (also: it has some kick-ass fight scenes). Over time, the universality of the human experience and the ways the characters loved and learned from each other became the series' defining trait.
One other reason to celebrate "Sense8": this is the only series on this list to feature fully fleshed-out, three dimensional queer characters in significant roles both behind and in front of the camera. In addition to the Wachowskis, two of the eight leads identify as queer, including trans actress Jamie Clayton and gay actor Brian J. Smith (who came out after the series wrapped). That's worthy of a Pride celebration or two.
Stranger Things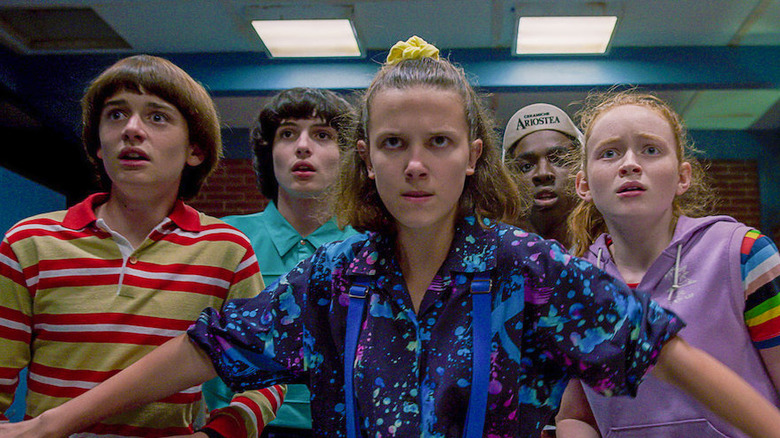 Netflix
What more can be said about "Stranger Things," the mega popular Netflix original? After all, there's a reason why "Stranger Things" appears on everyone's list of the best sci-fi series. Not only is the period series one of the streaming giant's crown jewels in terms of reception and cultural impact, but "Stranger Things" almost single-handedly ushered in a wave of '80s nostalgia in genre entertainment. Armed with a banging synth score and memorably fearsome creatures, this story about a group of small town teens who uncover a secret government experiment plays like a throwback to the era when Spielberg, Lucas, and Amblin Entertainment churned out this kind of content on the regular.
While there are great adult actors on the show, including Winona Ryder, David Harbour, Sean Astin, and Matthew Modine, "Stranger Things" would be nothing if it weren't anchored by some of the most memorable child performers in recent years. It's not surprising that so many of the young cast have gone on to become bona fide stars in their own right, including Millie Bobby Brown ("Godzilla: King of the Monsters"), Finn Wolfhard ("Ghostbusters: Afterlife"), Maya Hawke ("Fear Street: 1994"), and Sadie Sink ("Fear Street: 1978")
From addicting storytelling to daring cliffhangers, "Strange Things" has high stakes and plenty of tension, and there are innumerable reasons why fans are actively counting down the days until the series returns in 2022. Thankfully there's a new season four trailer to keep us occupied — for now.
Travelers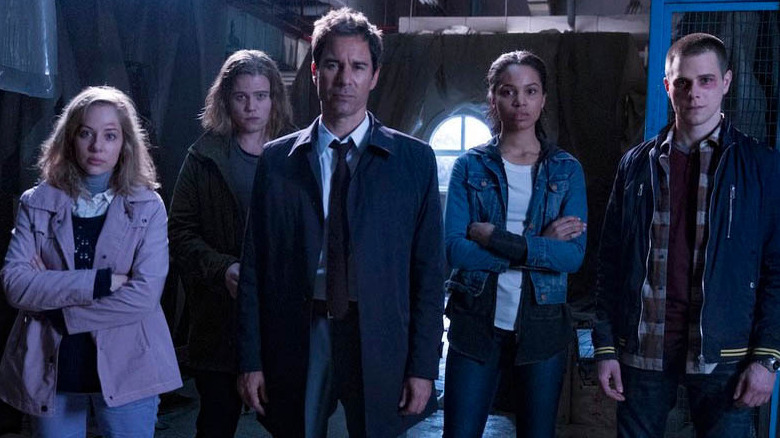 Netflix
Another oft overlooked sci-fi series is Eric McCormack's "Travelers," which combines time travel, body swapping and lots of conspiracies in one low-fi package. The titular travelers are agents from the future who take over the bodies of the newly dead, and who use their knowledge of what's to come to stave off cataclysmic disaster. Like a lot of good sci-fi content, the show balanced season-long arcs with case-of-the-week procedural episodes, which makes the show easy to dip in and out of.
Admittedly, "Travelers" occasionally struggles to balance its mythology episodes with the interpersonal drama, so your mileage may vary based on how invested you are in each character. Take, for example, McCormack's wife, who suspects his sudden mood change is because he's having an affair (snooze!), and contrast it with Marcy (MacKenzie Porter) and her shift from being developmentally disabled to highly cognitive, which gives the series one of its most emotionally resonant and morally complicated storylines.
At the end of the day, "Travelers" isn't as exceptional as many of the other sci-fi series on this list, but it does have a certain kind of comfort-food appeal. The show featured plenty of twists and turns over its three-season run, plus a nifty premise and relatable characters, that justify a recommendation. It's not particularly challenging, but at the end of a long workday, it may just be what you're in the mood for.