Daily Podcast: What If...? Episode 3 Crafts An MCU Murder Mystery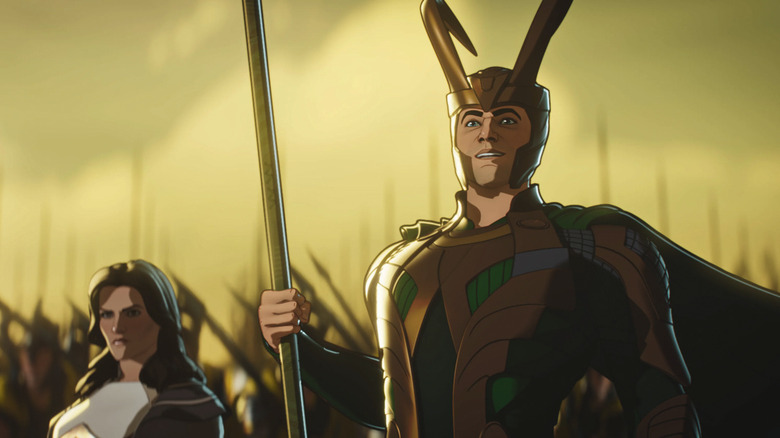 Disney+
On the August 25, 2021 episode of /Film Daily, /Film senior writer Ben Pearson is joined by senior writer and weekend editor Brad Oman to have a spoiler-filled discussion about the third episode of Marvel's "What If...?"
Opening Banter:
In The Spoiler Room: "What If...The World Lost Its Mightiest Heroes?"
Feedback

"I'm surprised no one talked about the other effect this timeline had on Thanos shown in this episode. When fighting at Knowhere, a single electrical shock from Proxima Midnight knocked him out. This can't be the same Thanos that Thor, Iron Man, and Captain America couldn't defeat, let alone incapacitate in Endgame even before he re-acquired the Infinity Stones. P.S. I'm sending this tongue-in-cheek. I know this is more of an alteration of convenience in a cartoon, but I did think it worth noting." – Jeremy N, Virginia

Brief reactions

Breakdown

Iron Man 2 section

Black Widow

Thor section

Loki's arrival (Casket of Ancient Winters)

The Incredible Hulk section

Hank Pym in the graveyard

Loki's takeover, Captain Marvel ending

Speculation and Easter Eggs
Also mentioned:
All the other stuff you need to know:
You can find more about all the stories we mentioned on today's show at slashfilm.com, and linked inside the show notes.
/Film Daily is published every weekday, bringing you the most exciting news from the world of movies and television as well as deeper dives into the great features from slashfilm.com.

You can subscribe to /Film Daily on Apple Podcasts, Google Podcasts, Overcast, Spotify and all the popular podcast apps (RSS).

Send your feedback, questions, comments and concerns to us at peter@slashfilm.com. Please leave your name and general geographic location in case we mention the e-mail on the air.

Please rate and review the podcast on Apple Podcasts, tell your friends and spread the word!

Thanks to Sam Hume for our logo.