Magic: The Gathering Series Adds Brandon Routh, Loses The Russo Brothers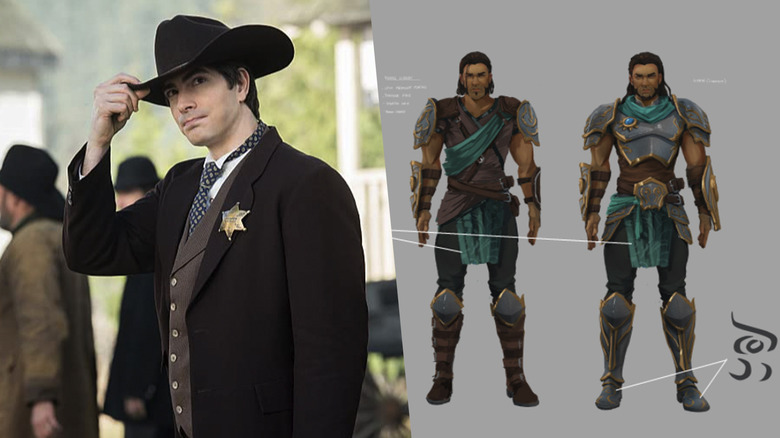 The CW/Netflix
A couple of years ago, "Avengers: Endgame" directors Anthony and Joe Russo were attached to oversee an animated Netflix series based on the mega-popular "Magic: The Gathering" franchise. As of a few days ago, the Russo Brothers are no longer involved with the series, but it is still moving forward, now under the direction of executive producer Jeff Kline ("Transformers: Prime"). Plus, the show has also found an actor to play one of its starring roles: Brandon Routh ("Superman Returns") will lend his voice to the character of Gideon Jura, a loyal, charismatic, and powerful warrior-mage who always protects the innocent.
Who is Gideon Jara?
Okay here's what we learned at Wizard's Magic: the Gathering Showcase 2021... First, Brandon Routh (Superman!) to play Gideon Jura. pic.twitter.com/V2urcnPqYD

— Netflix Geeked (@NetflixGeeked) August 24, 2021
In the lore of Magic: The Gathering, which has amassed billions of players since it launched as a trading card game in 1993, Gideon is described as a hieromancer, a group of "white mages that use their protective power to enforce order or suppress the abilities of others. The most notable of their number pay allegiance to the Order of Heliud." If that sounds like gibberish to you, welcome to the club — despite this franchise's impressive numbers, I've never played a single game or read any of the books or comics that comprise its mythology.
Gideon is also a Planeswalker, one of the most powerful beings in the entire multiverse. That's important, since this new show was previously reported to be "an all new storyline and expand on the stories of the Planeswalkers, which are Magic's unique magic-wielding heroes and villains as they contend with stakes larger than any one world can hold."
As much as Routh does his "aw shucks" routine in that video announcing his involvement, he has a point about why he was cast in this role: he has built something of a reputation for being the square-jawed Boy Scout-type of hero over the past several years, and this sounds like an opportunity for him to put a spin on that type of persona, but in the realm of fantasy.
Gideon Jura Concept Art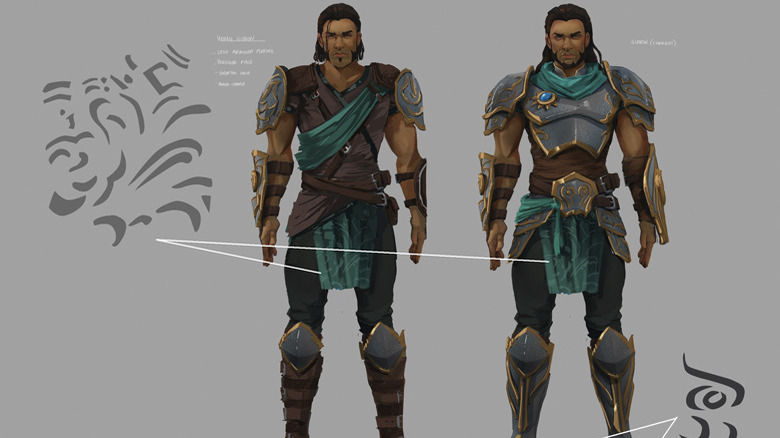 Netflix
Netflix released this piece of concept art showing off a young version of Gideon (above left), as well as the current version of the character, who appears to have spent the intervening years acquiring some sturdier armor, a penchant for over-sized belt buckles, a more advanced facial hair strategy, and the confidence to rock a piece of clothing that's ascot-adjacent and really feel like he's pulling it off.
This 3D rendering of the character showcases the character's dangerous weapon, a sural, which features whip-like blades that extend from his armguard.
As well as a sneak peak at the 3D Gideon character model. pic.twitter.com/pn6hTpPhfR

— Netflix Geeked (@NetflixGeeked) August 24, 2021
Additionally, Netflix revealed a couple of pieces of concept art depicting some key locations in the upcoming story:
And as a bonus, we've got something brand new too, here's a look at the environmental art for Ravnica and Golgari. pic.twitter.com/cL9BcJyZ3p

— Netflix Geeked (@NetflixGeeked) August 24, 2021
"Magic: The Gathering" is set to land on Netflix sometime in 2022.