Parallel Mothers Trailer: Pedro Almodovar Is Back
Sony Pictures Classic
Following up his 2019 Academy Award-nominated film "Pain and Glory," acclaimed Spanish director Pedro Almodóvar returns with the stirring family drama, "Parallel Mothers (Madres Paralelas)." In typical Almodóvar fashion, the film reunites him with longtime collaborator Penelope Cruz, putting her front and center in the starring role. And like many of his films before it, "Parallel Mothers" centers on motherhood, using melodrama to dig into the depths of its character identities.
The first teaser for the film showed off elements of Almodóvar's signature style and introduced the illustrious cast, filled with many of his prior collaborators. But this trailer is where we really get a sense of the movie, and we learn more about the characters and the plot bringing them together.
For a closer look at Almodóvar's "Parallel Mothers," check out the trailer below.
Parallel Mothers Trailer
"Parallel Mothers" is Almodóvar's twenty-second feature film, continuing his celebrated career. Among the many reasons for his acclaim, Almodóvar's films are typically marked by his bold aesthetic and intimate character studies. It looks like "Parallel Mothers" will be no exception: the story follows two women, beginning their journeys through motherhood in tandem. Cruz's Janis is ecstatic about her child, but struggling due to her partner's hesitation. We see her in contrast to Ana (newcomer Milena Smit), a younger woman whose life is also drastically disrupted by her pregnancy.
However different their initial reactions, both women end up working through intense complications. We get many hints towards Janis' struggles throughout the trailer, as she tries returning to work and even hires Ana to look after her daughter while she's away. But it also seems that their bond will be as much an issue as it is a comfort.
The Two Mothers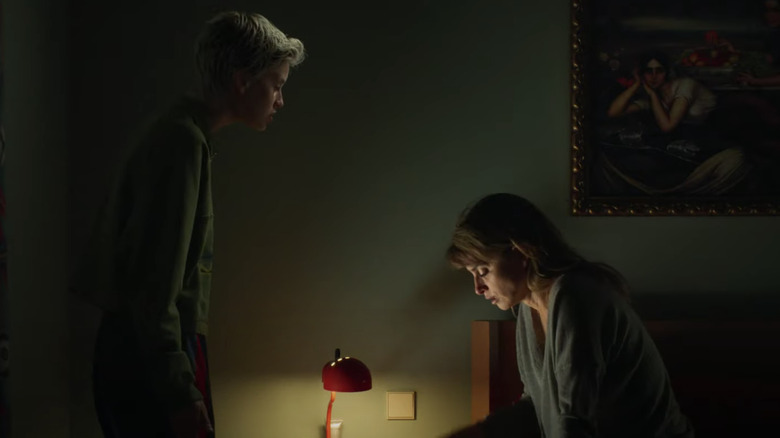 Sony Pictures Classic
According to the official synopsis, the relationship between Janis and Ana is the center of the film:
"Two women, Janis and Ana, coincide in a hospital room where they are going to give birth. Both are single and got pregnant by accident. Janis, middle-aged, doesn't regret it and she is exultant. The other, Ana, an adolescent, is scared, repentant, and traumatized. Janis tries to encourage her while they move like sleepwalkers along the hospital corridors. The few words they exchange in these hours will create a very close link between the two, which chance will undertake to develop and complicate in such a decisive way that it will change the lives of both."
The film also stars Aitana Sánchez-Gijón, Israel Elejalde, Julieta Serrano, Rossy de Palma, and Daniela Santiago. Cinematographer José Luis Alcaine returns with bright pops of color, distinct against the film's thematic darkness. As always, it pairs perfectly with Almodóvar's very intentional composition and gorgeous symmetrical shots.
"Parallel Mothers" is set to open this year's Venice Film Festival in September and close New York Film Festival in October. Following its premiere, the film is set to release in Spain in September and in the U.S. on December 24, 2021.