Disney's 'Princess And The Frog' Ride Concept Art Reveals A New Take On Splash Mountain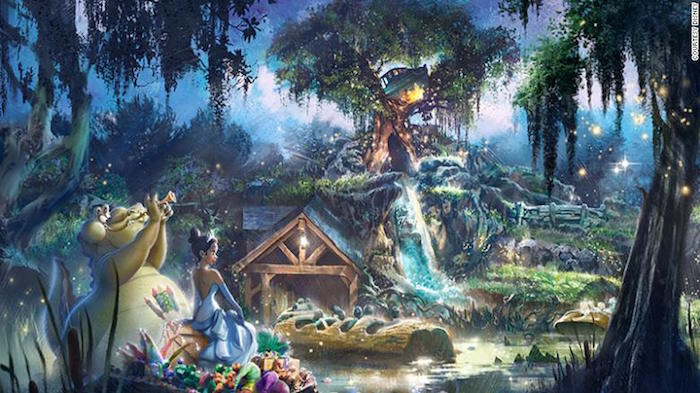 Remember how, in the midst of the insanity of the world last summer, Disney announced that the longtime favorite log-flume attraction Splash Mountain would be overhauled at both Disneyland and Walt Disney World? It's been more than a year since that initial announcement, and while we still don't know when the new attraction will open, Disney has just provided a new glimpse into the concept art of the attraction, which will be based on the film The Princess and the Frog.
Celebrating World Princess Week With Tiana and Friends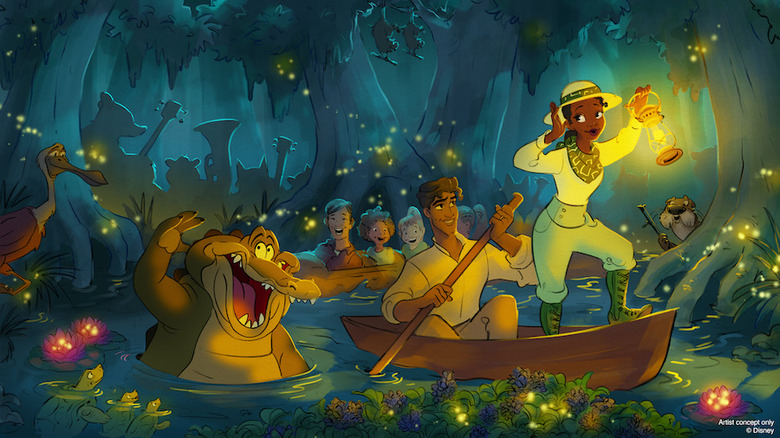 Today at the Disney Parks Blog, the company teased concept art like the image above as well as a brief discussion between some Disney Imagineers; the daughter of Leah Chase, a chief inspiration for Tiana; and ABC News Correspondent Kenneth Morton in which they all talk a little bit about the creative choices behind the upcoming attraction. The video, which you can watch below, and post are tied into World Princess Week, which...is apparently a thing. Good for princesses! (I guess?)
A Ride That's Almost There
On one hand, the slow-burn style of information about this new attraction, one whose name is still in the dark, is to be expected. Think of how Disney announced a couple years ago about the eventual arrival of a Guardians of the Galaxy-themed rollercoaster in the space that was previously occupied by the Universe of Energy pavilion at Epcot. We're still a ways out from that attraction too. But considering the undeniable urgency that was associated with the announcement of this attraction, coming so soon on the heels of the Black Lives Matter protests occurring all across the world, the deliberate speed with which this is coming together implies that the initial reveal last year should have come with a "Hold on for a few years, at least" note.
What the video and concept art tease is an intriguing addition to the New Orleans Square and Critter Country areas of Disneyland, at least. (Splash Mountain is a linchpin attraction in the Frontierland area of Walt Disney World, and The Princess and the Frog doesn't quite fit with that theming. It should be interesting to see how Disney handles that.) Here's the real question, and one that even a video and post like this can't truly answer. When this ride comes to completion and is ready for guests, is it going to be a whole new attraction or just the Splash Mountain area themed to a different film? Here's hoping Disney's Imagineers are enabled, creatively and financially, to go beyond just repeating the ride layout and design with new Audio-Animatronics and effects.