How To Watch 'The Suicide Squad' At Home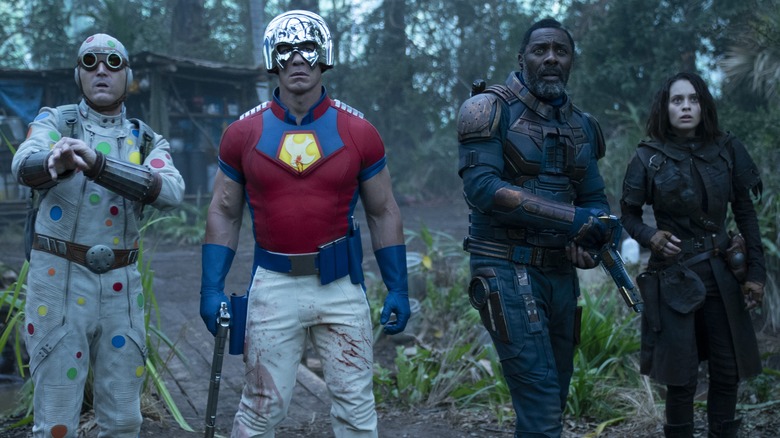 (Welcome to How to Watch, where we get down to brass tacks and tell you "Hey, here's how you can watch this thing." In this edition: The Suicide Squad.)Update: The Suicide Squad will actually be available earlier than anticipated. Read on for specific details.
Maybe you're a fan of James Gunn, the writer/director behind some cool horror films and Marvel's Guardians of the Galaxy movies. Perhaps you're a fan of Harley Quinn, the character played by Margot Robbie who has experienced a resurgence in popularity in the past few years. You could be an Idris Elba stan who sees literally everything the guy is in. Or maybe you've heard that this movie features some of the most ridiculous characters in the roster of DC Comics, including Polka-Dot Man and King Shark. Whatever the reason, you find yourself interested in watching The Suicide Squad, Gunn's R-rated and irreverent supervillain-heavy team-up war movie. Here's how to do that from the comfort of your own home.
When Can You See The Suicide Squad?
Update: While The Suicide Squad was previously set to debut in the U.S. on Friday, August 6, it will actually be accessible slightly earlier than that. The film will be available on HBO Max and in theaters at 7:00 P.M. tonight, August 5, 2021.
If you're in France, you'll be able to see it even sooner: it premieres there on July 28. It arrives in the United Kingdom, Ireland, and Turkey on July 30. The film will play at the Fantasia International Film Festival in Canada on August 4.
Where Can You See The Suicide Squad?
In the United States, The Suicide Squad will be landing in theaters and on HBO Max on the same day. It will remain streaming HBO Max for 31 days before it disappears for an undetermined amount of time. But since Warner Bros.' plan for its 2021 movies debuting day and date on the streaming service only applies in the U.S., UK crowds and other international audiences will have to seek it out in theaters if they want to see it as soon as possible.
What Else Should You Know About The Suicide Squad?
James Gunn wrote and directed The Suicide Squad, which stars Idris Elba, Margot Robbie, John Cena, Viola Davis, Taika Waititi, Michael Rooker, Joel Kinnaman, Jai Courtney, Nathan Fillion, Alice Braga, David Dastmalchian, Pete Davidson, Sean Gunn, Mayling Ng, Mikaela Hoover, Freddie Stroma, Jennifer Holland, and the voice of Sylvester Stallone as King Shark.
Here is the synopsis:
Welcome to hell—a.k.a. Belle Reve, the prison with the highest mortality rate in the US of A. Where the worst Super-Villains are kept and where they will do anything to get out—even join the super-secret, super-shady Task Force X. Today's do-or-die assignment? Assemble a collection of cons, including Bloodsport, Peacemaker, Captain Boomerang, Ratcatcher 2, Savant, King Shark, Blackguard, Javelin and everyone's favorite psycho, Harley Quinn. Then arm them heavily and drop them (literally) on the remote, enemy-infused island of Corto Maltese. Trekking through a jungle teeming with militant adversaries and guerrilla forces at every turn, the Squad is on a search-and-destroy mission with only Colonel Rick Flag on the ground to make them behave...and Amanda Waller's government techies in their ears, tracking their every movement. And as always, one wrong move and they're dead (whether at the hands of their opponents, a teammate, or Waller herself). If anyone's laying down bets, the smart money is against them—all of them.