Only 36% Of Viewers Finished 'Zack Snyder's Justice League' In Its First Week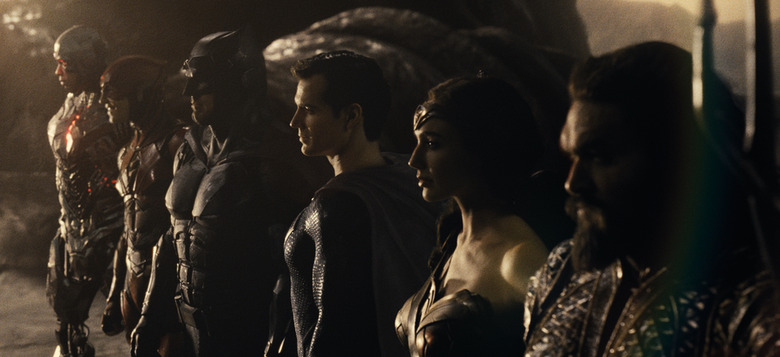 When Zack Snyder's Justice League debuted in March on HBO Max, it was the culmination of a years-long campaign by fans who clamored to see the original vision that director Zack Snyder had for the 2017 comic book movie. But just how many viewers beyond that fanbase stuck around until the credits rolled? According to a third party data company, not many.
Like every other streaming service out there, HBO Max doesn't release viewership numbers unless it's to tout the great success of a buzzy title. But from what we can gather, Zack Snyder's Justice League was a success for the WarnerMedia streamer — to an extent.
Third-party aggregator Samba TV reports that 2.2 million households "watched" Zack Snyder's Justice League in its first week of release. But how does one measure a "watch"? SambaTV counted households that watched at least five minutes of the program, which is barely a fraction of the 242 minute film. So when it comes to people who sat through all four hours of Zack Snyder's Justice League, it comes down to a much smaller number: 800,000. That's only 36% of all U.S. households that tuned into Zack Snyder's Justice League, meaning that less than half of people watched the film made it through to the end.
It's a rather dismaying percentage, but does that mean that it's a wash for Zack Snyder's Justice League? Like all numbers that have to do with the streaming world, it's complicated. First, this is a third party data company, so all this should be taken with a grain of salt. But based on a collection of these third party data collectors, Forbes has been able to give a rough estimate of how successful Zack Snyder's Justice League was, in financial terms. Per Bloomberg, Zack Snyder's Justice League gave HBO Max its biggest jump yet, recording an 8.9% jump in people launching the mobile app. Pair that with the Samba TV data, and Forbes guesses that Zack Snyder's Justice League will come out to around $266 million in annual revenue for HBO Max.
Here's how Forbes did the math:
However, bending over backward to be fair, let's presume that all 1.48 million new downloads were also new paying subscribers. At $14.99 a pop, that's a monthly haul of around $22.2 million for a film that cost AT&T an extra $70 million to complete.
That can't be equated to box office revenue, of course, but it's a solid win for HBO Max and Warner Media. Probably. We'll never know until we learn the official numbers, which we likely never will.