'The Toll' Exclusive Clip: Anyone Up For A 3 A.M. Stroll Through The Woods?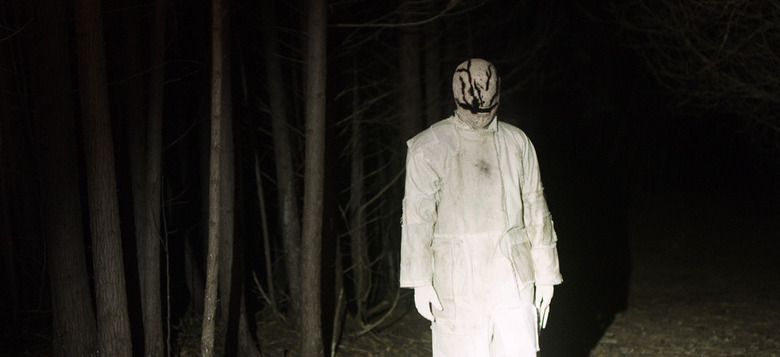 In the new horror film The Toll, a woman and her taxi driver end up stranded in the middle of nowhere late at night. As if that weren't awkward enough, there may or may not be some sort of malevolent unseen presence lurking in the darkness, watching them. Cue the spooky music! T
he Toll is headed to theaters, digital, and On Demand this week, and we're debuting an exclusive clip from the film to set the mood. Watch it below.
The Toll Clip 
In The Toll, "When Cami orders a taxi service to take her to her father's country home, she's hoping for a quiet and uneventful ride. But a wrong turn by Spencer, her chatty driver, results in the car stalling on a dark and remote road. After several threatening and inexplicable occurrences, Cami and Spencer realize they are being watched—by an unseen presence that sees them as trespassers, and is ready to exact a deadly toll."
In the clip above, Cami (Jordan Hayes) decides to walk after the car breaks down, but as she's strolling through the woods at 3:00 A.M. she notices that the road she just traveled down has been mysteriously blocked off, and she has to go even further into the woods to continue. What could possibly go wrong?
I haven't seen The Toll, but I want to highlight the lighting in this clip. The Cami character is standing next to a flashing hazard light for most of the scene, and while that blinking light could be distracting, it's handled well here and lends an extra bit of ominousness to the whole scenario. Good work, The Toll!
The Toll comes from writer-director Michael Nader and stars Jordan Hayes, Max Topplin, James McGowan, and Rosemary Dunsmore. You can find it in theaters, On Demand, and on digital starting March 26, 2021. Here's a longer synopsis that gives you more insight into the film.
It's 1am. An exhausted CAMI orders a rideshare at the airport. Her driver: SPENCER, awkward and unsettling. Her destination: Her dad's place in the middle of nowhere. Along the way, Cami grows increasingly suspicious of Spencer's odd behavior. But this fear gives way to full-blown terror when their car breaks down on a secluded road. And they both realize they're not alone...
There are people moving around the car. Leaving them bizarre messages. Putting up road signs that lead up a dark wooded trail. Suddenly the car comes under attack — and a rock smashes through the window. Attached to a message that warns visitors must "pay the toll."
Soon, Cami and Spencer become aware it's a supernatural force haunting them: the Toll Man. A terrifying presence that creates eerie (and personal) visions of their past and future. Playing o? their worst fears. Pitting these two strangers against each other. Until they discover that for either to survive, one of them has to die.
Unnerving and suspenseful, THE TOLL explores how we deal with past trauma in our modern age.