Peacock Orders 'Da Vinci Code' Spin-Off 'Langdon' To Series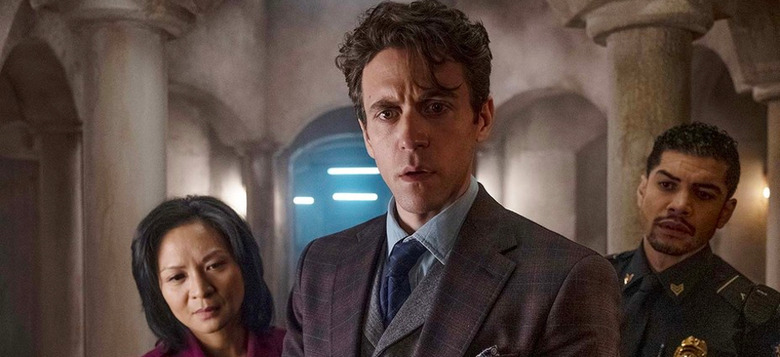 Robert Langdon, the Harvard symbologist with the bad haircut who has a nasty habit of getting caught up in historical mysteries, now has his own TV series. After ordering a pilot last year, Peacock has now ordered Dan Brown's Langdon to series, with Succession actor Ashley Zukerman playing the title character. The show will follow Robert Langdon's "early adventures," and you better friggin' believe he's going to have to solve some puzzles along the way. That's just how Robert Langdon rolls.
Peacock has announced that Dan Brown's Langdon is going to series, so all you Langdon-heads can feel free to solve a cryptex to celebrate. The series is a spin-off of sorts of The Da Vinci Code and, more specifically, an adaptation of Dan Brown's book The Lost Symbol. The series "follows the early adventures of famed Harvard symbologist Robert Langdon, who must solve a series of deadly puzzles to save his kidnapped mentor and thwart a chilling global conspiracy." The book's synopsis might provide some more clues:
Famed Harvard symbologist Robert Langdon answers an unexpected summons to appear at the U.S. Capitol Building. His plans are interrupted when a disturbing object—artfully encoded with five symbols—is discovered in the building. Langdon recognizes in the find an ancient invitation into a lost world of esoteric, potentially dangerous wisdom.
When his mentor Peter Solomon—a long-standing Mason and beloved philanthropist—is kidnapped, Langdon realizes that the only way to save Solomon is to accept the mystical invitation and plunge headlong into a clandestine world of Masonic secrets, hidden history, and one inconceivable truth . . . all under the watchful eye of Dan Brown's most terrifying villain to date.
Robert Langdon first appeared as a character in Brown's Angels and Demons, but it was The Da Vinci Code that truly launched Langdon into the pop culture stratosphere. The character was first brought to life by Tom Hanks, who played Langdon in the Da Vinci Code movie and then returned to play the character in the Angels and Demons movie and then again in Inferno.
Ashley Zukerman will play the character in the Langdon TV series, leading a cast that includes Valorie Curry (Blair Witch), Sumalee Montano (10 Cloverfield Lane), Rick Gonzalez (Arrow), Eddie Izzard (Ocean's Thirteen), and Beau Knapp (Seven Seconds). Dan Dworkin and Jay Beattie will serve as writers and executive producers for the series. 10 Cloverfield Lane director Dan Trachtenberg helmed the pilot. Dan Brown, Brian Grazer, Ron Howard, Samie Kim Falvey, and Anna Culp serve as executive producers.
"The team was blown away by this pilot and its enormous potential to become a big, binge-worthy hit, and our new structure enables us to move it to Peacock and give it every opportunity to make that happen," said Susan Rovner, Chairman, NBCUniversal Television and Streaming. "Our ability to pick up a great show is no longer limited by the confines of a network schedule, giving us the freedom to say 'yes' to shows we love and then find them the perfect home across our portfolio."
Dan Brown added: "I'm absolutely thrilled to be working with Ron and Brian again on another Langdon project. We've all wanted to make The Lost Symbol for some time now, and I'm grateful to CBS Studios, Imagine Television Studios, Universal Television, and Peacock for joining forces to make this project a reality. Dan Dworkin and Jay Beattie have written a phenomenally captivating script, and the casting and performances are pitch-perfect."