'Soul' And 'Wolfwalkers' Lead The 2021 Annie Awards With 10 Nominations Each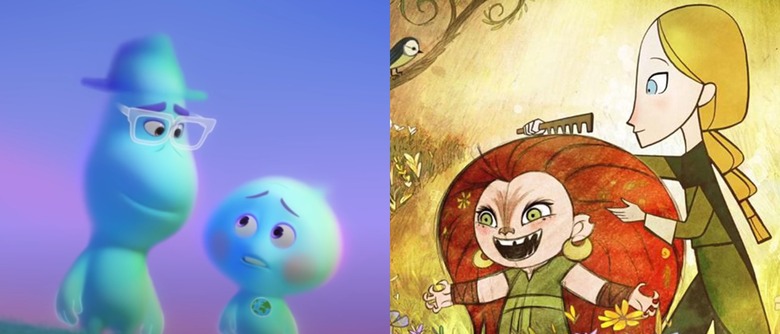 Every year, Annie Awards does what the Golden Globes, the Oscars, and all the other big awarding bodies cannot: properly celebrate the best of animation. And this year, the ASIFA-Hollywood's annual animation awards did their job right, doling out the most nominations to two of the best movies of the year: Pixar's singular Soul and Cartoon Saloon's hand-drawn masterpiece Wolfwalkers. But which one will deservedly walk away with the most prizes? We'll have to find out when the 48th Annie Awards are streamed live on April 16, 2021.
Soul and Wolfwalkers both dominated the 2021 Annie Awards nominations, leading the pack with 10 nods each. They're both expected to win their respective feature and best independent feature categories, but are nose-to-nose when it comes to direction, FX, character animation, character design, production design, score, storyboarding, and writing. But each has one nomination for a category the other does not — Soul for editorial, Wolfwalkers for voice acting.
I'm personally pulling for Wolfwalkers, Cartoon Saloon's breathtaking feat of hand-drawn animation which looks and feels like no other animated film today. It's naturally the underdog — Pixar has another seven nominations for Onward, and leads for studios overall — but it feels right that the exquisite Wolfwalkers should get acknowledged by the animation industry when it's becoming more likely that Soul will walk away with the mainstream awards like the Oscars.
Meanwhile, it's nice that anime films like On-Gaku: Our Sound and Ride Your Wave are getting nods, with more Eastern independent features getting more notice outside of the domineering force that is Studio Ghibli (which sadly disappointed with the still-nominated Earwig and the Witch). Also, shout-out to Aardman/Netflix's stop-motion  A Shaun the Sheep Movie: Farmageddon for getting three nods despite being undeservedly overlooked last year.
Here is the full list of 2021 Annie Awards nominations (via IndieWire):
Best FeatureOnwardSoulThe Croods: A New AgeThe WilloughbysTrolls World TourBest Indie FeatureA Shaun the Sheep Movie: Farmageddon
Calamity Jane
On-Gaku: Our SoundRide Your Wave
Wolfwalkers
Best Special ProductionBaba YagaNixie & NimboThe Snail and the WhaleBest Short SubjectFilles Bleues, Peur BlancheKKUMSouvenir SouvenirThe Places Where We Live (Cake)World of Tomorrow Episode Three: The AbsentBest SponsoredErste Group 'Edgar's Christmas'Max & MaxineThe Last MileThere's a Monster in My KitchenTravel the VoteBest TV/Media – PreschoolBuddi
Episode: Snow
Muppet Babies
Episode: Wock-a-bye-Fozzie
Stillwater
Episode: The Impossible
The Adventures of Paddington
Episode: Paddington Digs a Tunnel to Peru
Xavier Riddle and the Secret Museum: I am Madam President
Episode: I am Madam
Best TV/Media – ChildrenHilda
Episode: Chapter 9: The Deerfox
Rise of the Teenage Mutant Ninja Turtles
Episode: Finale Part 4: Rise
She-Ra and the Princesses of Power
Episode: Heart Part 2
Star Wars: The Clone Wars
Episode: Shattered
Victor And Valentino
Episode: The Lonely Haunts
Best TV/Media – General AudienceClose Enough
Episode: Logan's Run'd/Room Parents
Genndy Tartakovsky's Primal
Episode: Coven Of The Damned
Harley Quinn
Episode: Something Borrowed, Something Green
Rick and Morty
Episode: The Vat of Acid Episode
The Midnight Gospel
Episode: Mouse of Silver
Best Student Film100,000 Acres of Pine
Coffin
La BestiaLatitude du printempsO Black Hole!Best FX for TV/MediaFast & Furious: Spy Racers
Episode: Sirocco Fire Explosion
Jurassic World: Camp Cretaceous
Episode: Welcome to Jurassic World
Lamp Life
Episode: Lamp Life
Tales of Arcadia: Wizards
Episode: Killahead, Part Two
Transformers: War For Cybertron Trilogy (Siege)
Episode: Episode 6
Best FX for FeatureOver the MoonSoulThe Croods: A New AgeTrolls World TourWolfwalkersBest Character Animation – TV/MediaAlien XmasBoJack HorsemanCosmos: Possible WorldsHildaLamp LifeBest Character Animation – FeatureOnwardSoulThe Croods: A New AgeThe WilloughbysWolfwalkersBest Character Animation – Live ActionThe Christmas Chronicles 2The MandalorianThe Umbrella Academy 2Timmy Failure: Mistakes Were MadeBest Character Animation – Video GameLeague of LegendsMarvels Spider-Man Miles Morales
The Last of Us Part II
Best Character Design – TV/MediaAmphibia
Episode: The Shut-In!
BNA
Episode: Runaway Raccoon
Craig of the CreekThe Owl House
Episode: Young Blood, Old
Best Character Design – FeatureSoulThe Croods: A New AgeThe WilloughbysTrolls World TourWolfwalkersBest Direction – TV/MediaGenndy Tartakovsky's Primal
Episode: Plague Of Madness
Great Pretender
Episode: Case 1_1: Los Angeles Connection
Mao Mao: Heroes of Pure Heart
Episode: Mao Mao's Nakey
Rise of the Teenage Mutant Ninja Turtles
Episode: Battle Nexus NYC
The Wonderful World of Mickey Mouse
Episode: Hard to Swallow
Best Direction – FeatureCalamity JaneOver the MoonRide Your WaveSoulWolfwalkersBest Music – TV/MediaBlood of Zeus
Episode: Escape or Die
Mira Royal Detective
Episode: The Great Diwali Mystery
Star Trek: Lower Decks
Episode: Crisis Point
Star Wars: The Clone Wars
Episode: Victory and Death
The Tiger That Came to TeaBest Music – FeatureOnward
Over the Moon
SoulThe WilloughbysWolfwalkersBest Production Design – TV/MediaBaba YagaThe Adventures of PaddingtonTo: GerardTrash TruckBest Production Design – FeatureOnwardSoulThe WilloughbysWolfwalkersBest Storyboarding – TV/MediaArchibald's Next Big Thing
Episode: Baritone Tea Part 1
Big City Greens
Episode: Cheap Show
Looney Tunes CartoonsMortal Kombat Legends: Scorpion's RevengeBest Storyboarding – FeatureEarwig and the WitchOver the MoonRide Your WaveSoul
Wolfwalkers
Best Voice Acting – TV/MediaDragons Rescue Riders
Jeff Bennett (Erik the Wretched)
It's Pony
Jessica DiCicco (Annie)
Phineas and Ferb the Movie
Ashley Tisdale (Candace)
Tales of Arcadia: Wizards
David Bradley (Merlin)
ThunderCats ROAR!
Patrick Seitz (Mumm-Ra, Tygra)
Best Voice Acting – FeatureEarwig and the Witch
Vanessa Marshall (Bella Yaga)
Onward
Tom Holland (Ian Lightfoot)
Over the Moon
Robert G. Chiu (Chin)
The Croods: A New Age
Nicolas Cage (Grug)
Wolfwalkers
Eva Whittaker (Mebh Óg MacTíre)
Best Writing – TV/MediaBig Mouth
Episode: The New Me
Craig of the CreekFancy Nancy
Episode: Nancy's New Friend
Harley Quinn
Episode: Something Borrowed, Something Green
She-Ra and the Princesses of Power
Episode: Heart Part 2
Best Writing – FeatureA Shaun the Sheep Movie: FarmageddonOnwardOver the MoonSoulWolfwalkersBest Editorial – TV/MediaCops and RobbersHildaIf Anything Happens I Love YouLamp LifeTo: GerardBest Editorial – FeatureA Shaun the Sheep Movie: FarmageddonCalamity JaneOnward
Soul
The Willoughbys