'Judas And The Black Messiah,' 'Palm Springs,' 'Borat Subsequent Moviefilm,' And More Land 2021 WGA Nominations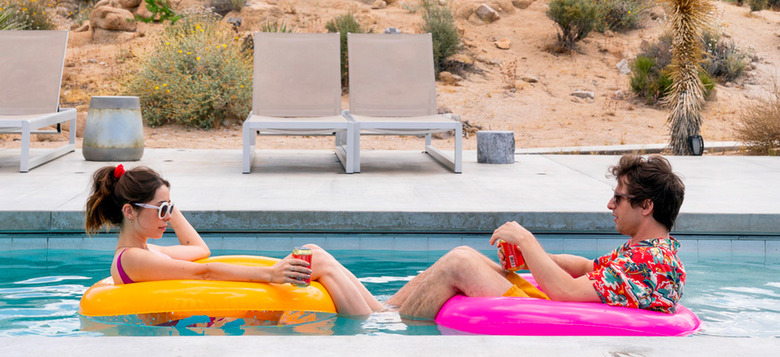 The 2021 WGA nominations for TV were announced earlier this month, and now it's time for movies. Original screenplays that garnered attention include Judas and the Black Messiah, Palm Springs, Promising Young Woman, and more. On the adapted screenplay front, titles such as Ma Rainey's Black Bottom, Borat Subsequent Moviefilm, and more landed nods. See the full list of 2021 WGA nominations below.
First up, here are the nominations for original screenplay.
Judas and the Black Messiah, Screenplay by Will Berson & Shaka King, Story by Will Berson & Shaka King and Kenny Lucas & Keith Lucas; Warner Bros.Palm Springs, Screenplay by Andy Siara, Story by Andy Siara & Max Barbakow; HuluPromising Young Woman, Written by Emerald Fennell; Focus FeaturesSound of Metal, Screenplay by Darius Marder & Abraham Marder, Story by Darius Marder & Derek Cianfrance; Amazon StudiosThe Trial of the Chicago 7, Written by Aaron Sorkin; Netflix
All in all, this is a pretty solid line-up. It's nice to see Palm Springs getting awards season attention, and while I have issues with Trial of the Chicago 7, Aaron Sorkin's writing remains punchy and snappy enough to warrant consideration.
Now, let's move on to adapted screenplay, shall we?
Borat Subsequent Moviefilm, Screenplay by Sacha Baron Cohen & Anthony Hines & Dan Swimer & Peter Baynham & Erica Rivinoja & Dan Mazer & Jena Friedman & Lee Kern, Story by Sacha Baron Cohen & Anthony Hines & Dan Swimer & Nina Pedrad, Based on Characters Created by Sacha Baron Cohen; Amazon StudiosMa Rainey's Black Bottom, Screenplay by Ruben Santiago-Hudson, Based on the Play Written by August Wilson; NetflixNews of the World, Screenplay by Paul Greengrass and Luke Davies, Based upon the Novel by Paulette Jiles; Universal PicturesOne Night in Miami, Screenplay by Kemp Powers, Based on the Stage Play "One Night in Miami" by Kemp Powers; Amazon StudiosThe White Tiger, Screenplay by Ramin Bahrani, Based on the Book "The White Tiger" by Aravind Adiga; Netflix
Okay, I'm just going to say it – it's weird that Borat landed a screenplay nomination. Obviously, the movie involves heavily scripted elements, but it just seems...odd to me. I'm also incredibly disappointed that I'm Thinking of Ending Things didn't earn a nomination, as I consider it to be a stellar adaptation. In fact, I think it's even better than the book it was based on.
Finally, here are the nominees for documentary screenplay.
All In: The Fight for Democracy, Written by Jack Youngelson; Amazon StudiosThe Dissident, Written by Mark Monroe and Bryan Fogel; Briarcliff EntertainmentHerb Alpert Is..., Written by John Scheinfeld; AbramoramaRed Penguins, Written by Gabe Polsky; Universal PicturesTotally Under Control, Written by Alex Gibney; Neon
I actually haven't seen any of these docs, so I can't really comment! But good job, everyone! You did it!
The WGA winners will be revealed on March 21, 2021.