'The Boss Baby 2' Pencils In A New Release Date For September 2021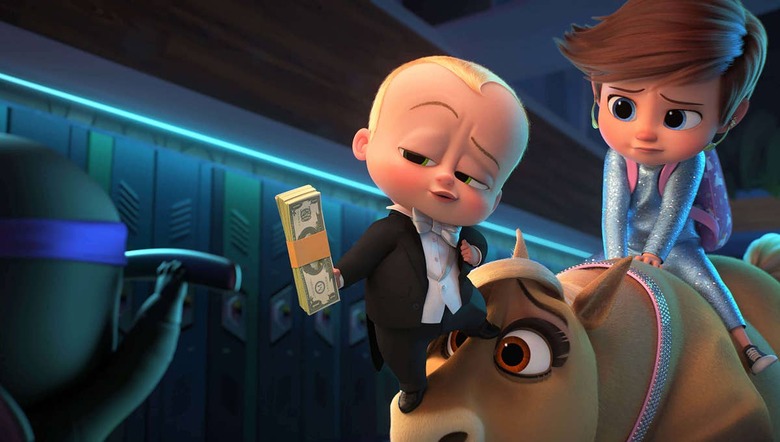 Talk about a demotion. The Boss Baby 2 will have to boss at a later date, thanks to a new release date move from Universal Pictures and DreamWorks Animation. Which means fans of Alec Baldwin's fast-talking baby will need tp pencil in a new date to go to theaters.
Variety reports that the animated comedy sequel The Boss Baby: Family Business has been moved from its planned March 26 release date to September 17, 2021. Universal Pictures and DreamWorks Animation announced the move Monday.
The move pushes The Boss Baby 2 to the date originally set for The Bad Guys, another upcoming DreamWorks Animation film, which is now currently unscheduled, though Variety notes that a 2022 release date for this film will be announced in the coming weeks. For those wondering, The Bad Guys is based on the bestselling Scholastic blockbuster book series by Aaron Blabey, which follows the misadventures of five notorious bad guys — Mr. Wolf, Mr. Snake, Mr. Piranha, Mr. Shark and Ms. Tarantuala — who try to do good. The Bad Guys isdirected by Pierre Perifel from a script by Etan Cohen and Hilary Winston and stars Sam Rockwell, Awkwafina, Craig Robinson, and Marc Maron.
The Boss Baby: Family Business is a very odd follow-up to the original 2017 Boss Baby, a tongue-in-cheek comedy about a talking baby (voiced by Baldwin) which became an unexpected box office hit for Universal — earning more than $520 million at the worldwide box office and even scoring an Oscar nomination. The sequel, directed by Tom McGrath with a script by Michael McCullers, sounds like it only gets weirder, as it follows the adult siblings who get turned back into their child selves. Here's the lengthy synopsis from Universal Pictures and DreamWorks Animation:
In the sequel to DreamWorks Animation's Oscar-nominated blockbuster comedy, the Templeton brothers—Tim (James Marsden, X-Men franchise) and his Boss Baby little bro Ted (Alec Baldwin)—have become adults and drifted away from each other. Tim is now a married stay-at-home dad. Ted is a hedge fund CEO. But a new boss baby with a cutting-edge approach and a can-do attitude is about to bring them together again ... and inspire a new family business.
Tim and his wife, Carol (Eva Longoria), the breadwinner of the family, live in the suburbs with their super-smart 7-year-old daughter Tabitha (Ariana Greenblatt, Avengers: Infinity War), and adorable new infant Tina (Amy Sedaris, Netflix's BoJack Horseman). Tabitha, who's at the top her class at the prestigious Acorn Center for Advanced Childhood, idolizes her Uncle Ted and wants to become like him, but Tim, still in touch with his overactive youthful imagination, worries that she's working too hard and is missing out on a normal childhood.
When baby Tina reveals that she's—ta-da!—a top secret agent for BabyCorp on a mission to uncover the dark secrets behind Tabitha's school and its mysterious founder, Dr. Edwin Armstrong (Jeff Goldblum), it will reunite the Templeton brothers in unexpected ways, lead them to re-evaluate the meaning of family and discover what truly matters.