'Mulan' Opening Scenes Now Available Online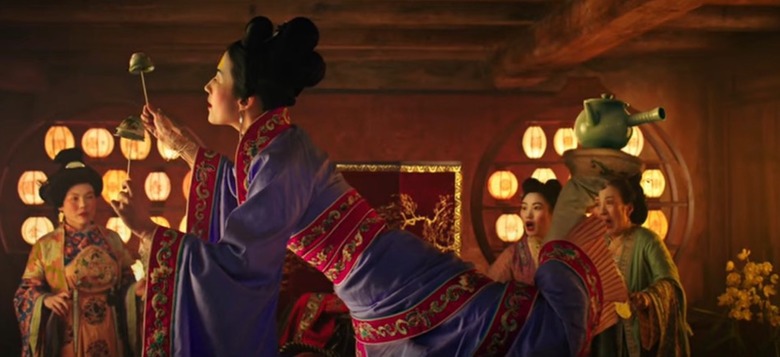 Disney's live-action remake of Mulan is eventually coming to Blu-ray and digital, as well as available for premium purchase on Disney+. Things didn't exactly work out exactly the way Disney wanted with the epic – they had hoped to release Mulan everywhere theatrically and ride to box office glory. Instead, because of the coronavirus, the film ended up going to Disney+ in the U.S. – for an extra price. But if you've been waiting around to access Mulan another way, you can now watch one of the opening scenes from the new film below.
Mulan Opening Scenes
I watched Mulan back when it hit Disney+, and here's my scorching hot take: it's fine. I am not in the tank for these live-action Disney remakes at all, but I never got bored watching this, so hey – that's something. That said, the film suffers from some very strange choices – most notably the idea to give Mulan superpowers, which is so far removed from the original movie that's it's borderline bizarre. Then there are the behind-the-scenes controversies, like star Yifei Liu voicing support for the police over the protestors during the 2019–20 Hong Kong protests; and, as the BBC reports, the final credits thanking a "government security agency in Xinjiang province, where about 1m people – mostly Muslim Uighurs – are thought to be detained."
All of that, and more, kind of removes what little enthusiasm I have for the film. The video above features the opening sequences of the flick, which show child Mulan being instructed to hide her superpowered ch'i, and then later, the older Mulan being set up to meet a husband by a matchmaker.
In Mulan, "Acclaimed filmmaker Niki Caro brings the epic tale of China's legendary warrior to life in Disney's "Mulan," in which a fearless young woman risks everything out of love for her family and her country to become one of the greatest warriors China has ever known. When the Emperor of China issues a decree that one man per family must serve in the Imperial Army to defend the country from Northern invaders, Hua Mulan, the eldest daughter of an honored warrior, steps in to take the place of her ailing father. Masquerading as a man, Hua Jun, she is tested every step of the way and must harness her inner-strength and embrace her true potential. It is an epic journey that will transform her into an honored warrior and earn her the respect of a grateful nation...and a proud father."