'News Of The World' Featurette: Tom Hanks Tells Us A Story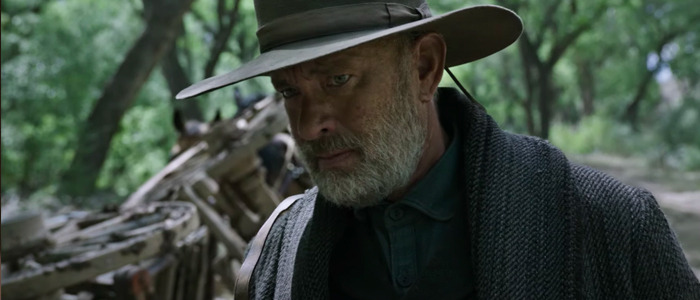 "I love listening to a great story as much as I like telling one," Tom Hanks says in a brand new News of the World featurette. In director Paul Greengrass's western, Hanks plays a storyteller of sorts: his character reads the news to folks in small towns who are so disconnected from world events that they might never hear updates from the "outside world" otherwise. Check out some new footage in the featurette below.
News of the World Featurette
My favorite part of this video is Hanks' opening statement, which feels like a defensive answer to a question that puts him back on his heels. The rest of the video is a pretty straightforward breakdown of the new film's plot, along with some Hanksian insights about his character is a noble guy who's "moved by the pursuit of the truth." Of course, that doesn't only apply to Captain Kidd – it's also an accurate description of the Tom Hanks Cinematic Archetype over the past twenty years.
Side note: it will be very interesting to see what kind of political environment this film is released into when it arrives later this year. News of the World is currently slated to receive a theatrical release on Christmas Day – December 25, 2020 – but considering how many other films have been shifted out of that release corridor due to the coronavirus pandemic, I wouldn't bet the farm that the Christmas release date will hold. If it does hold, though, the results of the presidential election may well provide a lens through which a lot of folks will view a project about a divided country in tough times.
Here is the movie's official synopsis:
Five years after the end of the Civil War, Captain Jefferson Kyle Kidd (Hanks), a widower and veteran of three wars, now moves from town to town as a non-fiction storyteller, sharing the news of presidents and queens, glorious feuds, devastating catastrophes, and gripping adventures from the far reaches of the globe. In the plains of Texas, he crosses paths with Johanna (Helena Zengel, System Crasher), a 10-year-old taken in by the Kiowa people six years earlier and raised as one of their own. Johanna, hostile to a world she's never experienced, is being returned to her biological aunt and uncle against her will. Kidd agrees to deliver the child where the law says she belongs. As they travel hundreds of miles into the unforgiving wilderness, the two will face tremendous challenges of both human and natural forces as they search for a place that either can call home.