The Best TV Shows & Movies Coming To Hulu And Disney+ In November 2020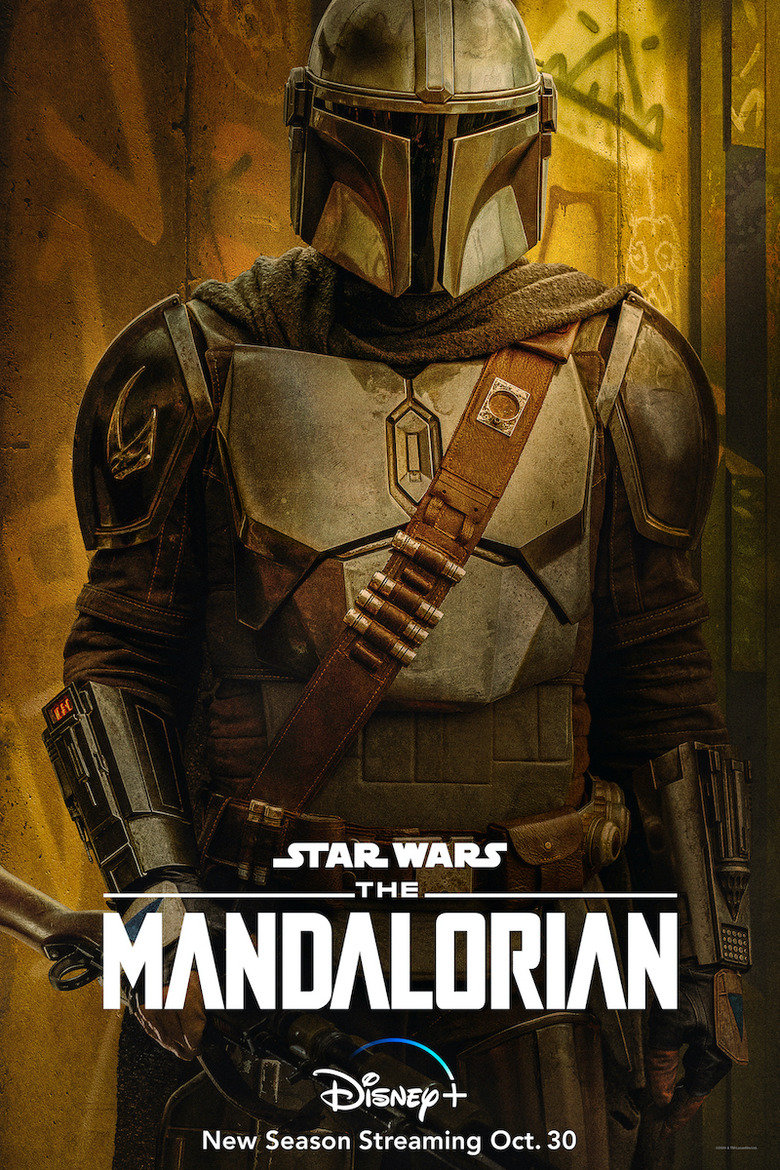 Wow, October is almost over! Then it's time for November, a month where many of us will either be relieved or horrified (you know why). Also: it'll be time for Thanksgiving, but since the pandemic is still raging, who the hell knows how we'll go about that. But enough of these real-world issues – let's talk about entertainment! A new month brings with it new titles on Disney+ and Hulu, and here they are! Get a rundown of the best TV shows and movies coming to Hulu and Disney+ below.
The Mandalorian Season 2
I don't care for The Mandalorian – I tried three episodes and gave up. But I know I'm in the minority there, and I am required by law to mention it, so here we are: season 2! Technically, season 2 starts in October – October 30, to be exact. But the majority of the second season will air in November. And what happens this season? Well: "The Mandalorian and the Child continue their journey, facing enemies and rallying allies as they make their way through a dangerous galaxy in the tumultuous era after the collapse of the Galactic Empire." (All Month on Disney+)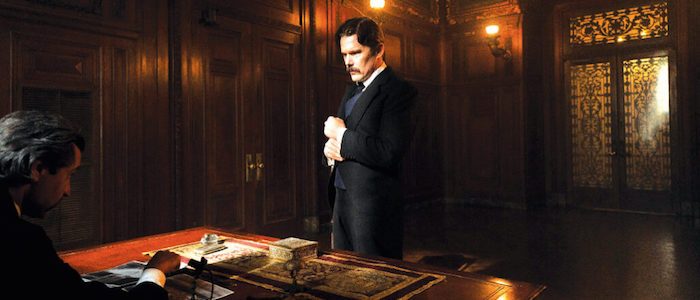 Tesla
Michael Almereyda's highly unconventional biopic of Nikola Tesla features karaoke, an ice cream fight, and a narrator performing Google searches. It's the cure for the boring, standard biopic, with Ethan Hawke turning in yet another great performance. The film follows Tesla as he breaks away from Thomas Edison to form his own electrical inventions. It has a similar set-up as The Current War, but while that movie followed a by-the-numbers approach, Almereyda is going for something more surreal and abstract.  (November 20 on Hulu)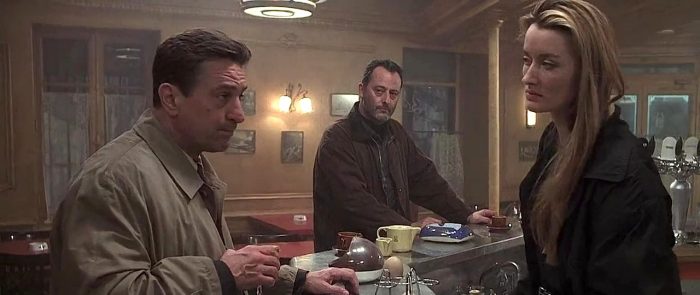 Ronin
John Frankenheimer's ass-kicking action thriller Ronin has Robert De Niro as part of a team of former special operatives trying to steal a suitcase. What's in the case? Honestly, it doesn't matter – it's just a MacGuffin to get the narrative moving, and move it does. While this film isn't a wall-to-wall action pic, it features one of the coolest car chase sequences ever caught on film. And best of all, De Niro isn't phoning it in – something he did frequently in the 1990s, unfortuantely. (November 1 on Hulu)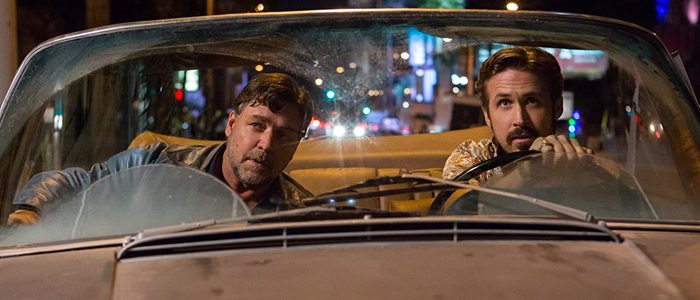 The Nice Guys 
In a just, sane world, Shane Black's The Nice Guys would've launched a franchise. Sadly, we don't live in a just, sane world, we live in hell. But hey, at least we got this one movie which features Ryan Gosling and Russell Crowe as a pair of private eyes in 1970s Los Angeles. Like all Shane Black movies, the script is twisty and funny, with all of the many pieces Black puts in place neatly coming together in the end. This movie also bests what might be Gosling's best performance, as the actor channels Lou Costello to reveal his serious comic chops. (November 9 on Hulu)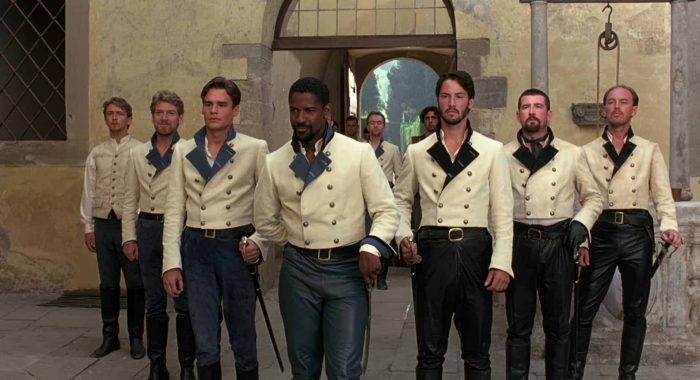 Much Ado About Nothing 
Kenneth Branagh's breezy, star-studded adaptation of Shakespeare's comedy of errors has an evil Keanu Reeves playing the brother of a suave Denzel Washington. Honestly, what more do you even need? Watch this thing and swoon. (November 1 on Hulu)
Get the full list of all the TV shows and movies coming to Hulu and Disney+ on the next page.
TV Shows and Movies Coming to Disney+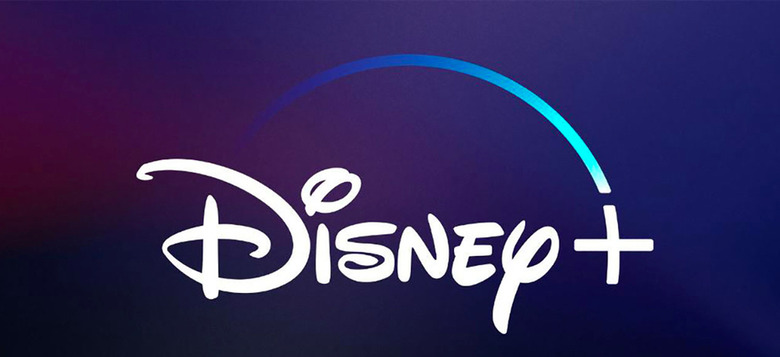 Friday, November 6
New Library Titles
Disney Goldie & Bear (s1)
Disney Goldie & Bear (s2)
Disney Junior Fancy Nancy: Fancy it Yourself (s1)
Disney's A Christmas Carol
Mr. Magoo
Disney+ Originals
The Mandalorian
Episode 202 – "Chapter 10"
The Mandalorian and the Child continue their journey, facing enemies and rallying allies as they make their way through a dangerous galaxy in the tumultuous era after the collapse of the Galactic Empire.
Magic of Disney's Animal Kingdom
Episode 107 – "The Big Egg Switcheroo"
Big sisters reign supreme in Disney's Animal Kingdom! On the savanna, teenage African elephant Nadirah is a great babysitter for her little sister, Stella, but her skittishness remains a major growing pain. Animal care experts Erin and Elizabeth must get creative to help Nadirah face her fear and cross a bridge that connects two parts of the elephant habitat. At The Seas with Nemo & Friends at EPCOT, Harry, a rescued green sea turtle, must swim to a specific target for his leafy dinner — a skill he needs in order to graduate to the main tank. At Gorilla Falls Exploration Trail, Alika, a little colobus monkey with a penchant for creating chaos, becomes a big sister — a first for the park! Meanwhile, endangered vultures Carri and Bones try to fill their nest, but when the lovebirds can't agree on the best way to build a home, animal keeper Tricia steps in to assist.
The Right Stuff
Episode 106 – "VOSTOK"
JFK sends a science committee to Cape Canaveral to assess the validity of the space program. Glenn, burning from the results of the peer vote, drafts letters to politicians complaining that Shepard is morally unfit to be the first man in space. But matters of internal power plays and a skeptical president are soon dwarfed by news out of Russia that could be the nail in Project Mercury's coffin.
Weird But True
Season Finale Episode 313 – "Camping"
Carly and Charlie must achieve the rank of master camper, and because they have never personally camped before, they take a trip to Coronado National Forest within Arizona's Saguaro National Park. There, they get expert advice and begin to fully absorb what it is like to camp and how to become master campers.
One Day At Disney
Episode 149 – "Leslie Evans: Senior R&D Imagineer"
Leslie Evans creatively applies cutting-edge technology to bring Disney theme park stories to life. A life-long Walt Disney World fan, Leslie has always been fascinated by the intersection of creativity and engineering. She uses her diverse background in both Industrial Design and Materials Science Engineering to invent new and innovative guest experiences for Disney parks around the globe.
Friday, November 13
The Mandalorian
Episode 203 – "Chapter 11"
The Mandalorian and the Child continue their journey, facing enemies and rallying allies as they make their way through a dangerous galaxy in the tumultuous era after the collapse of the Galactic Empire.
Magic of Disney's Animal Kingdom
Season Finale Episode 108 – "Baby Gorilla Grace"
Flash, a mature, whitespotted bamboo shark with a plucky streak, bites off more than she can chew and winds up in the emergency room under the care of Dr. Deidre when she swallows an item that's not on the menu. Meanwhile, baby Grace, a western lowland gorilla, reaches new heights as animal keeper Courtney works with child-development experts to test her motor coordination. At Kilimanjaro Safaris, Gus the hippo makes a 'frenemy' out of an older hippo at the river playground; and on the savanna, Dugan, a southern white rhino, learns that love hurts when the female rhinos greet him a bit too enthusiastically
Inside Pixar
Premiere
A documentary series of personal and cinematic stories that provide an inside look into the people, artistry, and culture of Pixar Animation Studios.
The Right Stuff
Episode 107 – "Ziggurat"
On the Eve of the flight, Louise learns of Shepard's affair in Tijuana. Trudy watches Gordo crack a joke about women astronauts on television. Glenn awaits the humiliating moment when the world will finally learn he won't be first. Tensions reach a breaking point when Shepard and Glenn are forced together in a pressure cooker of weather delays, marital discord, and a circus of reporters.
One Day At Disney
Episode 150 – "Mark Gonzalez: Steam Train Engineer"
A train lover all his life, Steam Train Engineer Mark Gonzales fulfills his dream of working at Disneyland Resort. To Mark, it's more than just a train ride, and he strives to create memorable moments for guests as he transports them around the parks on one of Walt's favorite attractions.
Tuesday, November 17
LEGO Star Wars Holiday Special
Premiere
"The LEGO Star Wars Holiday Special" reunites Rey, Finn, Poe, Chewie, Rose and the droids for a joyous feast on Life Day, a holiday first introduced in the 1978 "Star Wars Holiday Special." The new LEGO special is the first to debut on Disney+ and will continue the rich legacy of collaboration between Lucasfilm and LEGO—playful adventures told in the endearingly irreverent way that only LEGO Star Wars co branded content can.
Directly following the events of "Star Wars: The Rise of Skywalker," Rey leaves her friends to prepare for Life Day as she sets off on a new adventure with BB-8 to gain a deeper knowledge of the Force. At a mysterious Jedi Temple, she is hurled into a cross-timeline adventure through beloved moments in Star Wars cinematic history, coming into contact with Luke Skywalker, Darth Vader, Yoda, Obi-Wan and other iconic heroes and villains from all nine Skywalker saga films. But will she make it back in time for the Life Day feast and learn the true meaning of holiday spirit?
Wednesday, November 18
The Wonderful World of Mickey Mouse
Premiere (Mickey Mouse's Birthday)
"Supermarket Scramble"
Mickey and his friends' plans for a barbeque get sidetracked after a quick trip to the supermarket turns into an odyssey.
"Cheesewranglers"
Mickey Mouse attempts to wrangle a prized herd across the stunning vistas of the Big Thunder Valley, but Peg-Leg Pete stands in his way.
Friday, November 20
Marvel's 616
Premiere
Marvel's 616 explores Marvel's rich legacy of pioneering characters, creators and storytelling to reflect the world outside your window. Each documentary, helmed by a unique filmmaker, showcases the intersections of storytelling, pop culture, and fandom within the Marvel Universe. Episodes in this anthology series will cover topics including Marvel's world- spanning artists, the trailblazing women of Marvel Comics, discovering the "forgotten" characters of Marvel, and much more.
Marvel's 616 is produced by Marvel New Media with Supper Club. The series is executive produced by Joe Quesada, Shane Rahmani, Stephen Wacker, John Cerilli, Harry Go, and Sarah Amos for Marvel; and Jason Sterman, Brian McGinn, and David Gelb for Supper Club.
The Real Right Stuff
Premiere
"The Real Right Stuff" tells the remarkable true story of the nation's first astronauts, the original Mercury 7, and pulls from hundreds of hours of archival film and radio broadcasts, interviews, home movies and other rare and never-before-seen material to catapult viewers back to the late 1950s. The two-hour documentary, from National Geographic, complements the Disney+ original scripted series "The Right Stuff" which will premiere its season finale on the same day.
Directed and produced by Emmy® and Peabody Award-winning filmmaker Tom Jennings ("Apollo: Missions to the Moon," "Challenger Disaster: Lost Tapes"), "The Real Right Stuff" is a gripping account of NASA's Project Mercury program, which revolutionized America's role in human space exploration and inspired future generations of space enthusiasts. Free of modern-day narration and interviews, the special uses Jennings' signature style to give viewers unparalleled access to the early days of the space race.
The Mandalorian
Episode 204 "Chapter 12"
The Mandalorian and the Child continue their journey, facing enemies and rallying allies as they make their way through a dangerous galaxy in the tumultuous era after the collapse of the Galactic Empire.
The Right Stuff
Finale Episode 108 "Flight"
After Shepard's dramatic voyage to space, he feels underwhelmed and restless. Heeding Glenn's advice, Shepard attempts to quell his ambition with gratitude for his wife and children. While Shepard's marriage somehow remains intact, Gordo and Trudy's may never recover. Meanwhile, when JFK publicly issues a challenge for NASA to send a man to the moon, Glenn's drive to top Shepard is reignited.
One Day At Disney
Episode 151 "Season Finale"
Revisit One Day at Disney's compelling and inspiring cast members in the Season Finale. From the heart of the Disney parks to the streets of Madrid, take a look back at the memorable moments and the people who make them possible as we go behind-the-scenes to experience Disney magic like never before.
Friday, November 27
New Library Titles
Alexander and the Terrible, Horrible, No Good, Very Bad Day
The Adventures of Yellow Dog: Far From Home
Marvel's Spider-man: Maximum Venum (s3)
Once Upon a Time in Wonderland
Party Animals (s1)
Alaska: Port Protection
Disney+ Originals
Black Beauty
Premiere
In this modern day reimagining of Anna Sewell's timeless classic, we follow Black Beauty, a wild horse born free in the American West. Rounded up and taken away from her family, Beauty is brought to Birtwick Stables where she meets a spirited teenage girl, Jo Green. Beauty and Jo forge an unbreakable bond that carries Beauty through the different chapters, challenges, and adventures of her life
The Wonderful World of Mickey Mouse
"House of Tomorrow"
Mickey, Donald, and Goofy experience tomorrow's technology today when they sneak into Professor Von Drake's latest invention.
"Hard to Swallow"
Mickey runs into trouble trying to make Pluto swallow a simple little pill.
The Mandalorian
Episode 205 "Chapter 13"
The Mandalorian and the Child continue their journey, facing enemies and rallying allies as they make their way through a dangerous galaxy in the tumultuous era after the collapse of the Galactic Empire.
Simpsons Forever | Favorite Episodes of November 2020
With the recently added 31st season and nearly 300 hours of the world's longest running scripted primetime sitcom, today Disney+ kicked off its new "Simpsons Forever" brand campaign celebrating the forever place of "The Simpsons" in the hearts and homes of fans around the world. Every month, we'll share our favorite episodes themed to current events and trends in Disney and pop culture.
"The Mandalorian" Returns / "Co-Dependents' Day" (Season 15, Episode 15)
Disappointed by a Cosmic Wars movie, Bart and Lisa go to wine country to complain to the filmmaker.
"The Right Stuff" Streaming Now / "Deep Space Homer" (Season 5, Episode 15)
In an attempt to send an average man into space, Homer and Barney are recruited as astronauts. Homer saves the mission from disaster, but is dismayed when credit goes to a carbon rod.
Monday Night Football on ESPN / "Bart Star" (Season 9, Episode 7)
Bart joins a junior-league football team. When Homer becomes coach, he replaces quarterback Nelson with the less talented Bart.
30 Years of "Home Alone" / "Homer Alone" (Season 3, Episode 15)
When Marge goes to a local spa, she leaves Bart and Lisa with Patty and Selma and Maggie with Homer.
Nov. 3 Election Day – "Sideshow Bob Roberts" (Season 6, Episode 5)
Sideshow Bob runs for mayor as the candidate of Springfield's Republican party. He wins and attempts to construct a freeway overpass where the Simpson home stands.
Nov. 26 Thanksgiving Day – "Thanksgiving of Horror" (Season 30, Episode 8)
Three tales of Thanksgiving terror: a bloody first "turkey day," a virtual Marge cooks for survival against real Marge, and a space mission is threatened by a murderous side dish.
Nov. 27 Black Friday – "Tis the 30th Season" (Season 30, Episode 10)
After a terrible Black Friday where Marge can't get the gift the kids desperately want, the Simpsons try to spend a relaxing Florida Christmas.
TV Shows and Movies Coming to Hulu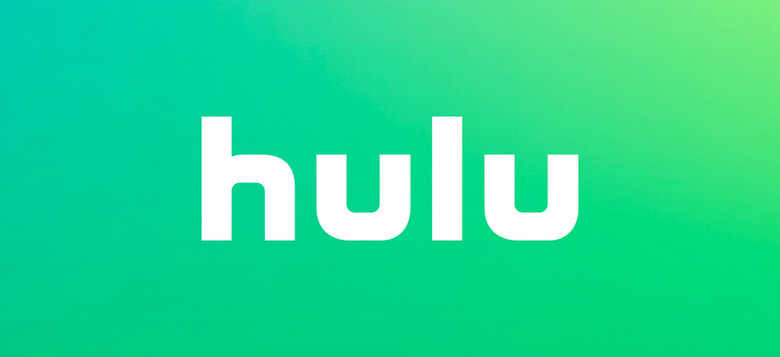 Available November 1
Ayesha's Home Kitchen: Complete Seasons 1 & 2 (Food Network)
Best Baker in America: Complete Seasons 1 & 2 (Food Network)
Christmas Cookie Challenge: Complete Season 1 (Food Network)
Flip or Flop Fort Worth: Complete Season 1 (HGTV)
Giada's Holiday Handbook: Complete Seasons 1 – 4 (Food Network)
Holiday Baking Championship: Complete Seasons 1 – 5 (Food Network)
Holiday Gingerbread Showdown: Complete Season 1 (Food Network)
Kids Halloween Baking Championship: Special (Food Network)
Macy's Thanksgiving Cake Spectacular: Special (Food Network)
Malaysia Kitchen: Special (Cooking Channel)
Rick & Morty: Complete Season 4 (Adult Swim)
Skins: Complete Series (All3Media)
Tia Mowry at Home: Complete Seasons 1 – 3 (Cooking Channel)
Ultimate Thanksgiving Challenge: Complete Season 1 (Food Network)
12 Rounds (2009)
3 Ninjas (1992)
A Christmas Solo (2017)
A Nanny For Christmas (2010)
A View to a Kill (1985)
Alien Nation (1988)
Antwone Fisher (2002)
Article 99 (1992)
Beerfest (2006)
Big Daddy (1999)
The Blair Witch Project (1999)
The Bourne Identity (2002)
The Bourne Supremacy (2004)
The Bourne Ultimatum (2007)
Breathless (1983)
Bringing Down The House (2003)
Broadcast News (1987)
Children Of The Corn (2009)
Christmas In Compton (2012)
Christmas In Vermont (2016)
Christmas on Holly Lane (2018)
The Christmas Tale (2005)
Crimson Tide (1995)
Dead Presidents (1995)
Diamonds Are Forever (1971)
The Dog Who Saved Christmas (2009)
The Expendables (2010)
The Expendables 2 (2012)
The Expendables 3 (2014)
Firewalker (1986)
For Your Eyes Only (1981)
Foxfire (1996)
From Russia with Love (1964)
Fun in Acapulco (1963)
The Horse Whisperer (1998)
Hud (1963)
I Heart Huckabees (2003)
I Spy (2002)
Johnny Mnemonic (1995)
Jumping The Broom (2011)
The Kingdom Of Heaven (2005)
Kiss The Girls (1997)
Knocked Up (2007)
The Last Waltz (1978)
License to Kill (1989)
Little Giants (1994)
Live and Let Die (1973)
The Living Daylights (1987)
Lord Of War (2005)
Lost In Space (1998)
Love Hurts (1990)
The Man with the Golden Gun (1974)
Maverick (1994)
Moonraker (1979)
Mr. Majestyk (1974)
Much Ado About Nothing (1993)
The Net (1995)
Next Day Air (2009)
Octopussy (1983)
On Her Majesty's Secret Service (1969)
Once Upon A Time At Christmas (2017)
Pacific Heights (1990)
Paws P.I. (2018)
Percy Jackson & the Olympians: The Lightning Thief (2009)
Platoon (1986)
The Prestige (2006)
Ronin (1998)
School Dance (2014)
Slumdog Millionaire (2008)
Spy Next Door (2010)
Sweeney Todd: The Demon Barber Of Fleet Street (2007)
The Taking Of Pelham 1 2 3 (2009)
Thunderball (1965)
Tomorrow Never Dies (1997)
Universal Soldier (1992)
W. (2008)
Wanted (2008)
The Waterboy (1998)
Wetlands (2019)
Wild Hogs (2007)
Wild Things (1998)
Working Girl (198)
The World is Not Enough (1999)
You Only Live Twice (1967)
Available November 3
The Good Doctor: Season 4 Premiere (ABC)
The Real Housewives of Atlanta: Complete Season 12 (Bravo)
General Commander (2019)
The Assault (2019)
Available November 4
Blue Story (2020)
Available November 5
Braking for Whales (2020)
Available November 6
Killing Eve: Complete Season 3 (BBC America)
The Real Housewives of New Jersey: Complete Season 10 (Bravo)
Available November 9
The Mighty Ones: Complete Season 1 (Hulu Original)
Power: Season 6A (Starz)
The Nice Guys (2016)
Available November 10
A Teacher: Limited Series (FX on Hulu)
Vik the Viking (2020)
Available November 11
Eater's Guide to the World: Complete Season 1 (Hulu Original)
The Girl Next Door (2005)
Tonight You're Mine (2012)
Available November 12
Chicago Fire: Season 9 Premiere (NBC)
Chicago Med: Season 6 Premiere (NBC)
Chicago P.D.: Season 8 Premiere (NBC)
Man who Invented Christmas (2017)
Available November 13
I Am Greta: Film Premiere (Hulu Original)
Grey's Anatomy: Season 17 Premiere (ABC)
Law & Order: Special Victims Unit: Season 22 Premiere (NBC)
Station 19: Season 4 Premiere (ABC)
Sputnik (2020)
Available November 14
The Dictator (2012)
Available November 15
12 Pups of Christmas (2019)
A Christmas Movie Christmas (2019)
A Nice Girl Like You (2020)
Cartel Land (2015)
Christmas Crush (2019)
Available November 16
Seven Stages to Achieve Eternal Bliss (2018)
Available November 17
Soul Surfer (2011)
Available November 18
No Man's Land: Complete Season 1 (Hulu Original)
Big Sky: Series Premiere (ABC)
Body Cam (2020)
McQueen (2018)
Available November 19
For Life: Season 2 Premiere (ABC)
Amulet (2020)
Available November 20
Animaniacs: Complete Season 1 (Hulu Original)
Run: Film Premiere (Hulu Original)
A Million Little Things: Season 3 Premiere (ABC)
Tesla (2020)
Available November 21
Burden of Truth: Complete Season 3 (eOne)
Available November 24
Black Narcissus: Series Premiere (FX)
My Hero Academia: Season 4, Episodes 77-88 (DUBBED) (Funimation)
Available November 26
Bombshell (2019)
Available November 27
Centigrade (2020)
Available November 29
The Big Ugly (2020)