'Aquaman 2' Will Be "More Serious", But Hopefully Still Feature An Octopus Playing The Drums [DC FanDome]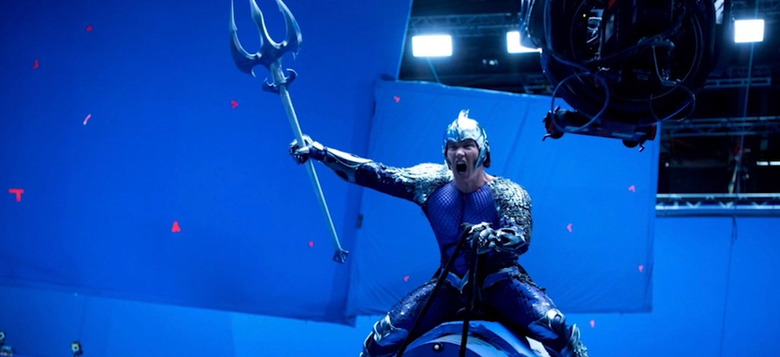 James Wan and Patrick Wilson have collaborated on a lot films, but the biggest film of their partnership is definitely Aquaman. Wilson played the villainous King Orm/Ocean Master in the 2018 flick, and during DC FanDome, Wilson and Wan got together virtually to reminisce about making the movie, and drop some very vague teases about what to expect in the sequel due out in 2022.
First thing's first: as far as DC FanDome panels go, this Aquaman panel was very light on big news. But gosh was it fun to watch. Wan and Wilson obviously have a good relationship, having worked together so many times. And the pair spent almost the entire brief panel cracking jokes. Wilson revealed that Wan told him about the project while they were filming The Conjuring 2, and Wan revealed that he had Wilson in mind for Ocean Master the minute he signed onto the project.
As Wan put it, he saw Wilson as the perfect foil to Jason Momoa's Aquaman. For Wilson's part, he trained a bit to get in better shape for the role, since Ocean Master is "jacked" in the comics. But the real challenge was all the harness work that was required to make the actors look like they were floating underwater (although they eventually realized they could use something like a seesaw to lift an actor up and down, something they used with co-star Dolph Lundgren).
And what of Aquaman 2? The first film didn't kill off Orm, so he'll be back for the sequel. And Wan promises that the character will have a surprising journey to go on. Wan also said that the sequel is "more relevant" to current events, and "more serious." Hopefully not too serious, because one of the things I loved about Aquaman was how unapologetically silly it was (The title card is made out of fish! There's a scene where an octopus plays drums!).
Beyond that, Wan said the film would explore even more undersea worlds, which is also exciting since all the weird world-building in the first film helped it stand out from other superhero flicks. Wan, sadly, did not mention anything about The Trench, the horror-movie spin-off film, but we'll hopefully learn more about that as time goes on.
If all goes according to plan, Aquaman 2 should swim into theaters December 16, 2022.