'David Byrne's American Utopia', Directed By Spike Lee, Will Be The TIFF 2020 Opening Night Film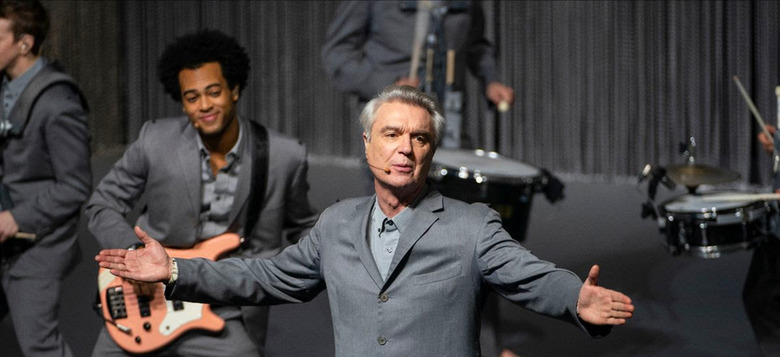 The Toronto International Film Festival is going to be very different this year. Due to the coronavirus, the festival is putting its line-up online for press for the first time ever. And while there are still plans for in-person events, like drive-in screenings, things are going to be severely pared-down. Nevertheless, TIFF is still hoping to have a fest, and today they've announced their opening night film: the Spike Lee-directed David Byrne's American Utopia.
I love TIFF. It's my favorite film festival, and every year, I look forward to heading off to Toronto, watching great movies, and eating an unhealthy amount of ketchup chips. Sadly, the coronavirus has put the kibosh in that plan (although I can probably still eat some ketchup chips if I can find them here in the states). While many other film festivals have been outright canceled this year due to the coronavirus, TIFF is hoping to do the best they can with a hybrid fest that blends an online component with limited in-person events. Or, as they put it:
TIFF continues to work closely with the Province of Ontario, the City of Toronto, and public health officials on the safe execution of the Festival, with its number-one priority being the health and well-being of both Festival filmgoers and the residents of the entire community. The presentation of TIFF's traditional in-person ?lm festival will be contingent on the Province's reopening framework to ensure that Festival venues and workplace practices meet and exceed public health guidelines.
A full line-up of the films playing the festival this year has yet to be announced, but we now know what the opening night film will be: David Byrne's American Utopia, a filmed version of Bryne's Broadway show where he performed songs with 11 musicians from around the world. This filmed version of the production was directed by none other than Spike Lee, which makes this all the more enticing.
"Spike Lee has somehow always been exactly of his moment and ahead of his time," said Cameron Bailey, Artistic Director and Co-Head, TIFF. "With David Byrne's American Utopia, he brings Byrne's classic songs and joyous stagecraft to the screen just when we need it. Spike's latest joint is a call to connect with one another, to protest injustice, and, above all, to celebrate life."
"This joyful film takes audiences on a musical journey about openness, optimism, and faith in humanity," added Joana Vicente, Executive Director and Co-Head, TIFF. "This is especially poignant at a time of great uncertainty around the world. We're eager to share the excitement of Opening Night with audiences."
"It is my honor and privilege that my art brother, Mr. David Byrne, asked me to join him in concert, to invite me into his magnificent world of American Utopia," said Spike Lee when the project was first announced. "And dat's da 'once in a lifetime' truth, Ruth. Ya-dig? Sho-nuff. Peace and love. Be safe."
David Byrne's American Utopia played at Broadway's Hudson Theatre in New York City from October 2019 to February 2020. The concert consisted of performances of songs from Byrne's 2018 solo album of the same name, including popular Talking Heads songs "Once in a Lifetime" and "Burning Down the House." Janelle Monáe's "Hell You Talmbout" is also featured in the setlist. The film is also headed to HBO later this year.
The 45th Toronto International Film Festival runs from September 10 through September 19, 2020.