'The King Of Staten Island' Skipping Theaters And Heading Straight To VOD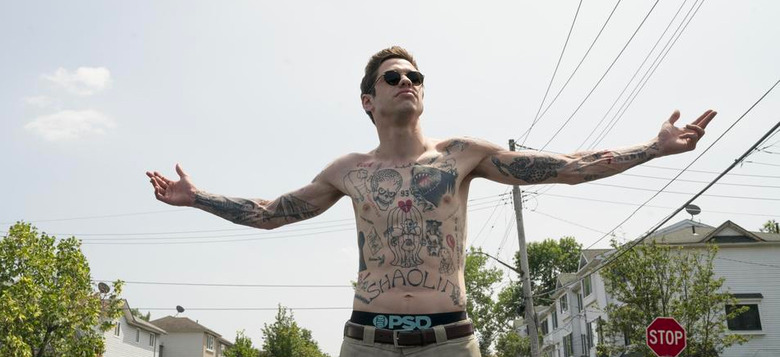 The King of Staten Island, the latest from Judd Apatow, is heading straight to VOD. The Pete Davidson-starring film was still holding onto its June theatrical release date, but since there's no sign that movie theaters will reopen by then, Universal made the decision to send the movie to digital. This might indicate a distinct shift in studio thinking, as up until now, many have held fast to the idea of eventual theatrical release for their major titles, delaying certain films by months, or even an entire year.
Just when will movie theaters open again? That question hangs over the head of every upcoming film, and while movie theaters are crossing their finger that they'll be ready to reopen in time for Christopher Nolan's Tenet in July, nothing is set in stone. For the most part, studios have been shuffling their upcoming titles to later dates – some to the end of the year, some into 2021. But as the coronavirus situation drags on, studios are going to be faced with a difficult choice: do they keep pushing everything, or bite the bullet and start releasing things directly to VOD?
In the case of The King of Staten Island, Universal has gone with the latter option. The film will now debut on VOD on June 12, a week before its theatrical date. The project was originally supposed to premiere at SXSW, but the cancelation of that festival obviously made that impossible. This will be the second Universal movie to straight to VOD, with the first being Trolls: World Tour.
King of Staten Island director Apatow released the following video featuring Davidson in which they discuss the digital release.
Pete and I discuss life and our film @thekingofsi #thekingofstatenisland #petedavidson pic.twitter.com/rVfk1mCA0v

— Judd Apatow 🇺🇦 (@JuddApatow) April 27, 2020
The King of Staten Island now joins Scoob! and Artemis Fowl as movies that are taking their chances with direct-to-digital releases. Trolls, Scoob, and Artemis are all family-oriented films, but King of Staten Island is a bigger title intended for adults, which asks a question: is this inevitable for other upcoming films? Will more and more studios decide to start dropping their titles direct to digital, or will they continue to hold out hope for the eventual reopening of movie theaters?
Based in part of Pete Davidson's real life, here's the official synopsis of the film:
Scott (Davidson) has been a case of arrested development ever since his firefighter father died when he was seven. He's now reached his mid-20s having achieved little, chasing a dream of becoming a tattoo artist that seems far out of reach. As his ambitious younger sister (Maude Apatow, HBO's Euphoria) heads off to college, Scott is still living with his exhausted ER nurse mother (Oscar® winner Marisa Tomei) and spends his days smoking weed, hanging with the guys—Oscar (Ricky Velez, Master of None), Igor (Moises Arias, Five Feet Apart) and Richie (Lou Wilson, TV's The Guest Book)—and secretly hooking up with his childhood friend Kelsey (Bel Powley, Apple TV+'s The Morning Show).
But when his mother starts dating a loudmouth firefighter named Ray (Bill Burr, Netflix's F Is for Family), it sets off a chain of events that will force Scott to grapple with his grief and take his first tentative steps toward moving forward in life.