Former 'Billion Brick Race' Director Jorge R. Gutierrez Reveals His Unused Concept Art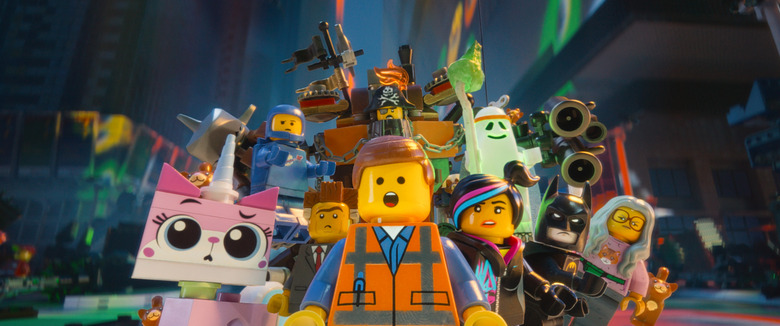 Warner Bros.' Billion Brick Race has all but stalled, and with the LEGO franchise set to leave Warner Bros. for Universal, The LEGO Movie spin-off may never make it to the finish line. So as a late holiday gift, former director Jorge R. Gutierrez has unveiled some Billion Brick Race concept art for his take on the film that never came to be.
LEGO is in talks to move their big screen operations to Universal Pictures, ending the deal with Warner Bros. which kicked off with 2014's acclaimed The LEGO Movie. The film ushered in a new era of toy-related movie adaptations and became a major new franchise for Warner Bros., but apart from the beloved LEGO Batman Movie, the studio could never again reach the heights of the 2014 film. Now, LEGO is looking to rebuild from the blocks up after its contract with Warner Bros. expired early in 2019, with a move to Universal imminent.
But that move could potentially break down the plans for the LEGO Movie spin-offs in the works at Warner Bros., such as the long-in development Billion Brick Race. The film, which has been in the works since 2015 with Jason Segel and Drew Pearce originally hired to helm, lost Gutierrez last year after The Book of Life director took over the project in 2017. But alas, that version also came to a halt, and Gutierrez left – though not without regrets, it seems. The director revealed in a series of tweets that he left the film in 2018 "when I didn't think it was going to get made. These days time is precious to me so if I don't think something is going to go I leave instantly."
With LEGO set to leave Warner Bros., and chances of Billion Brick Race getting made growing even slimmer, Gutierrez decided to share concept art of the character designs for his version of the film.
I found the character designs from my take for the LEGO film I was trying to get going at WB. With LEGO leaving WB I think these are safe to show. pic.twitter.com/bt2sNc2siv

— Jorge R. Gutierrez (@mexopolis) December 23, 2019
"The film I wanted was a racing film about race, privilege and gentrification with references to all my favorite 80s and 90s cop and action movies," Gutierrez added.
It sounds like an exciting and timely new take that could have livened up the increasingly stagnant LEGO franchise, if only it had worked out. But perhaps Gutierrez could work out a deal with Universal, if the studio finalizes a contract with LEGO, and maybe Billion Brick Race could cross the finish line after all.