Latest 'Rise Of Skywalker' TV Spot Brings Friends Back Together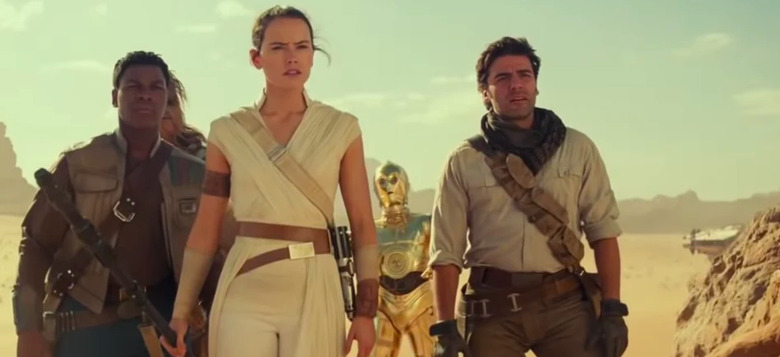 Thought we were done with Star Wars: The Rise of Skywalker TV spots? Think again! Time for yet another one! The previous TV spot was all about action, whereas this is about friendship and togetherness. At the start, Rey tells her Resistance pals that she has to go it alone – but they're not having that. "We're all in this," Finn tells her. "Together." Cue the emotional music! Watch the latest The Rise of Skywalker TV spot below.
Rise of Skywalker TV Spot – Forever
You know the drill by now: Rise of Skywalker is almost upon us, which means the marketing is about to go into hyperdrive. There have already been a few TV spots, and here's another, but don't worry: the marketing department is doing a good job keeping secrets. Sure, there are a few new shots here, but we still know so little about this movie. The infamous Dark Rey shows up at the end – but again, we have no idea what that's about, or why it happens.
The big message here, though, is togetherness. After introducing us to this new group of Star Wars characters in The Force Awakens, the franchise proceeded to split them apart – and now they're finally together for one last hurrah. I'm excited, you're excited, we're all excited. Let's do this.
Star Wars: The Rise of Skywalker arrives in theaters on December 20, 2019.
Lucasfilm and director J.J. Abrams join forces once again to take viewers on an epic journey to a galaxy far, far away with Star Wars: The Rise of Skywalker, the riveting conclusion of the seminal Skywalker saga, where new legends will be born and the final battle for freedom is yet to come.
The film stars Carrie Fisher, Mark Hamill, Adam Driver, Daisy Ridley, John Boyega, Oscar Isaac, Anthony Daniels, Naomi Ackie, Domhnall Gleeson, Richard E. Grant, Lupita Nyong'o, Keri Russell, Joonas Suotamo, Kelly Marie Tran, with Ian McDiarmid and Billy Dee Williams
Star Wars: The Rise of Skywalker is directed by J.J. Abrams and produced by Kathleen Kennedy, Abrams and Michelle Rejwan. Callum Greene, Tommy Gormley and Jason McGatlin serve as executive producers. Star Wars: The Rise of Skywalker was written by J.J. Abrams & Chris Terrio.