Annie Awards Nominations Go To 'Frozen 2', 'Missing Link', And More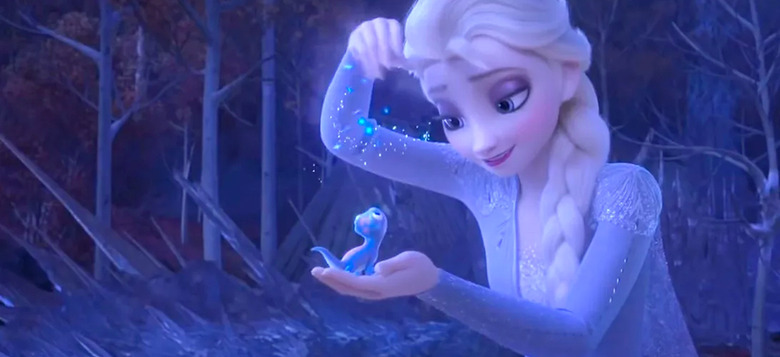 The nominations for the 47th Annual Annie Awards, an awards show devoted entirely to animation, have been announced, and Frozen II and Missing Link lead the pack. Both films received eight nominations each. Other titles that garnered attention: Netflix's Klaus, Toy Story 4, and I Lost My Body. Live-action films also garnered attention – Alita: Battle Angel, Detective Pikachu, Avengers: Endgame, and more. Get the full list of Annie Awards nominations below.
Hello, toon fans. The Annie Awards nominations are upon us, honoring the best of the best in animation this year. More often than not, titles nominated here go on to garner Oscar nods, so if you're an awards season junkie, you might want to pay attention. There aren't many surprises here, as far as I can see. I had a moment of panic when I saw Spider-Man: Into the Spider-Verse wasn't mentioned anywhere here, but then I realized that came out in 2018. It's been a long year, folks.
The Annie Awards will take place on Saturday, January 25 at Royce Hall on the UCLA campus. Here are the nominees.
Best FeatureFrozen 2How to Train Your Dragon: The Hidden WorldKlausMissing LinkToy Story 4Best Indie FeatureBuñuel in the Labyrinth of the TurtlesI Lost My BodyOkko's InnPromareWeathering With YouBest Special ProductionGuava Island, Titles and PrologueHow to Train Your Dragon, HomecomingInfinity Train, The Perennial ChildSpongeBob SquarePants, SpongeBob's Big Birthday BlowoutZogBest Short SubjectAcid RainDONT KNOW WHATJe sors acheter des cigarettesPurpleboyUncle Thomas: Accounting for the DaysBest VRBonfireGLOOMY EYESKaiju ConfidentialBest CommercialDove Self-Esteem Project x Steven Universe: Social MediaFortnite Season 7 Launch SpotThe Mystical Journey of Jimmy Page's '59 TelecasterBest TV/Media – PreschoolAsk the Storybots, episode: Why Do We Have to Recycle?Elena of Avalor, episode: Changing of the GuardLet's Go Luna!, episode: Dorsay Day/Honey in ParisNorman Picklestripes, episode: Pizza Pickle/The Forest Next DoorXavier Riddle and the Secret Museum, episode: I Am Amelia EarhartBest TV/Media – ChildrenDisney Mickey Mouse, episode: Carried AwayNiko and the Sword of Light, episode: 206: The Caterpillar TrainRise of the Teenage Mutant Ninja Turtles, episode: Evil League of MutantsTales of Arcadia: 3Below, episode: A Glorious End Part 1The Tom and Jerry Show, episode: Calamari JerryBest TV/Media – General AudienceBig Mouth, episode: Disclosure The Movie: The Musical!BoJack Horseman, episode: The ClientHarley Quinn, episode: So You Need a CrewTuca & Bertie, episode: The Jelly LakesUndone, episode: 2. The HospitalBest Student FilmCon FuerzaGravedadThe Fox & The PigeonUn diable dans la pocheBest FX for TV/MediaHow to Train Your Dragon HomecomingLove, Death & RobotsMy MoonStar Wars Galaxy of AdventuresTales of Arcadia: 3BelowBest FX for FeatureAbominableFrozen 2Missing LinkToy Story 4Weathering With YouBest Character Animation – TV/MediaAsk the StorybotsDisney Rapunzel's Tangled AdventureHis Dark MaterialsHow to Train Your Dragon HomecomingRobot ChickenBest Character Animation – Animated FeatureFrozen 2 – characters: Elsa, Anna, Olaf, Kristoff, SvenHow to Train Your Dragon: The Hidden World – characters: Toothless, Light Fury, Hiccup, DeathgrippersHow to Train Your Dragon: The Hidden World – characters: Grimmel, Ruffnutt, Toothless, Light Fury, Hiccup, Baby FuriesKlaus – character: AlvaMissing Link – character: MultipleBest Character Animation – Live ActionAlita: Battle AngelAvengers: EndgameGame of Thrones – Season 8 Episode 3, The Long Night – Dance of the DragonsPokémon Detective Pikachu:Spider-Man: Far From HomeBest Character Animation – Video GameGears 5 – Cinematic AnimationKingdom Hearts IIISinclair Snake: Museum MischiefUnruly HeroesBest Character Design – TV/MediaCarmen Sandiego, episode: The Chasing Paper CaperDC Super Hero Girls, episode: #SweetJustice Pt. 1-4T.O.T.S., episode: 101AB: You've Gotta Be Kitten Me/Whale, Hello There!The Adventures of Rocky and Bullwinkle, episode: Amazamoose and Squirrel Wonder: Chapter FiveVictor and Valentino, episode: Know It AllBest Character Design – FeatureAbominableFrozen 2KlausSpies in DisguiseThe Addams FamilyBest Direction – TV/MediaAsk the Storybots, episode: How Do You Make Music?DC Super Hero Girls, episode: #DCSuperHeroBoysDisney Mickey Mouse, episode: For Whom the Booth TollsRilakkuma & Kaoru, episode: SnowmanUltraman, episode: Episode 1Best Direction – FeatureJennifer Lee and Chris Buck, Frozen 2Jérémy Clapin, I Lost My BodySergio Pablos, KlausChris Butler, Missing LinkMakoto Shinkai, Weathering With YouBest Music – TV/MediaCarmen SandiegoLove, Death & RobotsSeis ManosShe-Ra and the Princesses of PowerThe Tom and Jerry ShowBest Music – FeatureAWAYFrozen 2I Lost My BodySpies in DisguiseToy Story 4Best Production Design – TV/MediaCarmen Sandiego, episode: Becoming Carmen Sandiego: Part 1Disney Rapunzel's Tangled Adventure, episode: Rapunzel and The Great TreeLove, Death & Robots, episode: The WitnessMao Mao: Heroes of Pure Heart, episode 106: UltraclopsThe Adventures of Rocky and Bullwinkle, episode: The Legend of the Power Gems: Chapter OneBest Production Design – FeatureAbominableHow to Train Your Dragon: The Hidden WorldKlausMissing LinkThe Addams FamilyBest Storyboarding – TV/MediaCarmen Sandiego,episode: Becoming Carmen Sandiego: Part 1Carole & Tuesday, episode: True ColorsLove, Death & Robots, episode: Sucker of SoulsSnoopy in Space, episode: Mission 6: Space SleepwalkingZogBest Storyboarding – FeatureJulien Bisaro, I Lost My BodyJérémy Clapin, I Lost My BodySergio Pablos, KlausJulian Narino, Missing LinkOliver Thomas, Missing LinkBest Voice Acting – TV/MediaMarieye Herington, Big City Greens
Jon Benjamin, Bob's Burgers
Sarah Stiles, Steven UniverseDebi Derryberry, TigtoneAli Wong, Tuca & BertieBest Voice Acting – FeatureTenzing Norgay Trainor, AbominableJosh Gad, Frozen 2Richard Horvitz, Invader Zim: Enter the FlorpusJenny Slate, The Secret Life of Pets 2Tony Hale, Toy Story 4Best Writing – TV/MediaApple & Onion, episode: Apple's ShortBoJack Horseman, episode: Feel-Good StoryPinky Malinky, episode: SecretTuca & Bertie, episode: The Jelly LakesXavier Riddle and the Secret Museum, episode: I Am Helen KellerBest Writing – FeatureFrozen 2How to Train Your Dragon: The Hidden WorldI Lost My BodyToy Story 4Weathering With YouBest Editorial – TV/MediaBig Hero 6: The Series, episode: Prey DateDC Super Hero Girls, episode: #AdventuresInBunnysittingDisney Mickey Mouse, episode: Carried AwayGreen Eggs and Ham, episode: MouseLove, Death & Robots, episode: Alternate HistoriesBest Editorial – FeatureHow to Train Your Dragon: The Hidden WorldKlausMissing LinkThe Secret Life of Pets 2Toy Story 4