'The Craft' Remake Has Assembled Its Coven Of Four New Stars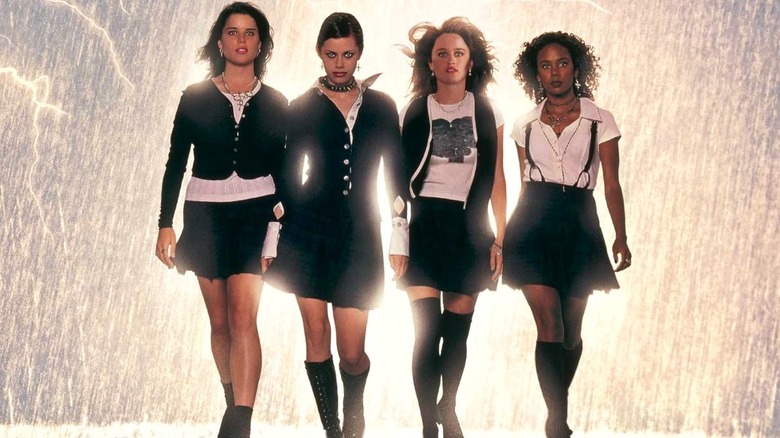 The Craft remake has found its new coven. Blumhouse's remake of the 1996 cult supernatural horror movie has announced the rest of its cast who are joining the already announced Cailee Spaeny (Pacific Rim: Uprising). Joining The Craft cast are Gideon Adlon, Lovie Simone, and Zoey Luna as the teen witches who roam the halls of a Los Angeles Catholic prep school.
Blumhouse announced that it has conjured up the rest of its cast for The Craft remake written, directed, and produced by Zoe Lister Jones. Cailee Spaeny, Gideon Adlon (Blockers), Lovie Simone (Selah and the Spades), and transgender actress and activist Zoey Luna (Pose) are your four teen witches at the center of The Craft, which follow the aspiring witches as they wreak magical havoc on their Catholic prep school.
The Craft has its coven! The movie, written, directed and produced by @ZoeListerJones, has cast Cailee Spaeny, Gideon Adlon, Lovie Simone and Zoey Luna to join the witchy, wonderful reimagining of the iconic '90s film. pic.twitter.com/qa4JxYGtyL

— Blumhouse (@blumhouse) September 19, 2019
According to The Hollywood Reporter, Cailee Spaeny plays the new girl at school, Hannah, " a high school outcast who becomes friends with three other young women and begins experimenting with witchcraft. They unleash a power that at first seems to solve problems in their lives but slowly consumes them with unforeseen costs."
The description is similar in plot to the original film, which followed a new student named Sarah (Robin Tunney), who strikes up a friendship with three witches (Fairuza Balk, Neve Campbell, Rachel True) and soon becomes the most powerful of their coven, leading to magical mayhem as their witchcraft backfires.
Details are scarce for The Craft remake at the moment, but the casting of the four main leads suggests that Blumhouse is making a concerted effort toward diversity, which already sets it apart from the 1996 original, which featured only one actress of color. Luna's casting in particular is significant — the Pose star, who began her career as an activist advocating for transgender rights, will be a transgender actress in a major horror movie. The original The Craft has become so beloved by its fans for centering around outcasts and powerful young women, which this new remake looks like it will double down on.
The Craft remake is hoping to begin filming in July. No release date has yet been set by Blumhouse.