'Under The Silver Lake' Being Dumped On VOD In The U.S. After Almost A Full Year Of Delays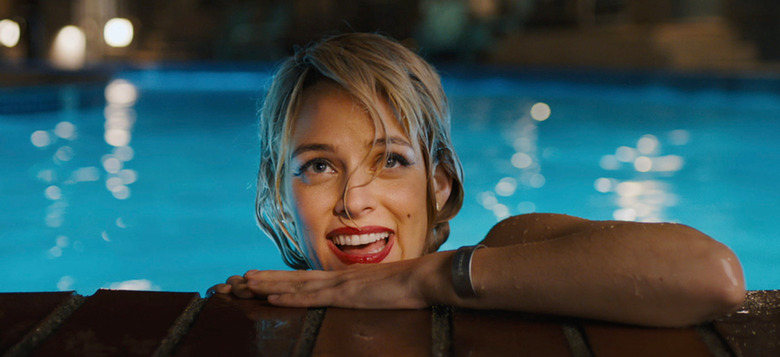 What the heck happened with Under the Silver Lake, the new film from It Follows director David Robert Mitchell? The neo-noir mystery was snapped up by indie powerhouse A24 right before its world premiere at the 2018 Cannes Film Festival...and then things started to go wrong. A24 slated it for a June 2018 release date, only to push it to December 2018. And then they pushed it again. Now, Under the Silver Lake is being dumped on VOD in the U.S. this month, save for select screenings in NY and LA. Talk about a real mystery.
Why did A24 get cold feet on Under the Silver Lake? The indie studio has a great track record, but let's be honest: they've been fine releasing some less-than-stellar films in the past. Can Silver Lake really be that bad? Or is the movie just too out-there? I've heard from several people who've seen the film on the festival circuit, and their takes vary. Some say the film is jumbled, some say it's too long. But almost no one has come out and declared it to be a bad movie. In fact, the consensus seems to be that the film's messiness is what makes it stand out.
Reviewing Under the Silver Lake for /Film, Sarah Foulkes declared David Robert Mitchell's flick to be a "Messy, Troublesome, and Sometimes Fascinating Neo-Noir", writing:
Under the Silver Lake is an entertaining mess of a film. It dances with so many styles, themes and subplots, but leaves the audience feeling dizzy. Nonetheless, there is a great film in there. I suspect that's why A24 has pushed the release date six months, in order to rediscover a shorter, more concise cut. But in regards to this version, which has the makings of a cult classic, it's the perfect film if you want to ride shotgun down a lost highway.
Again: none of this sounds bad! So why is A24 so wishy-washy here? The distributor originally set Under the Silver Lake for a June 22, 2018 release. Then, they bumped it back to December 7, 2018. When this happened, some theorized that Mitchell – or someone – might be re-cutting the movie after a somewhat tepid response at Cannes. But word came that that wasn't the case – the film wasn't being re-edited, just moved.
And then they moved it again. It jumped from December 2018 to April 2019. Which is where we are right now. Rather than give the film a wide theatrical release, which was originally the plan, A24 will now open Under the Silver Lake on April 19 in two theaters: the Angelika Film Center in New York, and ArcLight Cinema in LA. The rest of the moviegoing public will have to take the movie in via VOD, where A24 is dumping it on April 22. I'm still interested in checking the film out when I can, just to see what this film is, and why it would inspire such hesitation. You never know – it might end up in cult classic territory one day.