Daily Podcast: The Best Movies & TV From The 2019 SXSW Film Festival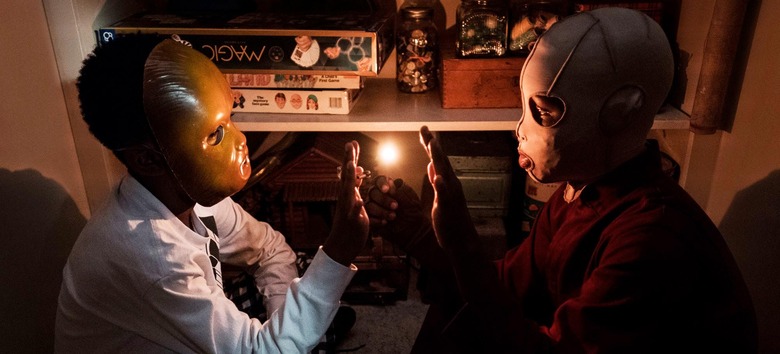 On the March 18, 2019 episode of /Film Daily, /Film editor in Chief Peter Sciretta is joined by /Film managing editor Jacob Hall, to discuss the best movies he saw at the SXSW Film Festival.You can subscribe to /Film Daily on iTunes, Google Podcasts, Overcast, Spotify and all the popular podcast apps (here is the RSS URL if you need it).
Opening Banter: Jacob has returned from the SXSW Film Festival!In Our Feature Presentation: Jacob talks about the best and worst of SXSW.
Shout-outs to smaller films and pilots: NOS42, What We Do in the Shadows, and Extra Ordinary. And he flat-out HATED The Curse of La Llorona.
Olympic Dreams
The Peanut Butter Falcon
Stuber
Villains
Pet Sematary
Good Boys
Tread
The Art of Self-Defense
Booksmart
Us
Other Articles Mentioned:
SXSW 2019 Days One and Two: 'Us' is Another Jordan Peele Masterpiece, 'What We Do in the Shadows' Shows Promise on the Small Screen, and 'Tread' is a Mind-Boggling Documentary That Must Be Seen to Be Believed
SXSW 2019 Day 3: 'The Art of Self-Defense' and 'Booksmart' Are Instant Comedy Classics and 'The Highwaymen' is Your Dad's New Favorite Movie
SXSW 2019 Day 4: 'Good Boys' is the Most Innocent Filthy Comedy Ever, 'NOS4A2' is a Creepy and Emotional Adaptation, and 'Extra Ordinary' Puts the Natural in Supernatural
SXSW Day 5: 'Villains' is Your New Favorite Comedic Thriller, 'Olympic Dreams' Puts an Indie Drama in an Incredible Location, and 'The Peanut Butter Falcon' is an Unlikely Winner
SXSW Days 6 and 7: 'Stuber' is a Killer Comedy for Kumail Nanjiani and Dave Bautista and 'Sword of Trust' Teams Marc Maron With Director Lynn Shelton
SXSW Days 8 and 9: 'The Curse of La Llorona' and 'Pet Sematary' Offer One of 2019's Worst Horror Movies and One of the Best
All the other stuff you need to know:
You can find more about all the stories we mentioned on today's show at slashfilm.com, and linked inside the show notes.
/Film Daily is published every weekday, bringing you the most exciting news from the world of movies and television as well as deeper dives into the great features from slashfilm.com.
You can subscribe to /Film Daily on
iTunes
,
Google Podcasts
,
Overcast
,
Spotify
and all the popular podcast apps (
RSS
).
Send your feedback, questions, comments and concerns to us at
peter@slashfilm.com
. Please leave your name and general geographic location in case we mention the e-mail on the air.
Please rate and review the podcast on iTunes, tell your friends and spread the word!
Thanks to Sam Hume for our logo.