Sundance Sci-Fi Film 'I Am Mother' Picked Up By Netflix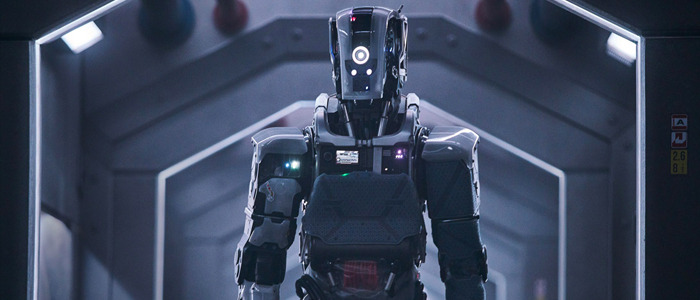 One of the best movies at this year's Sundance Film Festival now has North American distribution. StudioCanal had already committed to releasing Grant Sputore's directorial debut I Am Mother in Australia and New Zealand, but this morning, Netflix swooped in and picked up the distribution rights for North America.
Why should you be excited about I Am Mother? Because it features one of the best robot creations in cinematic history. Learn more about the film below.
I Am Mother was one of the few pure science fiction films to play at this year's Sundance, and though it has an extremely familiar premise, it's executed so well that
we ended up giving it a 9 out of 10 review
and it made
our list of favorite films of the fest
. The story begins with an extinction-level event on Earth that wipes out humanity and activates a robot known as "Mother" (voiced by Rose Byrne) in an underground bunker. Mother follows her programming, which includes raising and protecting a young girl known as "Daughter" in isolation. Everything seems fine, until an injured woman (Hilary Swank) arrives at the bunker and causes Daughter to question everything she thinks she knows.
Like I said, it's a well-worn concept. But it's worth watching for Clara Rugaard, who plays Daughter, because she turns in a mesmerizing performance that should make her a star. But for me, the real stand-out aspect of the film is the robot, which is a mixture of visual effects and a practical suit worn by Weta employee Luke Hawker, who also designed it. Mother is a jaw-dropping, unforgettable creation, able to illicit warmth and terror in equal measure. Your mileage may vary with the film's twisty plot, but I guarantee you'll walk away from this story impressed with how first-time director Grant Sputore brought Mother to life.
I wish this deal could have been completed in time for Netflix to drop the film online immediately after the Super Bowl like they did with The Cloverfield Paradox last year. No release date is set yet, but I expect we won't be waiting too long before I Am Mother becomes available on the streaming service.
In the meantime, check out the first two and a half minutes of this video, which gives everyone a closer look at what Hawker calls "one of the most complex suit builds [Weta has] ever built."