The 'John Wick: Chapter 3' Poster Has Keanu Reeves On The Outside Looking In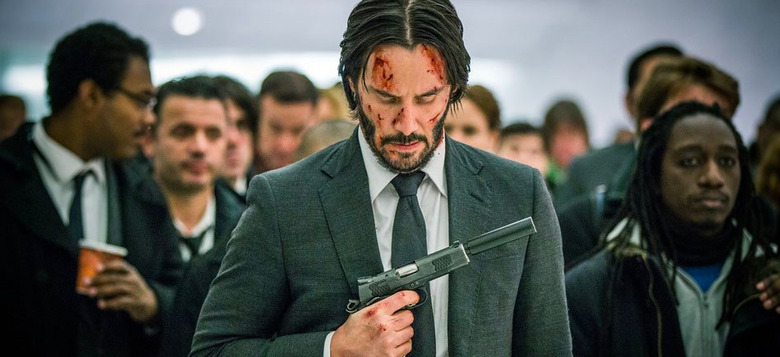 Need a quick pick-me-up? Then please enjoy this John Wick: Chapter 3 poster, in which Keanu Reeves glares in through a foggy, rainy window and makes you whisper, "Oh hell yeah," under your breath. In the third film – subtitled Parabellum – Reeves' stylish assassin has to fend for his life yet again, this time because he broke the sacred assassin rules of the Continental – the high-class hotel all the contract killers frequent. See the John Wick: Chapter 3 poster below.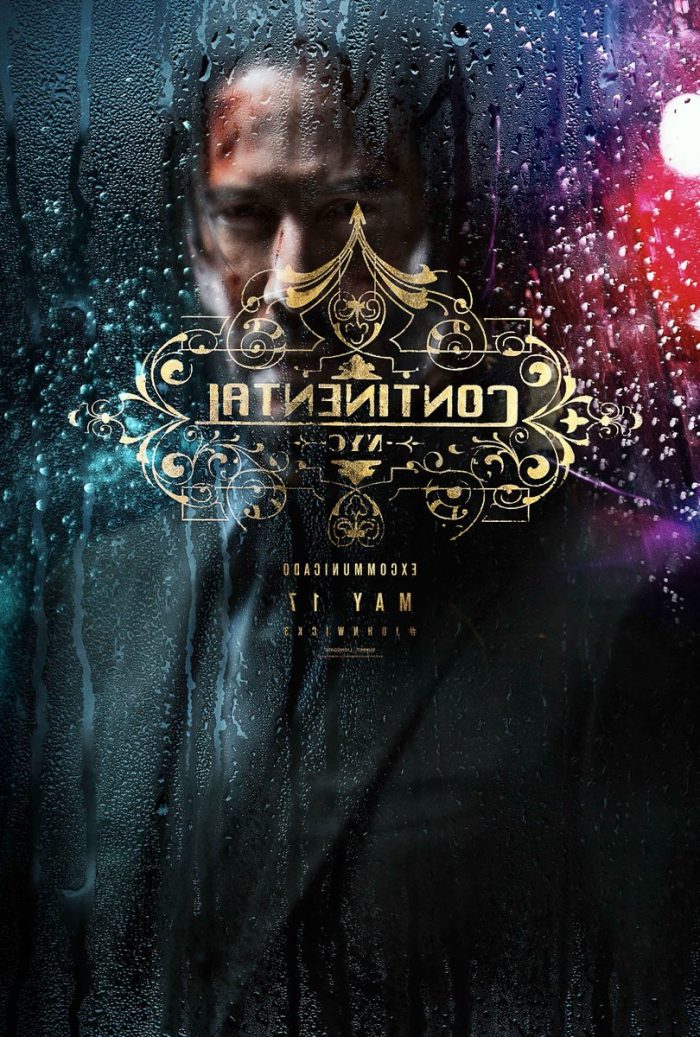 Hell yeah, that's how you do it. At this point, you don't even need a clear picture of Keanu Reeves to sell a John Wick movie. Just put his general shape behind some foggy glass, and throw in that red-blue-purple lighting that prevails through all the films, and you're good to go. This poster also perfectly sums up John Wick's status in the third film: he's now an outsider.
In John Wick: Chapter 2, John broke the sacred "no killing inside the Continental" rule, leading to his current status of "excommunicado," a phrase that also pops-up on this poster. John is a marked man now, and while that's nothing new for him, he's going to have a lot more trained assassins on his tail, and he no longer has a place to hide. He'll have to get out of New York, and fight for his life in the process.
If you need more than just a still-image of John Wick looking in through that window, here's a motion poster as well.
We'll be seeing you... John Wick: Chapter 3 – Parabellum is in theaters May 17. #JohnWick3 pic.twitter.com/x6rj2FSOhv

— John Wick: Chapter 4 (@JohnWickMovie) January 15, 2019
I loved the first John Wick, and thought Chapter 2 was fun, but not quite as good as the first one. Still, I'm all-in on Chapter 3. In fact, I hope they never stop making these movies – as long as Keanu Reeves wants to keep making them, that is. I dread the day, probably 5 or 10 years from now, when they try to reboot this franchise with a new actor.
John Wick: Chapter 3 – Parabellum also stars Halle Berry, Mark Dacascos, Ian McShane, Lance Reddick, Laurence Fishburne, Jason Mantzoukas, and Anjelica Huston. Look for it in theaters May 17, 2019.
John Wick (Keanu Reeves) is on the run for two reasons... he's being hunted for a global $14 million dollar open contract on his life, and for breaking a central rule: taking a life on Continental Hotel grounds. The victim was a member of the High Table who ordered the open contract. John should have already been executed, except the Continental's manager, Winston, has given him a one-hour grace period before he's "Excommunicado" – membership revoked, banned from all services and cut off from other members. John uses the service industry to stay alive as he fights and kills his way out of New York City.