'Documentary For The Recently Deceased: The Making Of Beetlejuice' Sneak Peek: Crowdfunded Documentary Examines Tim Burton Classic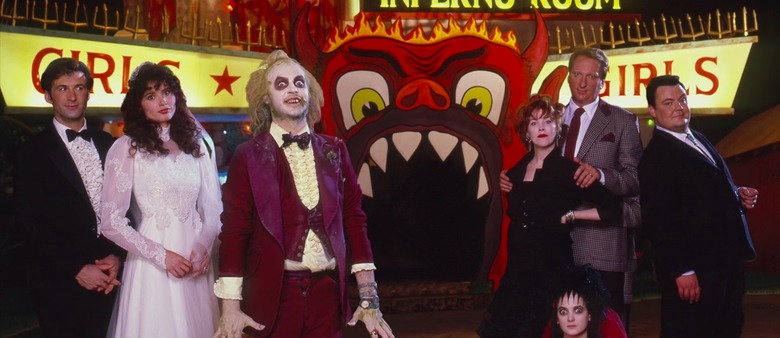 It's showtime! With a Beetlejuice musical out, it was only a matter of time before a documentary dove into the making of the Tim Burton cult classic. But it will take more than saying "Beetlejuice!" three times to conjure up this documentary. The feature-length documentary, titled Documentary for the Recently Deceased: The Making of Beetlejuice, is currently running a crowdfunding campaign and will need a little monetary magic to pull through.
Beetlejuice Documentary Sneak Peek
French Beetlejuice superfan Fred China is currently making and directing Documentary for the Recently Deceased: The Making of Beetlejuice, which released a teaser trailer to lure in more Beetlejuice lovers to help crowdfund the movie. This is the second crowdfunding campaign for the documentary which will cover the cost of more interviews.
China launched the first crowdfunding campaign in August 2017, which helped him reach out to 13 crew members that worked in the special effects industry, including Oscar winner Robert Short. In the above sneak peek, they talk about the seemingly impossible task of making Beetlejuice, which most people, including the star-studded cast of Michael Keaton, Geena Davis, Winona Ryder, and Alec Baldwin balked at. "Almost every single person who's actually in the movie at first said no," casting director Jane Jenkins said. "It was the strangest script I've ever read up until that point," art director Tom Duffield added.
According to the press release for the documentary, Documentary for the Recently Deceased: The Making of Beetlejuice will be about:
The doc will cover all the aspects of the Beetlejuice production: from the filming in East Corinth, Vermont, to the stop motion and special effects work, and will include a series of exclusive interviews with cast and crew, as well as rare behind the scenes footage acquired by Fred China through the years. In addition to traveling to the United States, they will also be heading to Vancouver, Toronto, and Amsterdam to get all their interviews.
The Beetlejuice documentary is produced by Adam F. Goldberg (The Goldbergs) and Lee Leshen (Back in Time, Ghostheads). You can donate to the Kickstarter here.