'Solo' Score Disqualified From The Oscars Because Someone Forgot To Submit It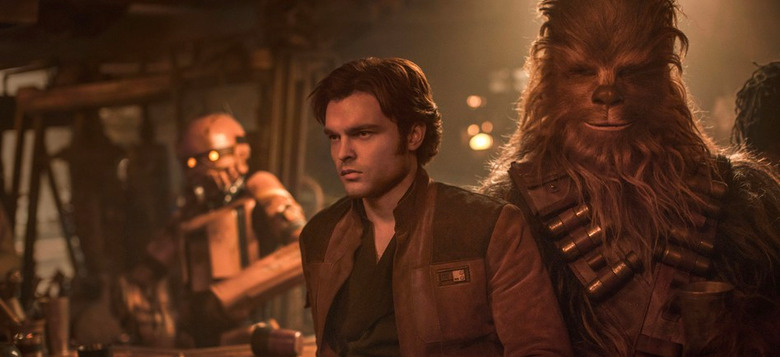 Somebody goofed. First-round voting has kicked-off for the Academy's Best Original Song and Best Original Score awards, and four buzz-worthy scores have already been disqualified. The causes behind the disqualifications vary, but the Solo: A Star Wars Story score might have the most embarrassing reason: someone forgot to submit it in time. Other scores that didn't make the cut include Mandy, Green Book and The Other Side of the Wind.
Solo Score
Variety has a report detailing four specific 2018 film scores that are now ineligible for Academy Award nominations. First up: Solo: A Star Wars Story, with a score from John Powell with themes by John Williams, was tossed out because someone, somewhere, missed a deadline. The deadline to submit the score to be considered was November 15, and Solo came in late. I'm not sure how this happened, but I can imagine there's an intern at Disney right now sweating bullets. This is a shame, because whatever you think of Solo as a film, Powell's score was quite nice.
Green Book Score
Kris Bowers' Green Book score was also disqualified, due to "the prominence of the source music in the movie — primarily the Don Shirley piano trio pieces played throughout the film (which Bowers himself transcribed and performed in addition to composing the score)." Don Shirley is the real-life inspiration for the film, a jazz musician (played by Mahershala Ali). Bowers' attempt to honor Shirley's own music by including it is commendable, but it apparently cost him an Oscar nod.
The Other Side of the Wind
Michel Legrand's original score for the long-awaited release of Orson Welles last film, The Other Side of the Wind, was knocked out of the running for reasons similar to Green Book: "the considerable amount of source music he did not compose, mostly songs heard in the background during the film's lengthy party sequence." Legrand is a legendary composer – he composed the score for The Umbrellas of Cherbourg, among others.
Mandy Score
The disqualification that upsets me the most is Johann Johannsson's haunting score for Mandy. This is the last score from Johannsson, who died in February. And it was likely the only category that could earn Mandy some Oscar love. The reasoning behind the disqualification: Mandy was released on VOD before it completed its qualifying run. As a result, the Academy never even considered it. What a bummer.
Voting ends on December 11, 2018. The shortlists will be announced on December 17, 2018.