Sophia Takal Is The First Female Blumhouse Horror Director, But Not The Last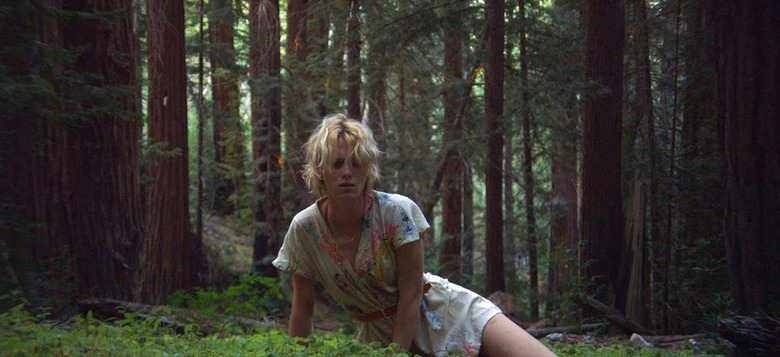 With all the horror movies Blumhouse has released, they've never had a female director for a horror film. Until now. Sophia Takal, director of the amazing indie horror film Always Shine, will become the first female Blumhouse director with New Year New You, a feature-length entry in the Blumhouse/Hulu anthology series, Into the Dark. News of Takal's hiring comes shortly after Blumhouse president Jason Blum offered a tone-deaf explanation regarding the lack of female Blumhouse directors – but the filmmaker was actually hired before those statements were made.
Well, it's about time. A couple of months ago, a simple question was posed to Blumhouse big cheese Jason Blum: why has Blumhouse never hired a female director to direct a horror film? Blum's response raised a few eyebrows: "There are not a lot of female directors period, and even less who are inclined to do horror." After some understandable online backlash to this comment, Blum released the following apology:
— Jason Blum (@jason_blum) October 18, 2018
Thankfully, Blum has made good on his promise. IndieWire is reporting that Sophia Takal will direct New Year New You, an all-female horror movie that's part of Blumhouse's Hulu anthology Into the Dark. While it would be a bit more exciting if this were a film headed to theaters instead of Hulu, it's at least a start. In fact, Takal told IndieWire she was approached to helm New Year in the summer – which was actually before Jason Blum was called out for his comments – and that she shot the film in 15 days. "It was a really, really fast process," she said. "I had a great crew around me. Even though it was chaotic, we didn't feel like we lost anything."
Takal reworked a script by Adam Gaines for the project. The story is set on a "a crazy, scary, murderous New Year's night" and is "in the vein of hysterical women horror movies...but it's really a satirical takedown of the loathsome internet culture of today." The plot "centers on a group of old high school friends who reunite in a house for New Year's Eve, where they're forced to confront traumas from their past." Cast members include Suki Waterhouse, Carly Chaikin, Kirby Howell-Baptiste, and Melissa Bergland.
As for working with Blumhouse, Takal had nothing but positive things to say: "It was my first time working with producers other than my friends. I'd assumed, as a female director, people would undermine me and no one would trust me, but everyone was really supportive. Their notes are so helpful. They're not annoying executive notes."
If you're unfamiliar with Takal's work, I urge you to check out her chilling 2016 film Always Shine, which is currently streaming on Shudder and Kanopy. It's like a twisted cross between Mulholland Drive and All About Eve, featuring a killer performance from Mackenzie Davis.
Also worth noting: while Sophia Takal's upcoming film is the first of the female-directed Blumhouse horror films to be released, it won't be the last. There are plenty more female-directed horror movies on the way from Blumhouse in the future, including an upcoming Into the Dark entry, All That We Destroy, directed by Chelsea Stardust. This is only the beginning. And that's exciting.
New Year New You premieres December 28 on Hulu.