'Plastic Man' Movie In Development At Warner Bros.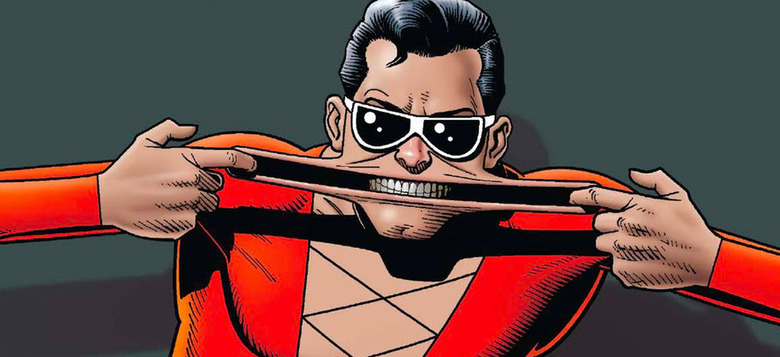 At last, Hollywood has decided to make a superhero movie. That movie is Plastic Man, which is in early development at Warner Bros. The film will be based on the bendy, comical DC comics character who can stretch, twist and regenerate at will. The lighthearted nature of Plastic Man as a character fits in with Warner Bros. and DC's new plans to move away from the grim and gritty Snyderverse, and lighten up a bit.
Deadline reports that Warners is in the early process of getting a Plastic Man movie together. There's no director at the moment, and the movie isn't even greenlit. But Amanda Idoko, writer of the upcoming Breaking News in Yuba County, which stars Allison Janney and Laura Dern, has been hired by Warner Bros. to write the script. Warners likely wants to make this happen because the character is fun and funny, much like the upcoming Shazam! After negative reactions towards Batman v. Superman and Justice League, light is the name of the game with Warners and DC. Almost all of the trailers for Aquaman play up the goofy, comedic elements of the film, and Shazam! is being sold as a straight-up comedy.
Here's the low-down on Plastic Man as a character, per the DC Wiki:
Plastic Man is a super-hero whose unique completely malleable body chemistry allows him to stretch to great lengths and contort himself into any position imaginable. Originally a criminal nick-named "Eel" O'Brian, an accident in a chemical factory gave him his ability and he reformed to fight against crime. Woozy Winks is his bumbling best friend and side-kick. Despite being one of the most powerful entities on the planet because of the limitless nature of his powers, he has a care-free and humorous attitude towards life, leading many to not take him seriously.
I really hope Woozy Winks makes it into this movie, or I'll be pissed. The character first appeared in 1941, and was one of the first comedic superheroes. And unlike other comic characters, who have gone through grim-dark phases, Plastic Man has remained more or less comedic from the start.
This won't be the first time someone tried to mount a Plastic Man movie. Back in the 1990s, Warner Bros. was developing a film with Amblin Entertainment, with McHale's Navy director Bryan Spicer at the helm. In 1995, The Wachowskis wrote a Plastic Man script, which focused on ex-con Daniel 'Eel' O'Brien, recently released from prison for "an act of environmental terrorism." O'Brien is captured by villain Icarus Argon, who runs experiments on the character, turning him into Plastic Man, "capable of bending, oozing, molding and stretching in incredible ways." The film never got off the ground. Now, Amanda Idoko will try something different.