Bond Watch: 'Bond 25' Cast Allegedly Includes The Return Of Léa Seydoux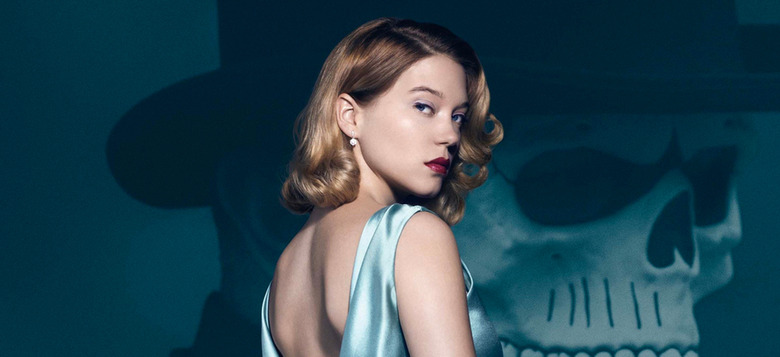 Is Léa Seydoux returning as Dr. Madeleine Swann in Bond 25? That's the latest rumor, allegedly sourced directly from director Cary Fukunaga. Fukunaga has bee a bit standoffish about confirming who might or might not return for the Bond 25 cast (aside from Daniel Craig, of course), but according to a new report, the director has let slip that Seydoux's Spectre Bond Girl is coming back for more. If true, this would make her the first Bond Girl to come back for a sequel.
BOND WATCH! As is the case with all Bond related stories, take this with a grain of salt. But according to the Daily Mail, Léa Seydoux is coming back for Bond 25. It's worth noting that the Daily Mail isn't always the most accurate of sources, but they're claiming to have a direct quote from director Cary Fukunaga himself. "Lea will be returning," Fukunaga is quoted as saying. Also returning: Ralph Fiennes, Ben Whishaw and Naomie Harris. "You have some of the best actors in the world here," Fukunaga added. "Why wouldn't I have the best coming back?!"
If this is true, it would make Seydoux's Madeline Swann the first Bond Girl to return for a sequel – although there are a few notable exceptions to the rule. Actress Maud Adams appeared in three Bond films, but played different characters each time: Andrea Anders in The Man With The Golden Gun, Octopussy in Octopussy, and and an uncredited cameo in A View To A Kill.
Then there's Naomie Harris' Moneypenny. In the general mythology of the Bond universe, Monepenny isn't normally considered a Bond Girl. However, when the new version of Moneypenny was introduced in Skyfall, she partook in some Bond Girl-esque shenanigans. So if you want to unofficially count her as a Bond Girl, that would make Seydoux the second to return.
This claim somewhat clashes with a very recent comment – also from Fukunaga. The filmmaker was asked earlier this month about rumors going around that Blofeld (played by Christoph Waltz in Spectre) and gadget nerd Q (Ben Whishaw) would not return for the next installment. Fukunaga's response at the time:
"Who is saying those rumors? We haven't finished the screenplay, so there is no way that anyone could know that. Those are two extraordinary actors, so if there is space for them in the story, I would absolutely want them there. But I don't know yet what it's going to be."
So which is it? Is it too early to say who is in Bond 25? Or is the script now closer to completion, allowing Fukunaga to spill the beans? We'll have to wait and see for an official confirmation.
As of now, let's just assume Madeline Swann is returning. How big will her role be? Will she play a big part in the film, or will be she be killed off early, like Bond's new wife at the end of On Her Majesty's Secret Service? Even though I have no real fondness for Madeline Swann (sorry, her character is boring), I would hate for Fukunaga and company to fridge her right out of the gate.  
Bond 25 opens on February 14, 2020.