'Mary Poppins Returns' Clip: A Spinning Bowl Whisks Mary & Company To An Animated World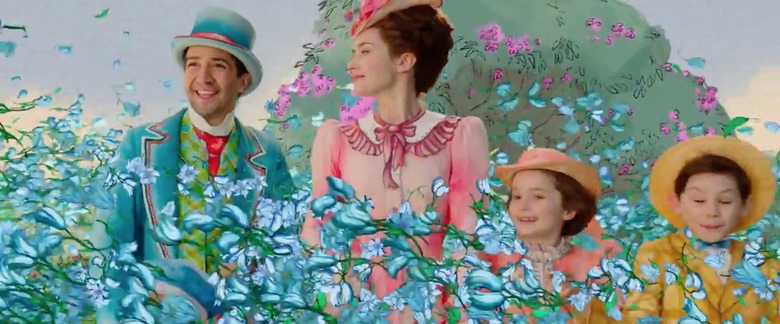 As we approach the debut of Walt Disney Pictures' Mary Poppins Returns, the studio has released a new clip that features Emily Blunt's magical nanny leading her pal Jack (Lin-Manuel Miranda) and the young Banks children into a brand new animated world. The score swells, the costumes change, the color pops – it's all very...well, merry. Check it out below.
Mary Poppins Returns Clip
A little context: in the film, the Banks kids want to sell this bowl, but they accidentally break it during an argument. Mary takes Jack's advice and lets the kids fix their own mistake, but that requires taking them into the world of the bowl itself. Naturally, the drawing of a horse and carriage on the side comes alive as soon as the live-action characters enter that animated realm, and this all leads to a big song and dance number that's been highlighted in the movie's trailers.
I'm in the minority of critics who didn't care for Mary Poppins Returns,  and this clip is illustrative of one of the reasons why. Director Rob Marshall insists on referring to the film as a sequel, but it's one of those sequels that also basically functions as a remake – the characters do almost the exact same things in this movie as the ones in the original. Remember when Mary, Burt, and the kids jumped into the chalk paintings in the first movie? This clip is just that all over again. The story takes no chances and doesn't further the mythology or characters in an interesting way – for me, it was largely just a rehash of the 1964 movie, only worse in every regard.
Still, Emily Blunt manages to succeed at taking on the impossible task of stepping into Julie Andrews' shoes. Here's a new featurette that features Blunt talking about what makes the character so special:
Mary Poppins Returns hits theaters on December 19, 2018.
In Disney's "Mary Poppins Returns," an all new original musical and sequel, Mary Poppins is back to help the next generation of the Banks family find the joy and wonder missing in their lives following a personal loss. Emily Blunt stars as the practically-perfect nanny with unique magical skills who can turn any ordinary task into an unforgettable, fantastic adventure and Lin-Manuel Miranda plays her friend Jack, an optimistic street lamplighter who helps bring light—and life—to the streets of London.