'House That Jack Built' Director's Cut Release Pushed To 2019 Because IFC Dared To Defy The MPAA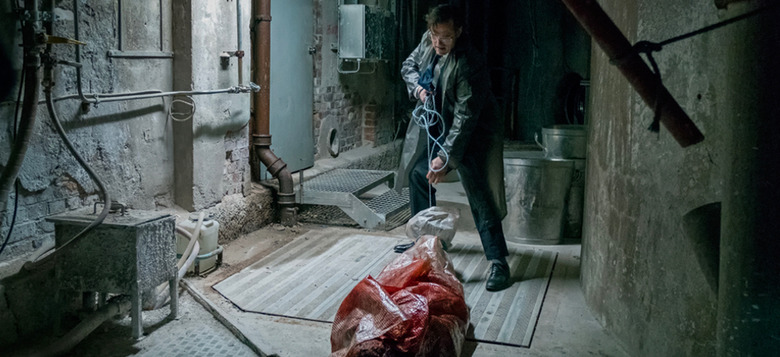 Oh, IFC Films. Now you've gone and done it. After failing to get the appropriate waiver to screen the unrated The House That Jack Built director's cut last week, IFC Films is now pushing the official release date back a few months. The House That Jack Built director's cut release was originally set for next week, but this MPAA kerfuffle has bumped Lars von Trier's controversial serial killer flick into June of 2019.
A quick recap: last week, IFC Films made headlines by screening the unrated director's cut of Lars von Trier's The House That Jack Built in select theaters for one night only. IFC then planned to release the director's cut, along with an R-rated cut, On-Demand next week, December 14. The R-rated cut would also play in select theaters. Here's the problem: the MPAA doesn't take kindly to screening an unrated cut of a movie so close to an R-rated cut. IFC could have done this smoothly had they acquired an appropriate waiver from the MPAA. But they didn't. And the MPAA wasn't happy.
The MPAA threatened sanctions against IFC if they went ahead with their planned release, leading to IFC to change course. Now, The House That Jack Built director's cut won't arrive until June 2019. That date is tentative, so it might change. But if you managed to catch the director's cut in theaters last week, you're among a privileged few to witness it long before most people will have the chance.
The R-rated cut release will continue as planned, arriving in select theaters and On-Demand December 14, 2018. For what it's worth, I've heard from credible sources that the unrated cut and R-rated cut are almost identical. Indeed, the different in runtime between the two is only about four minutes. Sure, a lot could happen in four minutes, but nothing too detrimental. In other words, the version you'll be able to watch next week won't be much different than the version that arrives in June of 2019.
In The House That Jack Built, director Lars von Trier follows Jack (Matt Dillon), a "failed architect and vicious sociopath" through five acts as he "recounts his elaborately orchestrated murders — each, as he views them, a towering work of art that defines his life's work as a serial killer in the Pacific Northwest." Also starring Bruno Ganz, Uma Thurman, Siobhan Fallon Hogan, Sofie Gråbøl, Riley Keough, and Jeremy Davies, the film premiered at Cannes, where it was met with a negative reaction (although since then, many have praised the film).