'Star Wars: Episode 9' Rumors: Luke's Lightsaber, The Knights Of Ren, And More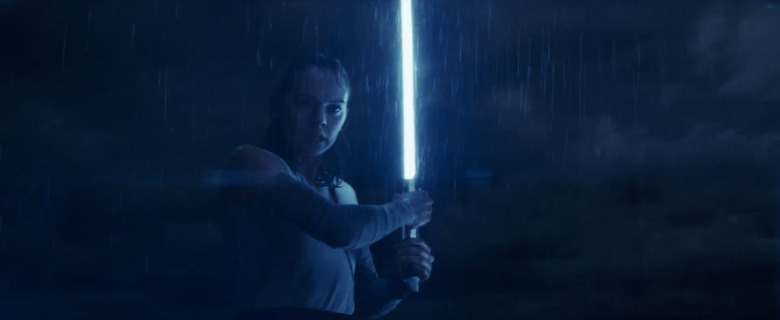 Filming continues on Star Wars: Episode 9 over at Pinewood Studios in London, but even as Lucasfilm and Disney's grip on spoilers for the film tightens, rumors inevitably make their way back across the pond. A few new Star Wars Episode 9 rumors suggest plot details that could fly in the face of the events of Star Wars: The Last Jedi or further expand the universe in ways we don't expect.
Let's dive into those rumors below and beware of potential spoilers.
Rey Will Be Using Luke's Lightsaber Again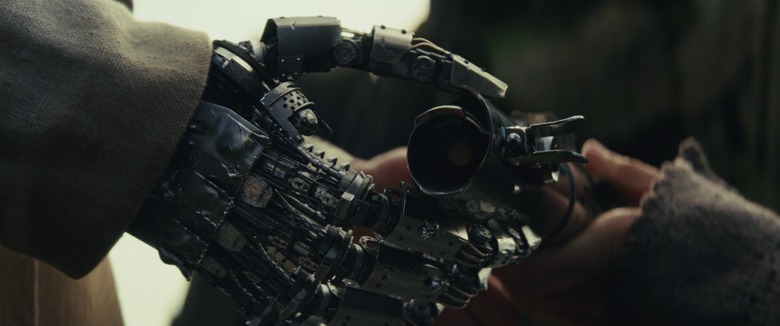 Luke Skywalker's (Mark Hamill) lightsaber was a driving force in Rey's (Daisy Ridley) story arc from The Force Awakens through The Last Jedi, pushing her to embark on the quest to find the missing Jedi Master. But at the end of The Last Jedi, the unspeakable happens: Luke's lightsaber breaks. The lightsaber shatters during Rey and Kylo Ren's (Adam Driver) fight with the Elite Praetorian Guard following Kylo Ren's betrayal of his former Master Snoke. After the lightsaber thrillingly flies to Rey's hand after Kylo bisects Snoke, their conflicting objectives caused the lightsaber to snap in two. Rey took the pieces back on board the Millennium Falcon with her, where in Star Wars: Episode 9, she seems to have mended it in some capacity.
Making Star Wars reports that the Skywalker lightsaber will be back. "Information about Rey was held back but her lightsaber, the Skywalker saber will be back," the website reports. "So far there hasn't been anything solid about how the sword has changed." Rey's mended lightsaber will likely mirror Kylo Ren's revived helmet, which is rumored to make a comeback too, bringing it back full circle to The Force Awakens.
The Knights of Ren Are Back With "Special Abilities"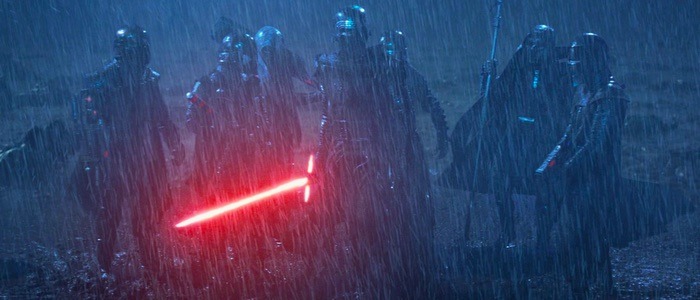 After all but disappearing during The Last Jedi, the Knights of Ren are returning in Star Wars: Episode 9 but with "unnatural" powers, Making Star Wars reports. Earlier this year, the Knights of Ren were reportedly being billed as "Force Wielding Mercenaries" but that has since shifted to a description as "a group with many special abilities."
A New Elite Stormtrooper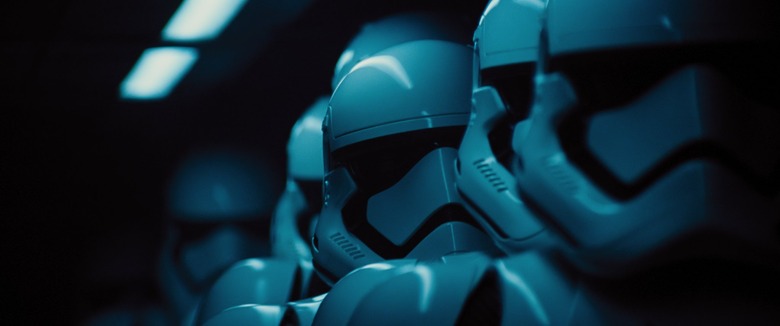 The Stormtroopers are notoriously lame foot soldiers, though they've been growing in esteem with the new saga, thanks in part to Finn's (John Boyega) troubled arc. But there may be a new kind of Stromtrooper introduced in Star Wars: Episode 9 that will be donning a dramatically different color from the trademark white. These new elite Stormtroopers will have a solid red uniform with black stripes — not the same as the red pilots from Star Wars: Resistance. The website writes:
The trooper is not just a First Order Stormtrooper painted red either as the helmet is different. Ironically, we did hear the trooper was a pilot but for all we know these are like Death Troopers and they can fly ships too. We also can't confirm there are more than one in the film at this time.
With these new details emerging, it sounds like director J.J. Abrams is bringing Star Wars: Episode 9 back to basics, or rather, back to the status quo that he established with Force Awakens before Rian Johnson's Last Jedi came in to radically shake things up. With this and Kylo Ren's rumored costume changes, it seems like Abrams is reversing all of Johnson's decisions at every avenue, which to be honest, is a bit of a disappointment. Johnson's storytelling decisions may not be popular with everyone, but they were a revolutionary next step in the Star Wars saga that Abrams does a disservice against by going back to the familiar.
Star Wars: Episode 9 is set to hit theaters on December 20, 2019.