'American Gods' Season 2 Premiere Date Set For March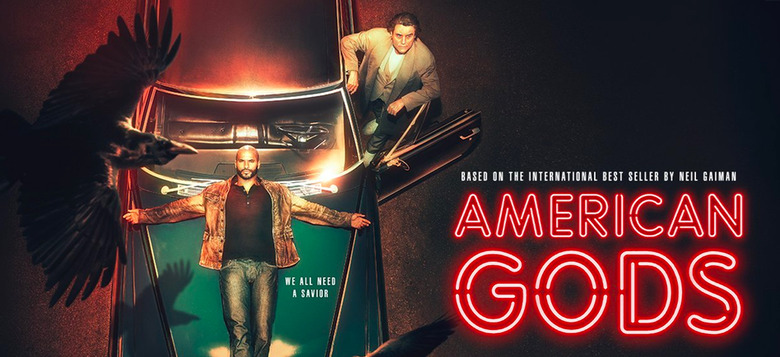 America Gods season 2 finally has a premiere date. The Starz series adapted from Neil Gaiman's novel has gone through some turbulent times getting to its second season, changing showrunners, losing cast members, and sparking several eyebrow raising rumors. Now, Starz has officially locked a return date down for March.
When is American Gods returning? March 10, 2019. Like season 1, season 2 will consist of eight episodes, and once again focus on ex-con Shadow Moon, who is hired as a bodyguard to the mysterious Mr. Wednesday, and finds himself in "a hidden world where a battle is brewing between the Old Gods and the New Gods." Ricky Whittle, Ian McShane, Yetide Badaki, Orlando Jones, Omid Abtahi, Mousa Kraish, and more star.
When American Gods returns, it'll be toting some baggage. The series debuted in 2017, with Michael Green and Bryan Fuller serving as showrunners. Good reviews followed, and the series attracted a fan base. But behind the scenes, trouble was brewing. Rumor has it that Green and Fuller clashed with Gaiman, who was unhappy with the changes the duo were making to his book. Green and Fuller were eventually fired, with the dismissal chalked up to budget conflicts. Jesse Alexander was then brought in to run things, and presumably stick closer to Gaiman's book. But this created a problem, as the bulk of the cast was loyal to Fuller and Green, and their vision for the series. Things became very heated, with cast members getting into shouting-matches with Alexander. Soon, a rumor surfaced that Alexander had also been fired, leaving the series rudderless.
Now, the show is ready to come back. I was a big fan of the first season, and all the behind-the-scenes strife has me worried about how the second season will play out. Hopefully, things will work out in the end.
When Shadow Moon is released from prison, he meets the mysterious Mr. Wednesday and a storm begins to brew. Little does Shadow know, this storm will change the course of his entire life. Left adrift by the recent, tragic death of his wife, and suddenly hired as Mr. Wednesday's bodyguard, Shadow finds himself in the center of a world that he struggles to understand. It's a world where magic is real, where the Old Gods fear both irrelevance and the growing power of the New Gods, like Technology and Media. Mr. Wednesday seeks to build a coalition of Old Gods to defend their existence in this new America, and reclaim some of the influence that they've lost. As Shadow travels across the country with Mr. Wednesday, he struggles to accept this new reality, and his place in it.