'Mary Queen Of Scots' Trailer Promises An Epic Clash Of Queens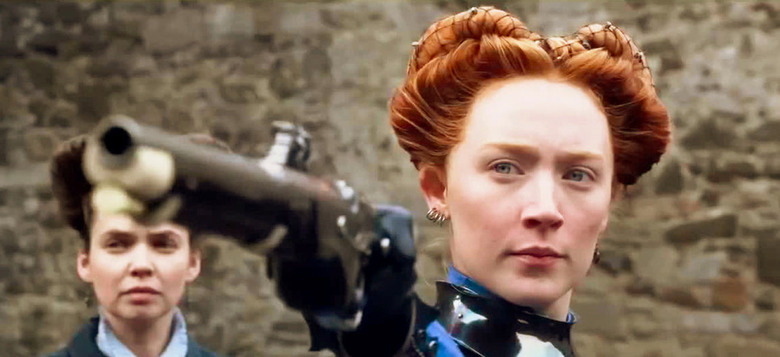 Saoirse Ronan and Margot Robbie go head-to-head in Mary Queen of Scots, the new historical drama about the rivalry between Mary Stuart and Elizabeth I. History, of course, tells us who the winner is: Elizabeth. But Mary Queen of Scots attempts to go beyond the history books, and tell a story about two women determined to reign in a male-driven world. Watch the Mary Queen of Scots trailer below.
Mary Queen of Scots Trailer
Saoirse Ronan and Margot Robbie are both fabulous actresses, and they will no-doubt be the main draw for Mary Queen of Scots. The story of Mary Stuart and Elizabeth I has been told on the screen before, but director Josie Rourke and writer Beau Willimon hope to peel back the palace intrigue, and present a story about two women pitted against each other by those around them.
"Everyone manipulated their relationship," Margot Robbie told EW. "It's complicated, it's tragic, and it's bizarre. The only other person in the world who could understand the position they were in was each other." Rourke added: "It's not one against the other. It's both of them against a particular environment that pitted them against each other."
In addition to Saoirse Ronan and Margot Robbie, Mary Queen of Scots also features Jack Lowden, Joe Alwyn, Gemma Chan, Martin Compston, Ismael Cordova, Brendan Coyle, Ian Hart, Adrian Lester, James McArdle, with David Tennant, and Guy Pearce. If that trailer isn't enough to hold your interest, there's also several new official Mary Queen of Scots gifs, and boy...are they confusing. While all the footage presents this film as a very serious drama, the gifs are a bit silly, leaning into references to other movies, and pop-culture sayings to draw in the hip young kids.
Not sure what to make of these, folks!
Mary Queen of Scots opens in select theaters on December 7, 2019.
Mary Queen of Scots" explores the turbulent 
life of the charismatic Mary Stuart (Ronan). Queen of France at 16 and widowed at 18, Mary defies pressure to remarry. Instead, she returns to her native Scotland to reclaim her rightful throne. But Scotland and England fall under the rule of the compelling Elizabeth I (Robbie).  Each young Queen beholds her "sister" in fear and fascination. Rivals in power and in love, and female regents in a masculine world, the two must decide how to play the game of marriage versus independence. Determined to rule as much more than a figurehead, Mary asserts her claim to the English throne, threatening Elizabeth's sovereignty. Betrayal, rebellion, and conspiracies within each court imperil both thrones – and change the course of history.