'Spider-Man: Into The Spider-Verse' Almost Cast Tobey Maguire As Older Peter Parker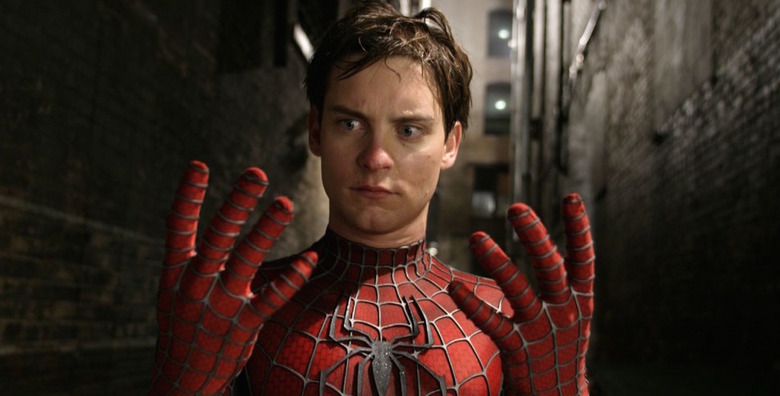 A major part of Spider-Man: Into the Spider-Verse is about the friendly neighborhood Spider-Man we've known and loved for the past two decades, Peter Parker, passing the mantle to the younger Miles Morales (Shameik Moore). So wouldn't it have been fitting for Peter Parker to be played by the first actor to bring the character to life on the big screen? Well, it turns out that Tobey Maguire, who played the webslinger in Sam Raimi's Spider-Man trilogy from 2002 to 2007, was considered for the part that ultimately went to Jake Johnson.
The Peter Parker we meet in Spider-Man: Into the Spider-Verse is not the one we've known for the past 20 years. For one, he hasn't been magically retconned to stay an eternally awkward high school teenager — this Peter Parker, as played by Johnson, is a washed-up Spider-Man in his 40s with a dad-bod and a permanent 5 o'clock shadow. It's worlds away from the Peter Parker we saw Maguire play for three movies, but hey, we know he's got the range. (Emo dancing Peter anyone?) And at 43, Maguire would've been the perfect age to portray mid-life crisis Peter Parker.
And apparently, the film's directors had considered it themselves. Spider-Man: Into the Spider-Verse co-director Rodney Rothman told ScreenCrush that Maguire was one of the actors considered to play Peter Parker:
"There was. There were many thoughts about where we could put Tobey Maguire and others. I think after this film, those thoughts might have a little more traction. But before this movie, and introducing the idea of the 'Spider-Verse' to the audience, I think everybody was afraid that it would just really confuse people. But wow, it would have been fun."
Rotham's reason makes sense; as fun as a Maguire cameo would have been in the film, the great conceit of Spider-Man: Into the Spider-Verse is how it works as a standalone film unattached to other Spider-Man or superhero films. Casting Maguire might have tied Into the Spider-Verse too closely to Raimi's (still fantastic) trilogy.
Maybe in an alternate universe.
Spider-Man: Into the Spider-Verse, which is directed by Peter Ramsey, Robert Persichetti Jr., Rodney Rothman, and produced by Phil Lord and Chris Miller, hits theaters on December 14, 2018.
Bitten by a radioactive spider, teenager Miles Morales suddenly develops mysterious powers that transform him into Spider-Man. He must now use his newfound skills to battle the Kingpin, a hulking madman who can open portals to other dimensions.