Fork Yeah! 'The Good Place' Season 4 Is Coming To NBC In 2019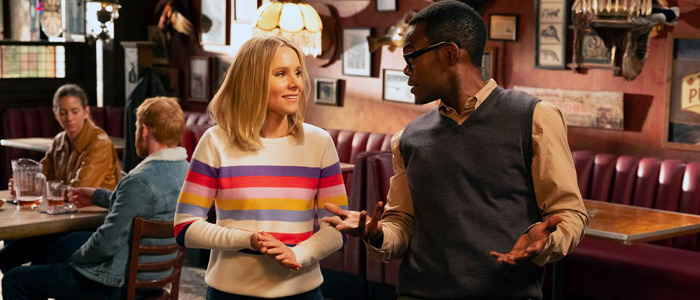 Great news for people who love great television: The Good Place has been renewed for a fourth season at NBC. The beloved comedy, which is headlined by Kristen Bell and Ted Danson, is one of the best and most surprising shows on the air right now, and we're thrilled to hear it's coming back.
According to The Hollywood Reporter, The Good Place is officially coming back – but there's no word yet on how many episodes season four will receive. William Jackson Harper, Jameela Jamil, Manny Jacinto, and D'Arcy Carden co-star.
Also: if you're a fan of the show and you don't listen to The Good Place: The Podcast, you're missing out on some great behind-the-scenes tidbits for each episode.
To write about why The Good Place is great requires spoilers for the episodes that have aired thus far, so be warned, those are coming now.
In addition to its pitch-perfect casting, wonderful cameos, fun visual effects, and terrific characters, the primary reason The Good Place is  great is because it features brilliant and hilarious writing from arguably the funniest group of writers in the business. In an era in which TV seasons can feel interminable, creator/showrunner Mike Schur (Parks and Recreation, Brooklyn Nine-Nine) and his writing staff have made it a point to race through several seasons' worth of story in as short a time as possible. We're now far beyond the original premise of the series, which was supposed to be about Kristen Bell's Eleanor Shellstrop essentially waking up in heaven only to discover that she doesn't really belong there, but the writing has consistently stayed funny, emotional, and morally and philosophically fascinating.
Season 3 has featured our protagonists back on Earth, yanked into a whole new timeline in which they never died; I can't wait to see what new twists the writers have in store to keep the show feeling fresh and new as it moves forward. My guess is that Eleanor won't lose her memory again any time soon – now that she knows she's in love with Chidi (and has confessed her love to him in this timeline), it would be sort of a cheat for the show to take that away and make her discover that relationship all over again.
As is the case with most sitcoms I love, I'm hoping The Good Place goes out on top without overstaying its welcome. But I feel like they still have several years left in the tank, and I can't wait for season 4. In the meantime, the season 3 fall finale arrives this Thursday, and the final three episodes of the third season will air on NBC in January 2019.