Guillermo Del Toro's 'Pinocchio' Won't Be Family Friendly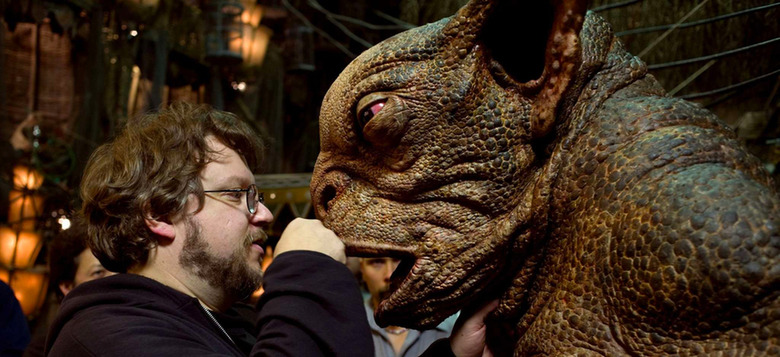 If you were hoping the stop-motion Guillermo del Toro Pinocchio movie coming to Netflix would turn out to be family entertainment like the Disney version, think again. The Oscar-winning filmmaker, who has been trying to get this film made for years, recently confirmed that the adaptation is to be political, and not geared specifically towards children. Of course, with del Toro involved, you probably could've guessed that.
During the recent Marrakech Film Festival (via THR), Guillermo del Toro took the time to talk about the stop-motion Pinocchio movie he's working on for Netflix. "It's not a Pinocchio for all the family," del Toro said, adding:  "Of course [the movie is political]. Pinocchio during the rise of Mussolini, do the math. A puppet during the rise of fascism, yes, it is." Are you ready for a super-political Pinocchio about fascism, world? If not, you better get ready. Del Toro went on to add: "Rarely can you get in productive discussions in real life right now, it's so tense. It's much easier for you to listen to me if I tell you 'Once upon a time...'"
The Shape of Water director has been trying to get his adaptation of Pinocchio made for several years now, and it was assumed that the film would join the long list of unmade Guillermo del Toro projects. But fate stepped in – in the form of Netflix. The streaming service rescued the film from oblivion, and now del Toro will co-direct with Fantastic Mr. Fox animation director Mark Gustafson, from a script by Over The Garden Wall and Adventure Time writer Patrick McHale.
During the Q&A, del Toro compared his Pinocchio to Frankenstein's Monster, because of course he did. "He's a creature that is created through unnatural means from a father that he then distances [himself] from, and has to learn about failure and pain and loneliness," del Toro commented.
Back when the Netflix project was announced, del Toro said:
"In our story, Pinocchio is an innocent soul with an uncaring father who gets lost in a world he cannot comprehend. He embarks on an extraordinary journey that leaves him with a deep understanding of his father and the real world. I've wanted to make this movie for as long as I can remember. After the incredible experience we have had on Trollhunters, I am grateful that the talented team at Netflix is giving me the opportunity of a lifetime to introduce audiences everywhere to my version of this strange puppet-turned-real-boy."
I'm a big fan of del Toro's work, and all of this sounds enticing. The fact that he wants to tell a Pinocchio with political overtones is fascinating, and will no doubt set the film apart from previous versions. However, if you're hoping for an old-fashioned, family-friendly Pinocchio, you're in luck. Disney is currently turning their animated take on the material into a live-action movie, and they want Tom Hanks to play Geppetto.