Funimation Just Traded Crunchyroll For Hulu In Exclusive Anime Streaming Deal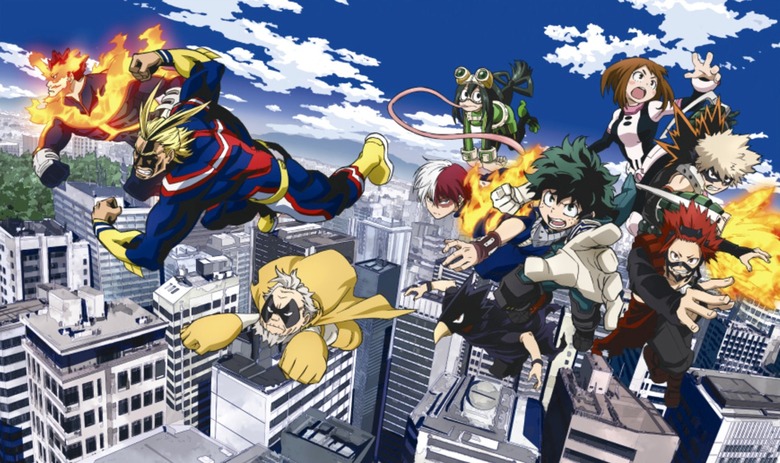 Hulu just got a leg up over Netflix in the streaming wars. The streaming platform just landed a landmark first-look deal with Funimation, the anime distributor which earlier this fall made news for ending its longtime partnership with the niche anime streaming service Crunchyroll. Now it seems like Funimation has traded up for Hulu, giving the latter more ammunition in the increasingly fraught war for anime content. Or should I say...anime-nition? (I'm sorry.)
Hulu and Funimation announced Tuesday that they have inked an exclusive first-look pact that will allow Hulu to distribute new titles licensed and produced by the anime company starting in 2019. This means that subtitled and dubbed versions of popular anime titles like Tokyo Ghoul, Attack on Titan and My Hero Academia and more than more than 600 shows in Funimation's archives will be available on Hulu as soon as next year.
The deal will also grant Hulu first look at U.S. streaming rights to future anime series produced and released by Funimation beginning in 2019, with both Hulu and Funimation set to be the "co-exclusive premiere destinations" for these new titles on the day-and-date they premiere in Japan.
Gen Fukunaga, President and CEO at Funimation, said of the new deal:
"This expansive agreement, which symbolizes both companies' shared commitment to anime, along with the support of SPT, further cements Funimation's position as a global leader in anime distribution. It will fuel the acquisition of new titles and provide both Funimation and Hulu subscribers with access to the very best in anime that Japan has to offer."
The agreement, which comes after Funimation ended its two-year cross-licensing deal with Crunchyroll this October, will be Hulu's biggest deal for anime programming to date. It's a huge win for Hulu in the streaming wars after Netflix bagged the worldwide streaming rights to the anime classic Neon Genesis Evangelion and continues to expand its anime catalogue at an a near-frightening rate. Funimation is a longtime Stateside distributor for anime, and is a trusted company name for anime fans who may be looking for a reliable streaming platform. These new Funimation titles will only add to Hulu's already-impressive collection of anime, which includes series like Naruto Shippuden, Boruto: Naruto Next Generations, One-Punch Man, Sailor Moon and Sword Art Online.
"Funimation has been a longtime partner of ours, and together we have curated a full library of the most sought-after anime series from all over the world on Hulu," said Lisa Holme, Hulu's VP of Content Acquisition. "With this new deal, we are doubling-down on our investment to continue growing our world class anime offering with even more shows that we know our viewers love to watch."
This is a win-win for both companies: Funimation gets a larger platform, while Hulu hones in on the increasingly popular medium of anime. The only ones left by the wayside are the old niche platforms like Crunchyroll, which has a loyal community, but likely didn't have enough clout among mainstream audiences to lure Funimation back. But hey, at least we didn't have to subscribe to WarnerMedia's upcoming streaming platform to get our anime.